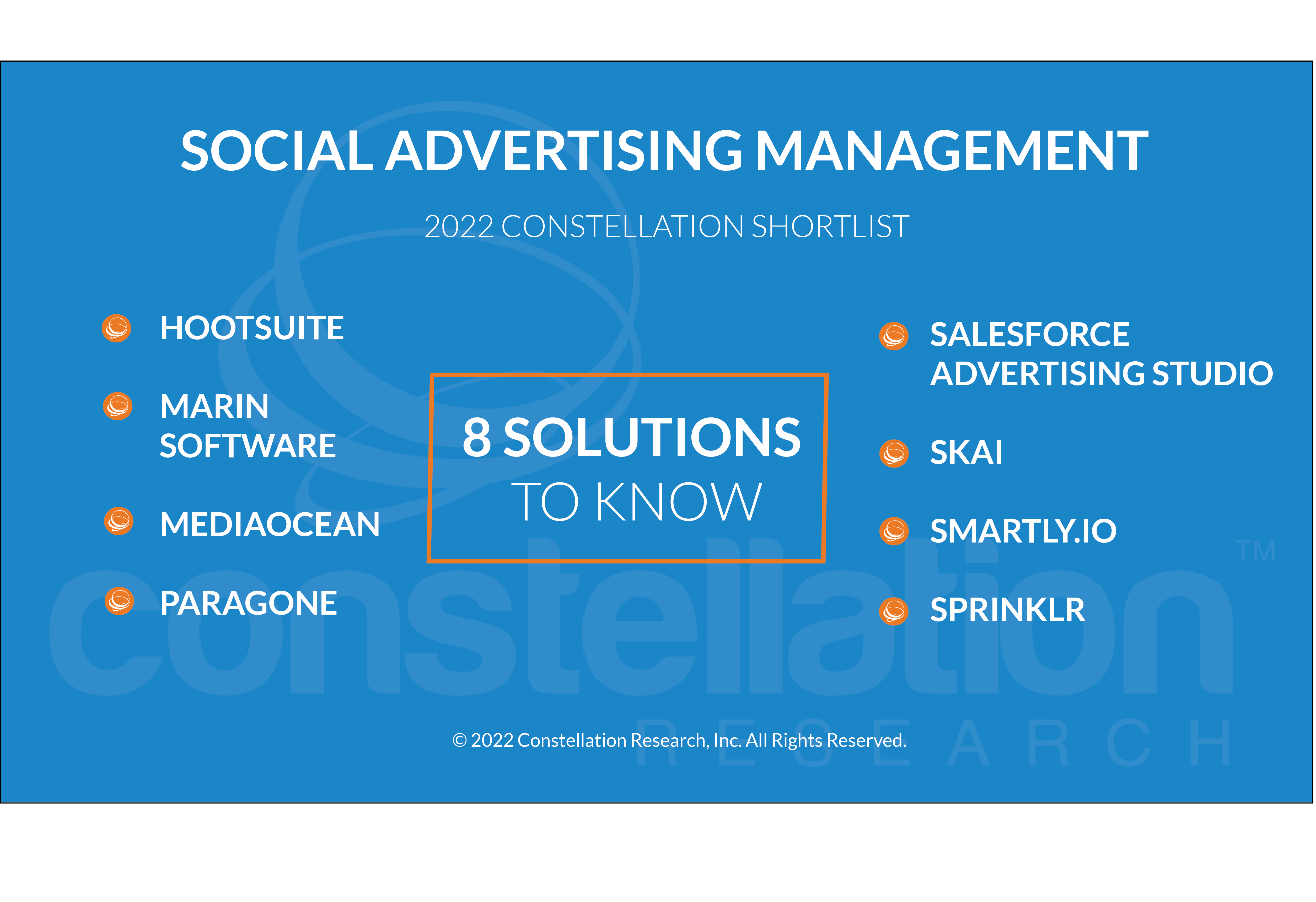 About This Constellation ShortList™
Social media advertising platforms manage, place and measure the impact of social media advertising, looking beyond a single network or audience to showcase where and how social investments are shaping engagement and advocacy for a brand. Functionalities extend far beyond simply ad placement, costs or audience identification.

Today's standout tools guide teams through the entire social ad process from creative asset development and content management through to reporting on performance metrics and impact on key business performance indicators. These systems now must include machine learning (ML) or artificial intelligence (AI) features that aid in audience intelligence and understanding but can also identify optimal content, aid in personalization at scale and recommend next-best actions. Integrated marketing and social advertising teams are increasingly looking for solutions that manage more than social advertising and can extend the planning, budgeting and analytics across all digital advertising channels.

This Constellation ShortList does not include first-party tools developed by social platforms. While these tools have advanced and continued to innovate in their ability to manage and optimize performance within their own ecosystems, they fall short of the mandate to view the customer's engagement with a brand through social and specifically social advertising across a single pane of glass.
Threshold Criteria
Constellation considers the following key criteria for these solutions:
Tools to upload, iterate and manage creative assets
Buying, serving and monitoring placements on more than one platform
Workflows and platforms purpose built for cross-functional collaboration
Content management, creative production and personalization tools
Support across multiple forms of content and formats of display
Audience segmentation
In-flight optimization and measurement
Analytics, measurement and reporting
Application of ML or AI techniques to boost automation, analyze campaign outcomes and recommend content, audiences and actions
The Constellation ShortList™
Constellation evaluates more than 50 solutions categorized in this market. This Constellation ShortList is determined by client inquiries, partner conversations, customer references, vendor selection projects market share and internal research.
HOOTSUITE

MARIN SOFTWARE

MEDIAOCEAN

PARAGONE

SALESFORCE ADVERTISING STUDIO

SKAI

SMARTLY.IO

SPRINKLR

Evaluation ServicesFrequency of Evaluation
Each Constellation ShortList is updated at least once per year. Updates may occur after six months if deemed necessary.
Evaluation Services
Constellation clients can work with the analyst and research team to conduct a more thorough discussion of this Constellation ShortList. Constellation can also provide guidance in vendor selection and contract negotiation.
Download Research
Click to Download Report