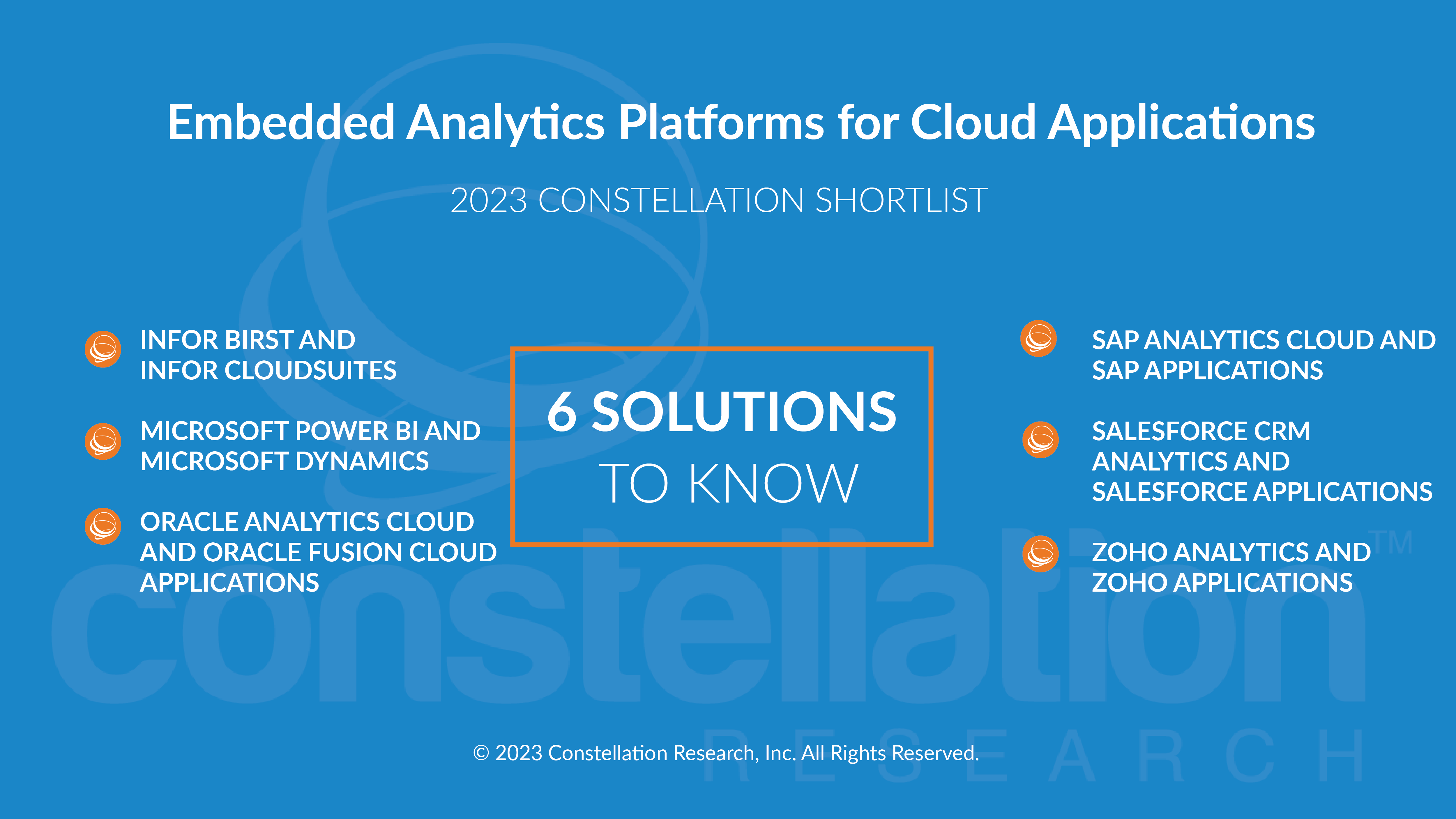 About This Constellation ShortList™
Providers of cloud-based applications for enterprise resource planning (ERP), customer relationship management (CRM), human capital management (HCM), and more are increasingly embedding analytics into those apps to deliver data-driven insights and drive better decisions. Application-embedded analytics meet business users where they work, removing the separation between apps and analytics, saving users time and broadening data-driven decision-making.
Threshold Criteria
Constellation considers the following criteria for these solutions:
Delivers a consistent platform-based approach to managing application data and embedding visualizations, key performance indicators (KPIs), or complete dashboards into key decision points within ERP, CRM, HCM, and other cloud-based applications
Provides consistent unified data modeling, access control, governance, and two-way contextual interactivity between apps and analytics
Offers prebuilt use-case- and industry-specific content, including app and third-party data integrations, data model extensions, KPIs, visualizations, and/or dashboards
Supports extensibility, both for the data model and third-party data sources and for customization of analytics and insights
Offers low-code/no-code development and customization options that enable nondevelopers to create custom analytics or extend prebuilt analytic content
Supports thresholding and alerting to handle exceptions, trigger events, automate actions, and/or kick off workflows or business processes
Offers predictive capabilities that support proactive action and automation
The Constellation ShortList™
Constellation evaluates more than 20 solutions categorized in this market. This Constellation ShortList is determined by client inquiries, partner conversations, customer references, vendor selection projects, market share and internal research.
Infor Birst and Infor CloudSuites
Microsoft Power BI and Microsoft Dynamics 365
Oracle Analytics Cloud and Oracle Fusion Cloud applications
SAP Analytics Cloud and SAP applications
Salesforce CRM Analytics and Salesforce applications
Zoho Analytics and Zoho applications
Frequency of Evaluation
Each Constellation ShortList will be updated once per year. There could be an update after six months, should the analyst deem it necessary.
Evaluation Services
Constellation clients may work with the analyst and research team to conduct a more thorough discussion of this Constellation ShortList. Constellation can also provide guidance in vendor selection and contract negotiation.
Download Research
Click to Download Report