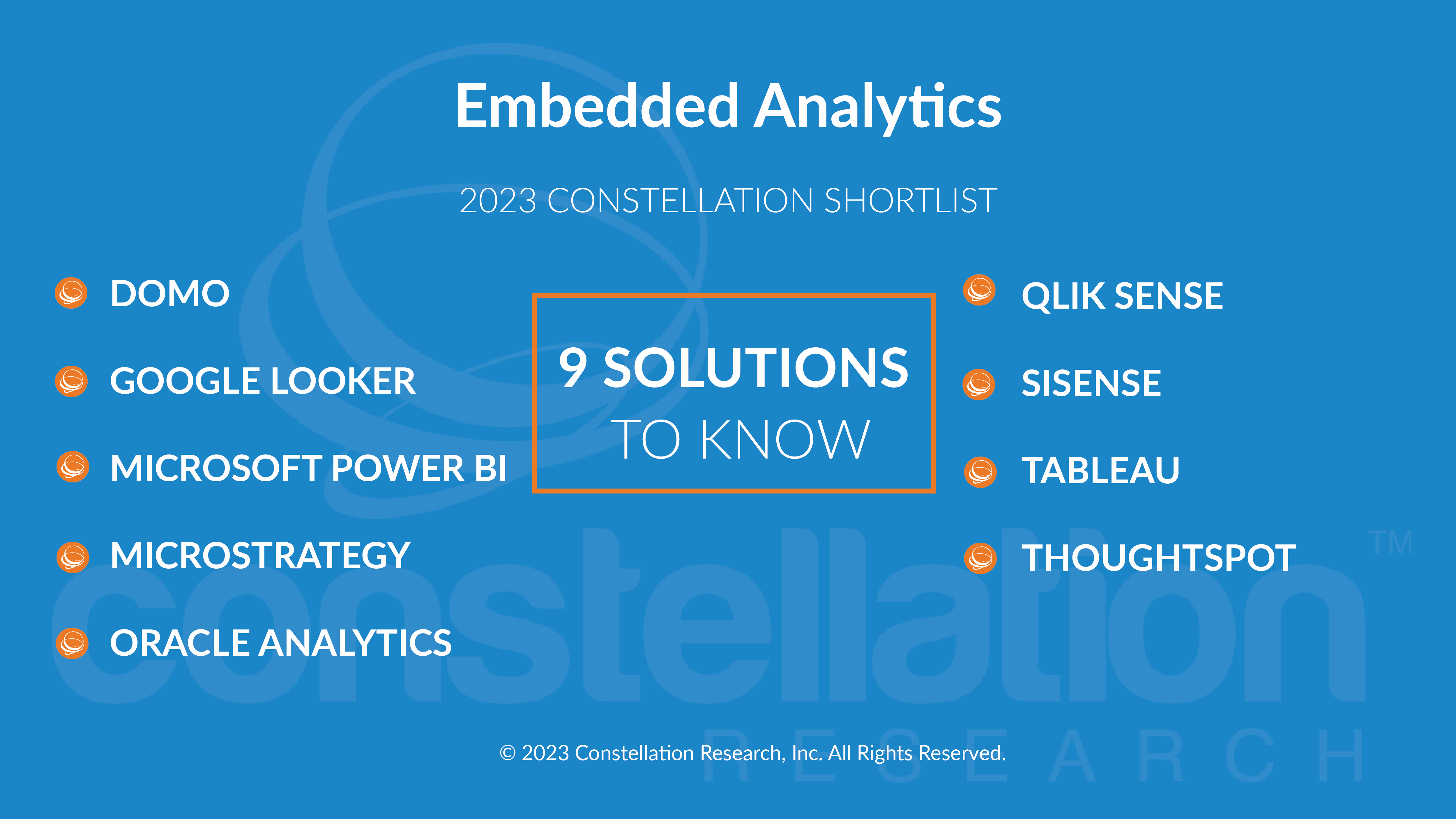 About This Constellation ShortList™
Embedded analytics options have long been used by independent software vendors and software-as-a-service (SaaS) companies to accelerate development and data-driven innovation. Today organizations of every description are looking for ways to foster data- and insight-driven decisions, business processes, and customer experiences. Thus, CxOs at innovative organizations are using embedded capabilities to weave analytics into enterprise apps, productivity and collaboration apps, custom apps, low-code/no-code apps, business workflows, and breakthrough revenue-generating digital services.
Threshold Criteria
Constellation considers the following criteria for cloud-based business intelligence:
Microservices architectures, fine-grained application programing interfaces (APIs), RESTful interfaces, and software development kits that support flexible embedding of data, metrics, visualizations, and dashboards into a range of external destinations 
Support for DevOps approaches that bridge the gap between development and operations and help automate continuous integration and continuous deployment
Cloud deployment options that liberate customers from system administration
Low-code/no-code development and embedding options that enable nondevelopers to build custom applications and data- and insight-enable external applications
Alerting and workflow options that enable organizations to trigger events, automate actions, and kick off workflows based on data- and insight-driven rules and thresholds
Predictive capabilities that support proactive action and automation

 
The Constellation ShortList™
Constellation evaluates more than 25 solutions categorized in this market. The Constellation ShortListis determined by client inquiries, partner conversations, customer references, vendor selection projects, market share and internal research.
DOMO
GOOGLE LOOKER
MICROSOFT POWER BI
MICROSTRATEGY
ORACLE ANALYTICS
QLIK SENSE
SISENSE
TABLEAU
THOUGHTSPOT

 
Frequency of Evaluation
Each Constellation ShortList is updated at least once per year. Updates may occur after six months if deemed necessary.
Evaluation Services
Constellation clients can work with the analyst and the research team to conduct a more thorough discussion of this ShortList. Constellation can also provide guidance in vendor selection and contract negotiation.
Download Research
Click to Download Report