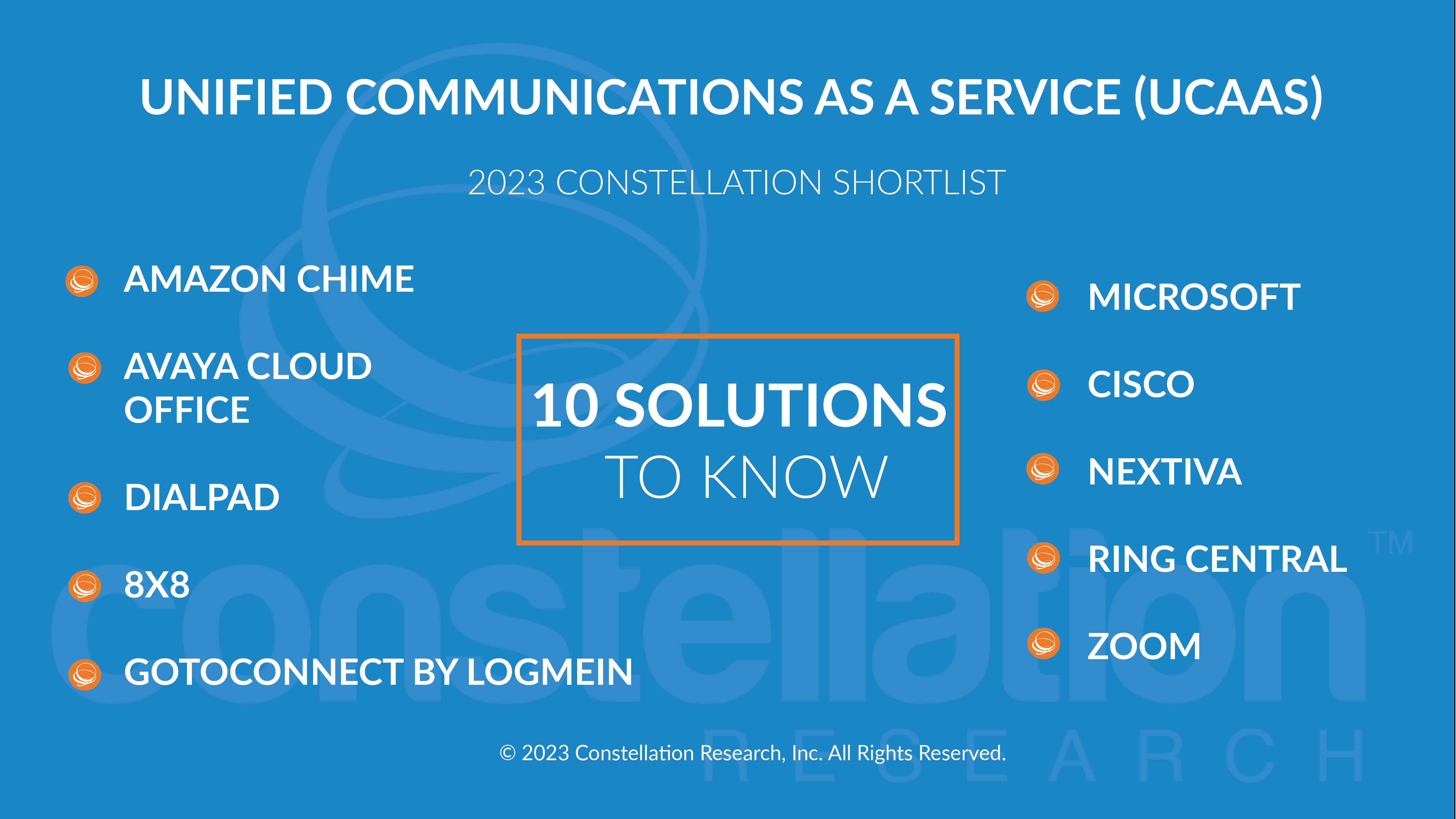 About This Constellation ShortList™
UCaaS represents a consolidation of core communications infrastructure and point solutions to provide a more sophisticated cloud-delivered platform that centralizes modern digital communications. All UCaaS solutions center on the core functions of communications, including voice and telephony; meeting and conferencing; messaging; chat and mobile communications; and customer-facing communication applications such as integrated contact centers, service, support, and help desk workstreams and collaboration.

UCaaS emphasizes the channels and systems of communications internal to an enterprise, connecting those channels to systems and solutions that power external, often more-customer-directed engagements such as call centers. These systems came under heavy pressure at the start of the global pandemic in 2020 as remote work pushed teams, including traditionally in-house call center and support teams, to continue to connect, call, and engage remotely just as effectively as they had under one physical telephony infrastructure.

One key element of a UCaaS solution is the capacity to integrate communications and data across communications channels, specifically to improve performance and to enhance the quality and effectiveness of a customer's experience. As greater emphasis is placed on effective and productive internal communications serving as a linchpin for more profitable and consistent delivery of positive customer experiences, expect to see a shift away from UCaaS as being thought of as solely an internal tool but also as one that unifies the entirety of the engagement ecosystem.
Threshold Criteria
Constellation considers the following criteria for these solutions:
Comprehensive communications offering across phone, chat, social messaging, and video
Web, desktop, mobile, smart TV, and embedded hardware clients
Call routing, forwarding, conferencing, and voicemail functions
Collaboration tools such as scheduling, messaging, automated workflows, and project management
Cloud deployed across public, private, and hybrid options for organizations with complex internal systems
Enabling of work-from-anywhere, especially for telephony-reliant functions such as service and support
24/7 support and training for technical and business users in all major geographies
Key voice-to-text services, including global transcription in common languages of business
Ready access to uptime detail across a network
Flexible, scalable pricing
Robust security protocols and measures, including adherence to key global regulations such as PCI and GDPR
Integrations with business tools such as CRM and core customer service and support platforms and tools
Reporting and metrics on performance, application utilization, traffic, incident logs, and uptime metrics
AI and ML applications, such as smart routing and analysis of transcribed calls and engagements, to improve performance and experiences
The Constellation ShortList™
Constellation evaluates more than 30 solutions categorized in this market. This Constellation ShortList is determined by client inquiries, partner conversations, customer references, vendor selection projects, market share and internal research.
Amazon Chime
Avaya Cloud Office
Dialpad
8x8
GoToConnect by LogMeIn
Microsoft
Cisco
Nextiva
Ring Central

Zoom
Frequency of Evaluation
Each Constellation ShortList is updated at least once per year. Updates may occur after six months if deemed necessary.
Evaluation Services
Constellation clients can work with the analyst and research team to conduct a more thorough discussion of this Constellation ShortList. Constellation can also provide guidance in vendor selection and contract negotiation.
Download Research
Click to Download Report