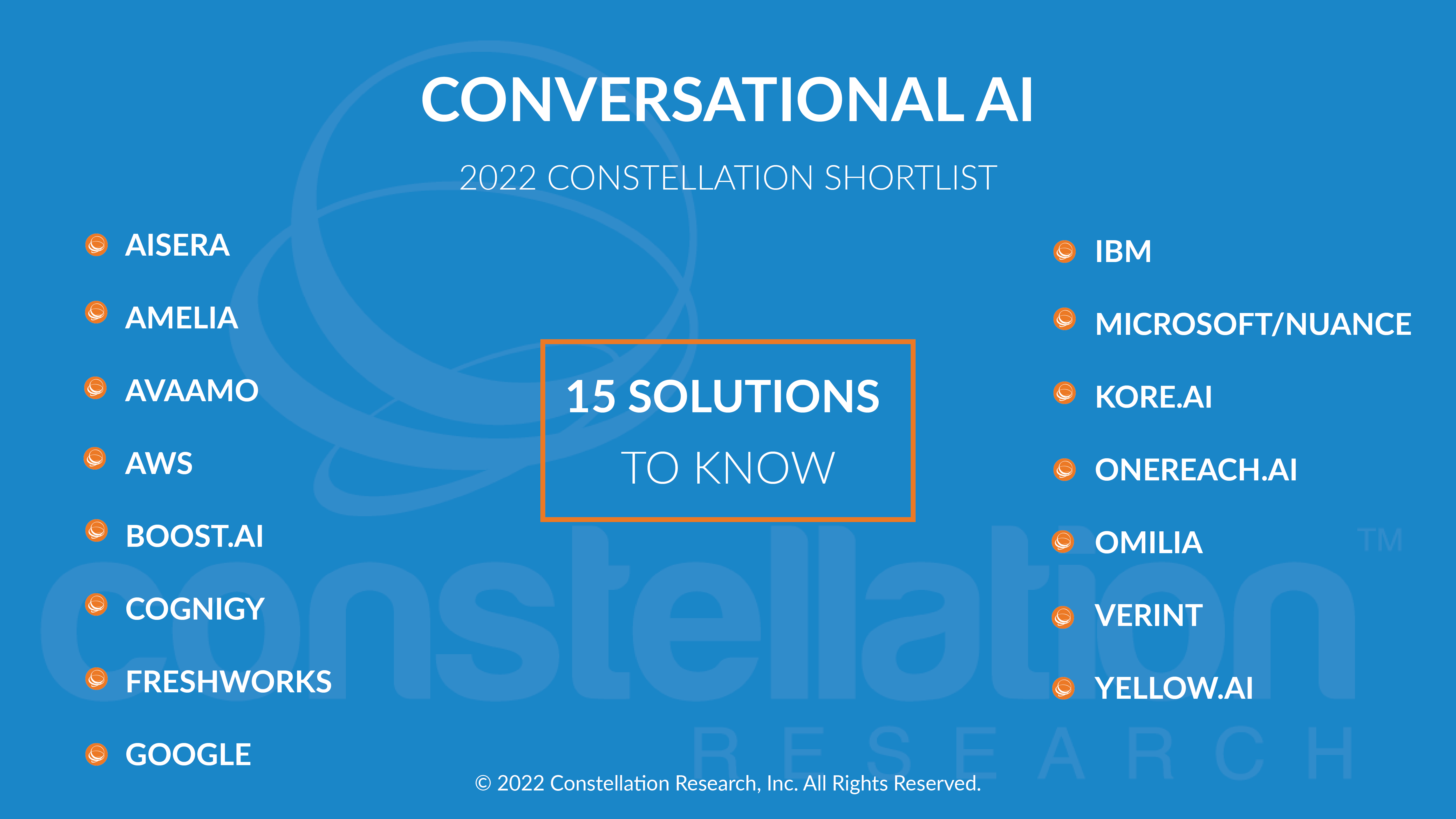 About This Constellation ShortList™
Conversational artificial intelligence (AI) is more than just traditional chatbots. It is also about humans and computer systems having an intelligent interaction. Although most chatbots are limited to infor- mational purposes only, conversational AI goes beyond that to not only interact with humans in a humane way but also try to solve end user problems.

It uses a combination of AI technologies such as machine learning (ML), natural-language understanding (NLU), and natural-language processing (NLP). It also includes sentiment and tone analysis, intent understanding, and cognitive analysis.

Enterprise conversational AI systems are used in many applications such as chatbots, virtual agents, virtual personal assistants, interac- tive-voice-response (IVR) systems, customer chats, voice assistants, and virtual concierges. Adoption has gone mainstream since the ac- celeration of work-from-home and with more and more businesses moving online. Although most conversational AI is currently limited to customer self-service dealing with minor problems that may not require human assistance, more efficient and intelligent conversa- tional AI systems are being prototyped and beta-tested and will be rolled out into production soon. It is widely used in retail, healthcare, education, transportation, e-commerce, entertainment, hospitality, insurance, banking, financial services, and high tech, to name a few.

Training, access to proper data/systems, oversight, maintenance, personalization, localization, and understanding of complex conver- sations are among the top concerns cited by enterprises that are limiting the wider adoption of conversational AI.

According to Deloitte Insights, the conversational AI market is ex- pected to be around $14B by 2025, with an expected CAGR of 22%.
Threshold Criteria
Constellation considers the following criteria for these solutions:
Context awareness
Support for many of the most common human languages
Automated reinforcement, learning to make the system better
Understanding users and personalizing conversations for each user
Live agent escalation option if/when needed, with smooth transition
Customizableworkflowmanagement
Natural-language-processing (NLP) capabilities
Natural-language-understanding (NLU) capabilities
Localization capabilities
Security, privacy, authentication, and compliance
Options to understand accents, pronunciation, emotions, sentiment, sarcasm, idioms, and colloquialisms
Scalability
Omnichannel capability
Industry-specific enhancements
The Constellation ShortList™
Constellation evaluates more than 20 solutions categorized in this market. This Constellation ShortList is determined by client inquiries, partner conversations, customer references, vendor selection projects, market share and internal research.
AISERA
AMELIA
AVAAMO
AWS
BOOST.AI
COGNIGY
FRESHWORKS
GOOGLE
IBM
MICROSOFT/NUANCE
KORE.AI
ONEREACH.AI
OMILIA
VERINT
YELLOW.AI
Frequency of Evaluation
Each Constellation ShortList is updated at least once per year. Updates may occur after six months if deemed necessary.
Evaluation Services
Constellation clients can work with the analyst and the research team to conduct a more thorough discussion of this ShortList. Constellation can also provide guidance in vendor selection and contract negotiation.
Download Research
Click to Download Report