Updated March 12, 2015
Constellation recently published our State of Enterprise Technology series of research reports. These reports assess the current state and describe the future direction of several technologies. Use these reports to measure your organization's progress with your enterprise solutions and plan for the future. 
Check our research library often as Constellation will publish reports in our State of Enterprise Technology series throughout Q1. Want to suggest a topic for a report in the "State of Enterprise Technology" series? Drop us a line. 
By Natalie Petouhoff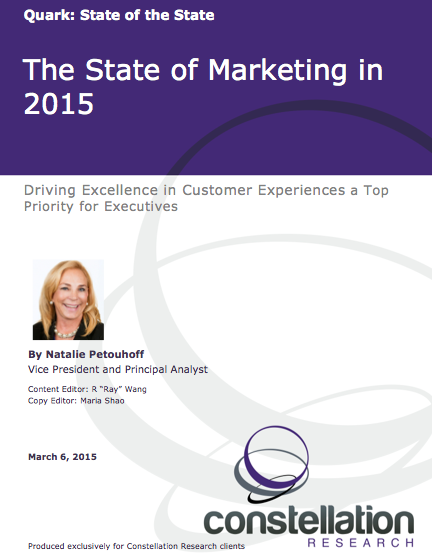 Customer Experiences and Marketing Further Intertwine  
 Seven measures early adopters must take to prepare for the disruptive forces influencing marketing. Use this report to benchmark and plan for your marketing future.
By Guy Courtin and R "Ray" Wang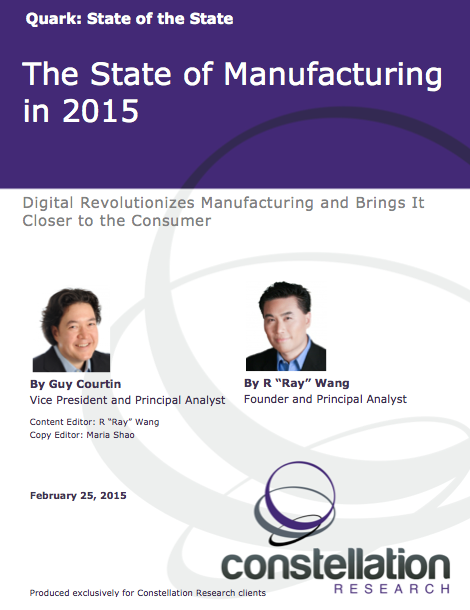 Manufacturing Adopts Mass Personalization Ideology
 In 2015 manufacturing will dive into digital transformation as producers take advantage of data insights to create ever-more customized products. 
By Holger Mueller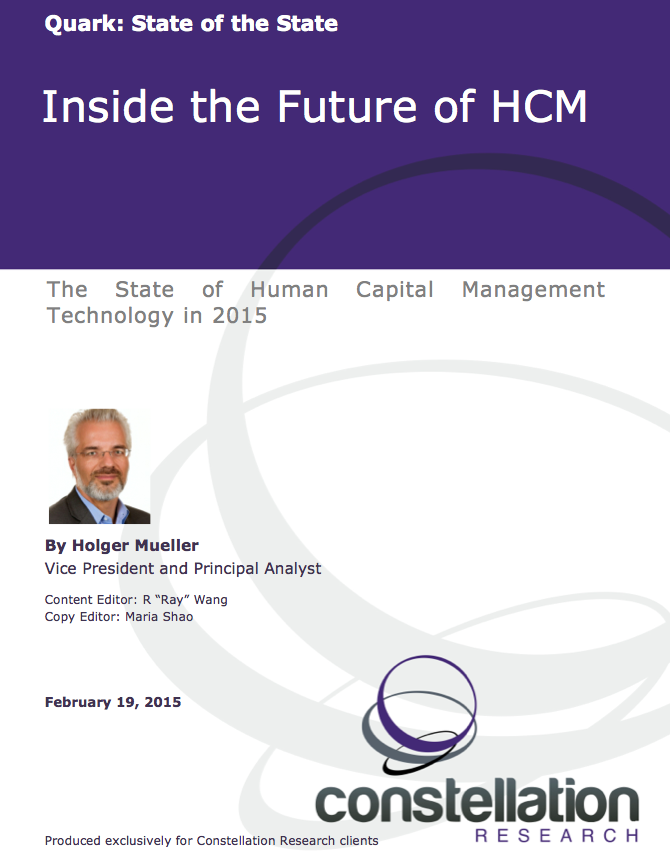 Inside the Future of HCM
This report examines seven trends influencing human capital management. Find out how organizations will manage their most valuable resource: their people. 
By Holger Mueller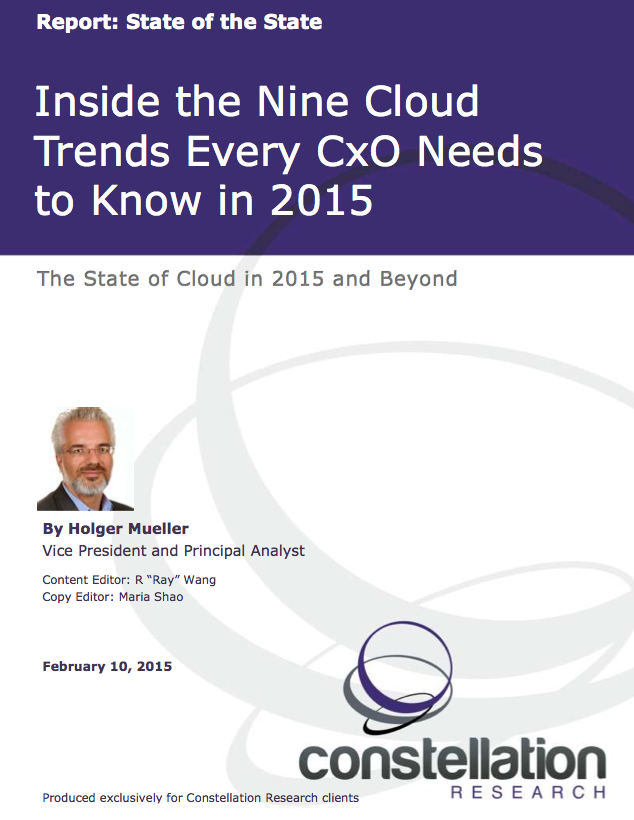 Inside the Nine Cloud Trends Every CxO Needs to Know in 2015
As internal and external apps continue to dominate business, the cloud evolves into the responsibility of the entire C-suite. Consequently, all CxOs should be aware of major trends in cloud technology. Prepare yourself for a productive conversation about the future of the cloud in your organization.
 
By R "Ray" Wang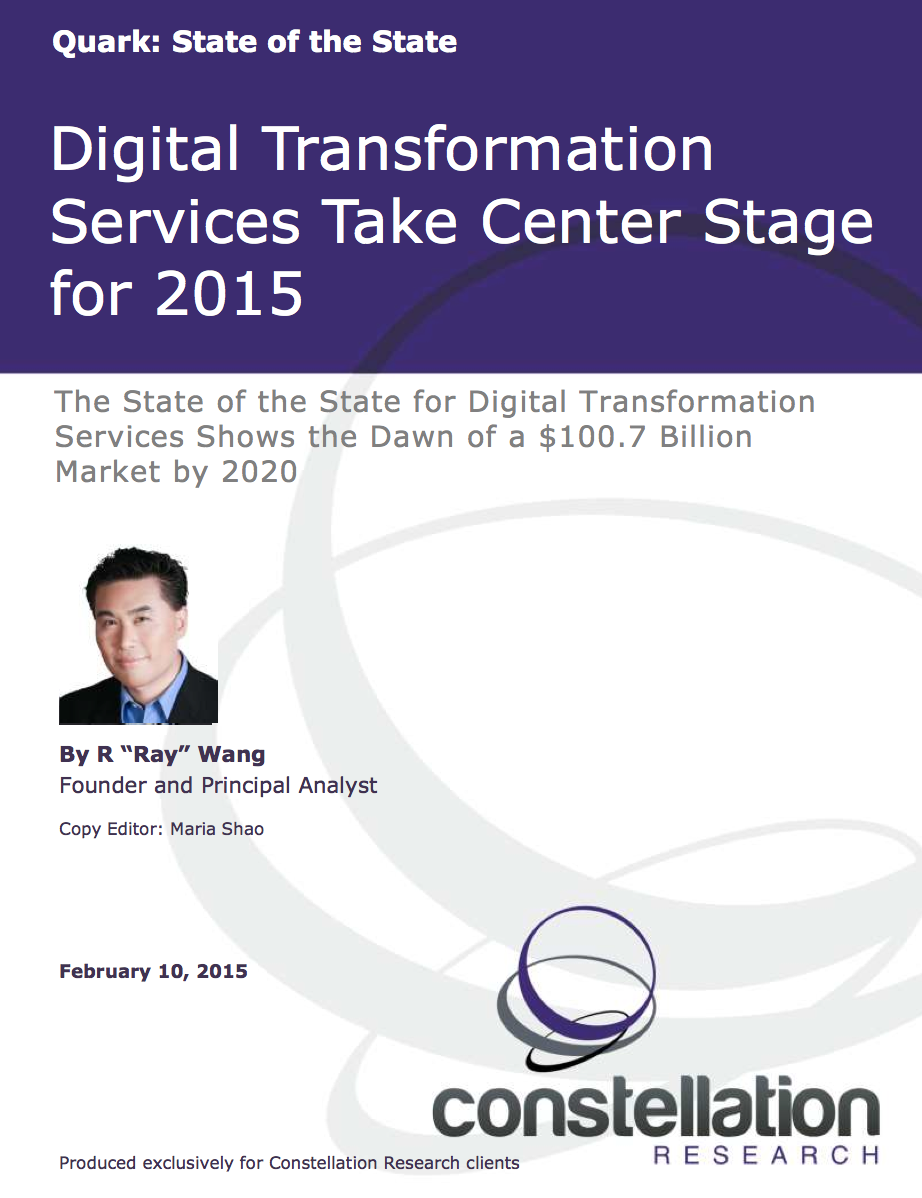 Digital Transformation Services Take Center Stage For 2015
The Digital Transformation Services market is set to explode in 2015. Constellation forecasts it to surpass $100.7B in 2020. This report defines the Digital Transformation Services space, identifies seven trends to watch as the market gains traction in 2015, and provides notes on identified services providers.  
By Guy Courtin
Digital Technologies Reshape Retail and Shift Customer-Retailer Relationship
The customer-retailer relationship will become more cooperative in 2015. Learn about the Amazon Trap, visibility, the Internet of Things, network insights, and more trends in the state retail in 2015. 
 
By Alan Lepofsky
The Future of Collaboration Lies at the Intersection of Social Interaction and Data-Driven Insights
Currently collaboration shows maturity in market and user adoption. The future of collaboration must address the human element in Digital Transformation. 
By Natalie Petouhoff
Next-Generation Customer Experience Is Guiding Customer Success Management
Customer service and support evolves into customer success management. Customer success management becomes a top priority for all companies, at all levels.  
By Steve Wilson
Digital Safety and Privacy is about the art and science of maximizing the information assets of a business, including its most important assets – its people. The future of digital safety and privacy requires new awareness of data flows.
 
By Guy Courtin
Post-sale commerce is set to be an important revenue driver for many organizations. Organizations moving to post-sale commerce must consider five key elements included in this report.  
By Andy Mulholland
The State of the Digital Boardroom and CxO in 2015
Digital transformation remains an important initiative for businesses in 2015 and boards need to learn how to guide digital transformation projects. The Internet of Things emerges as the key to real digital business transformation.  
 
By Guy Courtin
The future of supply chains demonstrates how digital will transform business models. 
Being demand-driven remains the goal to achieve, the Future of Work and BYOD will affect the supply chain, and data is the product in the state of the supply chain in 2015.
---