Research, Media Citation, and Briefing Policies
This page provides information about Constellation Research's research, media citation, and briefing policies. 
Topics covered:
Briefing Guidelines
Citation Policies
Constellation ShortList Citation Policies
Neutrality Standards for Commissioned Research and Webinars
Factual Reviews 
FTC Disclosures
Inquiries From Buyers (End Users)
Press Interviews And Media Coverage
Reprints
Constellation Logo
Collaborative Research Projects
Briefing Guidelines
Constellation Research welcomes briefings from vendors and agencies. There is no fee to brief a Constellation analyst. Constellation accepts briefing requests from clients and non-clients. When scheduling conflicts arise, Constellation awards scheduling priority to clients.  Briefings are scheduled on a first come, first served basis.
Submit a briefing request online. Requests will be answered in 24-48 hours. Contact us directly at [email protected].
Follow these guidelines for a successful briefing:
Tell us who you want to brief and why.
Tell us what you want to cover:  product update, organizational update, competitive landscape, wins/losses, case studies, partnerships, news, trends, etc.
Planning to demo a product during the briefing? Let us know ahead of time so we can plan accordingly. 
Share the web/phone conferencing link and dial in number early.  Please don't use Live Meeting.
Give us your elevator pitch during the briefing, not your company's life story. What we really want to know is what makes your product different from every other product on the market.
Be prepared for tough questions.  We will want to know what makes your product different from other offerings and why buyers should select your offering. 
Submit your PPT presentation the day before the briefing.  Do not send a pdf.
Citation Policies
All content generated by Constellation Research and Constellation Research Analysts may be quoted and/or cited given the following guidelines are observed:
 Written permission required for all citations/quotations.  Please allow ample time for approvals.  We try to get back in less than 24 hours.
Citations must refer to printed or spoken sources. Each citation of published content must include "Constellation Research", clearly define the source (e.g. published report, blog, speech given at a particular event, video clipping, phone conversation) and include the date. Each citation must include the author of the content cited and also include a link to the source if available online.  Tweets may be quoted!
Verbal quotes may not mention specific companies, products, services, or be framed in a manner suggesting Constellation's endorsement of a company or offering. In a product evalution with defined and public criteria, Constellation may be cited for placing a product or vendor in a certain category.
Content from the Constellation Research blog must be cited as following: "Source:  Constellation Research, Inc., "Report Title", Analyst Name, Month Day Year".  (e.g. "Source: Constellation Research, Inc., "Dominate Digital Disruption", R "Ray" Wang, Principal Analyst, January 12, 2022.")
Constellation ShortListTM Citation Policies 
Press releases. Companies wishing to issue a press release about Constellation ShortLists should use the standard release template provided by Constellation Research. 
The Constellation ShortList graphic may be used in presentations or marketing materials only if Constellation's citation policy is followed. Alterations to the Constellation ShortList graphic are not permitted. 
Writing about Constellation ShortLists is permitted only if Constellation's citation policy is followed. 
Vendors may not mention other vendors in the Constellation ShortList.
Vendors may only reference the current version of the Constellation ShortList. References to past Constellation ShortLists is prohibited.  
There is no fee to promote a Constellation ShortList. Constellation's citation policy must be followed. 
Neutrality Standards for Commissioned Research And Webinars
This section provides information about reports and webinars produced with vendor sponsorship. Constellation adheres to the following guidelines to preserve our neutrality. 
The purpose of these reports is to advise the reader of the impact of a product or trend. Constellation's first priority is to provide neutral evaluation of technology markets to buyers of technology. 
Full editorial control. Constellation Research  publishes thought leadership reports and participates in webinars only when it retains full editorial control over the final output.
Fact-based positions. Constellation Research will not endorse or denigrate any vendor offerings by name without research proof points. However, fact-based research data points may be used to highlight a vendor's position in the market.  For example, Constellation may reference an evaluation tool that shows the growing or shrinking market share of a vendor. 
Ownership and usage rights. Constellation Research retains ownership rights. Commissioned vendor gains exclusive usage rights for a defined period of time.
Full disclosure. Constellation Research will display its name on the report and disclose that the report is a commissioned piece of work
Citations policies. Quotations and usage in press and media by commissioned vendors require the written approval of Constellation Research, Inc.
Factual Reviews For Vendors Mentioned In Research and Blogs
Constellation Research retains final editorial control of research and blogs.  
Blog posts. Blog posts are not subject to upfront factual review. Errors and omissions can be pointed out and corrected. Differences of opinion will be heard but any decisions are up to the analyst.
Syndicated research. Research reports are sent to any named party for a factual review. Parties have 48 hours from the time Constellation sends the report to respond with requests for fact-based corrections. Differences of opinion will be heard but the analyst retains final editorial control. Parties who do not respond to requests for factual reviews or choose not to participate in factual reviews forfeit the ability to request corrections to the report's initial publication. 

Media

.  Factual errors will be subject to an errata or corrections published as applicable.
FTC Disclosures
Please view the Constellation Research policy.  In general:
Constellation Research client list. See the full list in our clients section.
Hardware and device evaluation units.  At the firm level, all hardware and devices have been paid for by Constellation Research, Inc.  Individuals from time to time may have demonstration units on loan.
Software.  None at this point.  All commercial software is paid for.
Vendor conferences. Most vendors (sellers) pay for travel to and from the event.  This is standard practice in the industry.
Press Interviews And Media Coverage
Constellation analysts can be made available for radio, TV, and print interviews.  Send an email directly to the media relations team ([email protected] or contact Elle Froze (Elle[at]ConstellationR[dot]com) as a backup in the event of an emergency. Media and bloggers can just refer back to the link and cite accordingly.
Reprints
Constellation issues reprint rights of research reports and blog posts. Pricing follows standard policies. Contact Sales[at]ConstellationR[dot]com for more details.
Constellation Logo
Authorization is required to use the Constellation logo. Please send your request to Constellation via webform or email [email protected]. Alteration of the Constellation logo is prohibited. Use of the Constellation logo is restricted to applications that follow Constellation's citation policies. 
Download the Constellation logo below.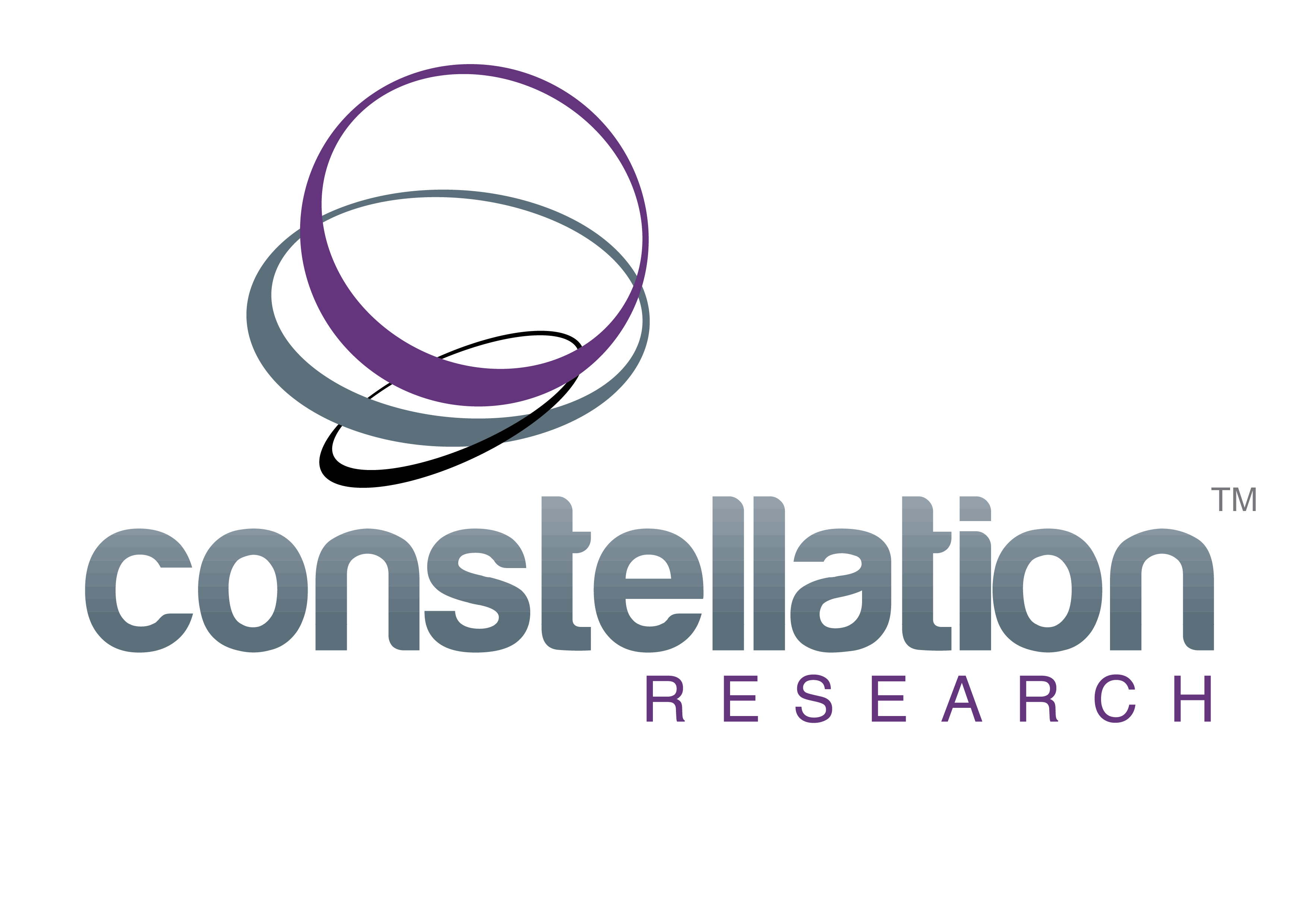 Collaborative Research Projects
Contact Constellation for a list of projects under consideration.