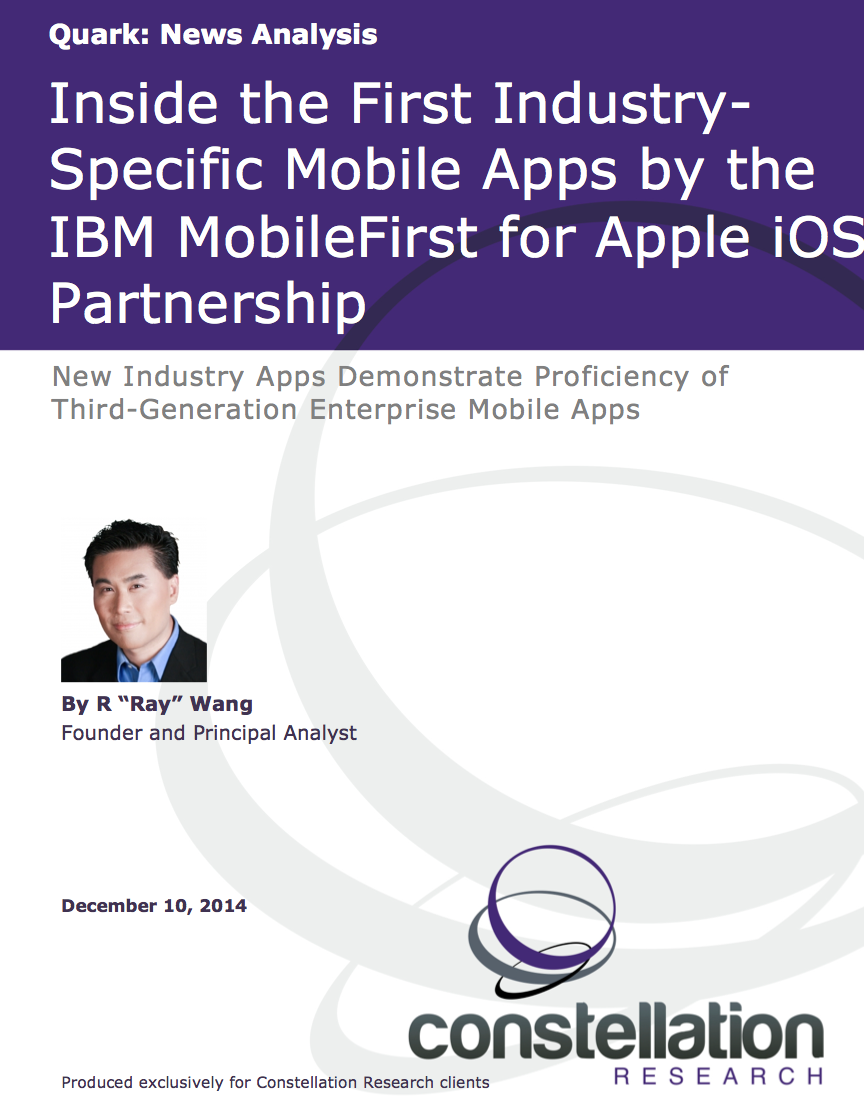 New Industry Apps Demonstrate Proficiency of Third-Generation Enterprise Mobile Apps
On July 15, 2014, IBM CEO Ginni Rometty and Apple CEO Tim Cook announced a strategic partnership to transform the enterprise through mobility. The announcement included a commitment by the two companies to:
1. Build a new class of industry-specific enterprise solutions for iPhones and iPads 
2. Deliver a set of mobile management software services optimized for Apple's iOS and iCloud 
3. Offer enterprises AppleCare services via IBM 
4. Provide IBM supply, activate, and management for device expertise on Apple iOS 
This report analyzes the first wave of industry-specific enterprise solutions as part of the IBM MobileFirst for iOS applications unveiled on December 10, 2014. It also provides a status update on the IBM-Apple alliance deliverables. 
Table of Contents:
Executive Summary

Early Generations of Enterprise Mobile Apps Rarely Live Up to the Potential of Mobility

The Third Generation of MobileFirst Apps Address the Needs of Digital Businesses 

Figure 2. The Shift from Analog to Digital Begins with a Design Point for Intention Driven 

Figure 3. Five Key Characteristics of Third-Generation Mobile Apps 

The IBM-Apple Partnership Achieves First Milestones 

Ten IBM MobileFirst for Apple iOS Apps Meet the Third-Generation Mobile Apps Challenge 

Offerings Address Three Major Enterprise Use Cases 

First Wave of Industry-Specific Apps for Apple iOS 

Figure 4. Ten First-Wave Industry-Specific Apps Meet Third-Generation Mobile Enterprise Requirements 

Case Study: Field Service Apps Bring Together Disparate Information Sources and Take Advantage of Native Capabilities 

Recommendations: Use Mobile as the Gateway to Digital Transformation Projects 

The Takeaways

The Recommendations
---
Get Access to This Premium Content