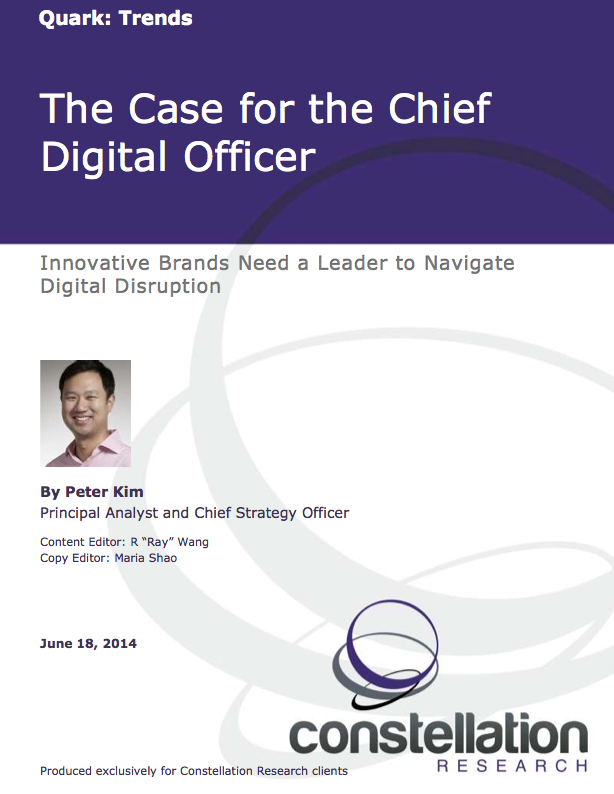 Innovative Brands Need a Leader to Navigate Digital Disruption
   *Now available for free download   
Digital disruption has affected every industry around the globe, bar none. Emerging technology has shifted the balance of power from long-standing institutions to newly formed entities that have been designed to capitalize specifically on the contemporary operating environment. Constellation's PESTEL (political, economic, societal, technological, environmental, and legislative) framework helps identify the major elements of the shift to digital, but today's brands are not staffed or structured properly to succeed in this transformation.
Enter the need for the Chief Digital Officer (CDO), the leader to help companies navigate successfully through the current era of digital disruption. The CDO charter includes formulating digital business strategy, activating operational initiatives, and managing organizational transformation. But the roles of CDOs are not one-size-fits-all; brands should hire and focus this executive on a critical set of industry-specific challenges.
This trends Quark examines why your organization needs a Chief Digital Officer, and outlines the major function of a CDO so you can make the case for a Chief Digital Officer. 
Table of Contents:
Executive Summary

Everything That Can Be Digital Will Be

But Businesses Aren't Ready for the Shift

Brands Need a Chief Digital Officer

The CDO is a Leader for Navigating Digital Disruption

CDO Charters Should Vary Based on Core Business Model

Recommendations
Get Access to This Premium Content