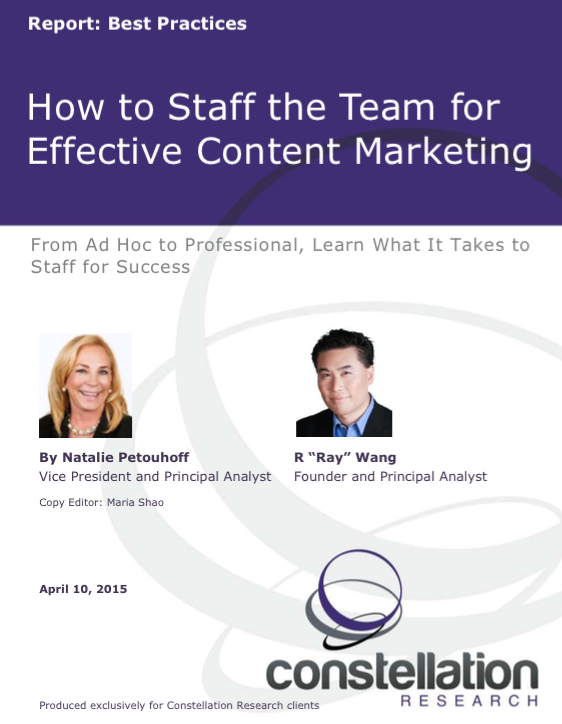 From Ad Hoc to Professional, Learn What It Takes to Staff for Success 
A large percentage of B2C marketers, when asked about the content marketing they are presently working on, responded with the following five top initiatives:
Becoming better at converting visitors on website: 65 percent

Creating more engaging/higher-quality content: 62 percent

Becoming better storytellers: 61 percent

Optimizing content: 61 percent

Organizing website content: 61%.1
In the B2B world, while 83 percent of marketers had a content marketing strategy, only 35 percent of them had documented it.2 In addition, the research shows that measurement is a key area where B2B marketers are struggling. Only 21 percent said they are successful at tracking ROI. However, having a documented strategy helps (35 percent of those with a strategy said they are successful at measuring content marketing success). And 94 percent of B2B marketers use LinkedIn to distribute content, making it the most used and the most effective social media platform for their content. Fifty-eight percent of B2B marketers use search engine marketing, making it the paid method used most often to promote/distribute content (they also said it's the most effective paid method). With all this content marketing going on, however, more B2B marketers said they are challenged in finding trained content marketing professionals this year (32 percent) than last year (10 percent).3
Whether a business is B2B or B2C, content marketing is a dominant need as is the staff to carry it out. This report outlines the type of staff as well as the content marketing strategy needed to meet the demands of content marketing as a key differentiator in business today.
1 http://contentmarketinginstitute.com/wp-content/uploads/2014/10/2015_B2C...
2 http://contentmarketinginstitute.com/2014/10/2015-b2b-content-marketing-...
3 http://contentmarketinginstitute.com/wp-content/uploads/2014/10/2015_B2B...
Purpose & Intent:
This report shares how leading organizations staff and tap resources for content marketing. Clients should use this document as a best practices guide in planning for the talent and business processes required for success. Building a content team does not mean just text, but includes many forms of media, from the written word to podcasts to videos to events to speaking engagements. The mix varies by company, but content is more than blog posts and white papers. Building a content marketing team and process is really about building a media company within your company. 
Get Access to This Premium Content