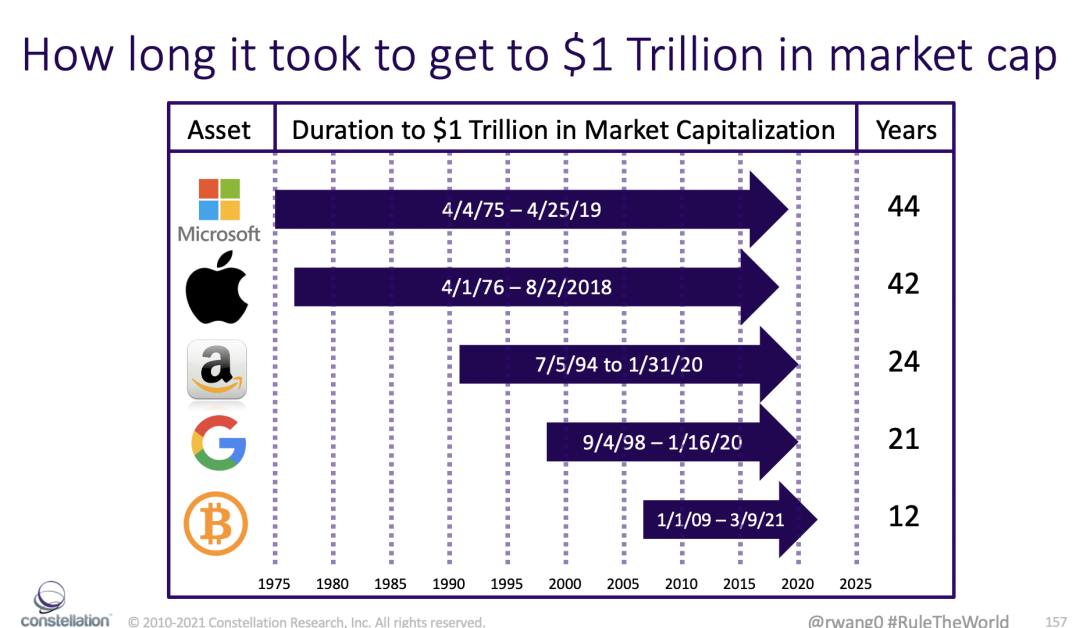 Crypto FOMO Drives Capital Flows Out Of Big Tech (For Now)
Retail investors have taken money out of the equity market and rotated into crypto to catch the wave.  With all crypto's now worth more than $2 Trillion in market cap and Bitcoin standing out at $1 trillion, this poses a risk to the US dollar dominance as the reserve currency.
Bitcoin ($57,000), $1T market cap
Ethereum ($3,491), $404 B market cap
Binance Coin ($643.74), $98 B market cap
Dogecoin ($.597), $77 B market cap
XRP ($1.67), $75 B market cap
Tether (.9999) $53 B market cap
Cardano ($1.63) $52 B market cap
The current rush into crypto and NFT's creates a casino atmosphere and "gold" rush into the next big thing.  Only a few crypto assets will survive in the long run.  Bitcoin's finite limit of 21 million coins, Ethereum's role in commerce, and Cardano seem to have the best prospects.  Expect this trend to continue into the summer and taper off as the reopen rotation gains traction.
The Bottom Line: Don't Count Big Tech Out
The first quarter of 2021 showed how the digital giants continued to grow at break neck paces.  While stock prices reflect a reopen rotation and crypto FOMO trend, few asset classes can show this type of year over year performance.  Don't count big tech out.  Big tech should remain a key component in portfolios.  However, not all big tech stocks are created equal.  Only the digital giants will continue to create competitive moats, invest in innovation, and play the long term game of global domination.
For the year:
Google up 30%
AirBnB up 22.68%
Oracle up 17.42%
IBM up 13.93%
SAP up 11.16%
Buying big tech stocks on the dip have often boded well for the long term investor.  Tesla, Apple, and Amazon are currently under performing for the year but have long term upside and most likely may be undervalued in the past week.  Take note, Honeywell's entry into the NASDAQ reflects how the company's portfolio is geared for more growth with Quantum Computing and Connected Buildings.
Get the latest book Everybody Wants To Rule The World
Your POV
Are you in the repoen rotation or the crypto FOMO?  What are you investing in next?  Ready to find the next set of digital giants?
Add your comments to the blog or reach me via email: R (at) ConstellationR (dot) com or R (at) SoftwareInsider (dot) org. Please let us know if you need help with your AI and Digital Business transformation efforts. Here's how we can assist:
Developing your digital business strategy
Connecting with other pioneers
Sharing best practices
Vendor selection
Implementation partner selection
Providing contract negotiations and software licensing support
Demystifying software licensing
Reprints can be purchased through Constellation Research, Inc. To request official reprints in PDF format, please contact Sales.