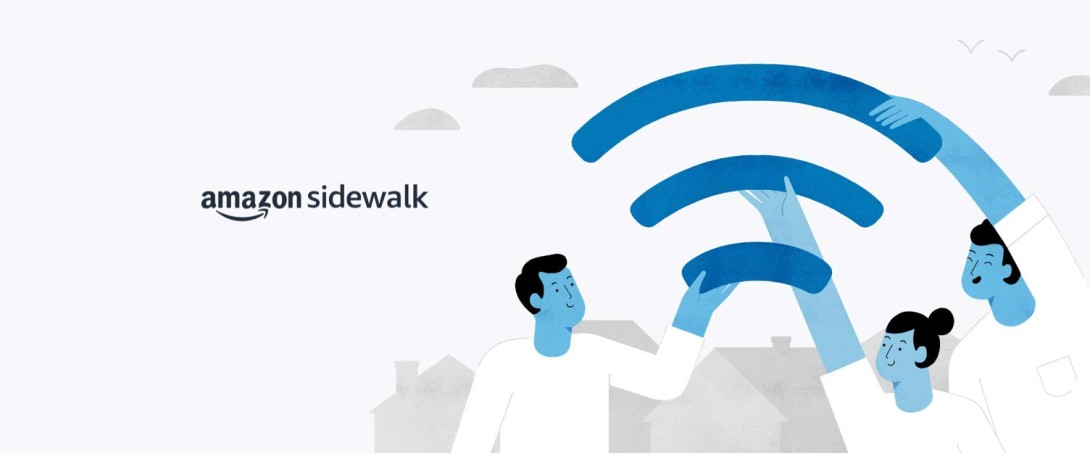 Key Features Extend Last Inch Network
On Friday May 7th, 2021, Amazon announced a series of updates to Amazon Sidewalk.  Sidewalk delivers last mile connectivity via a network bridge protocol on Amazon's smart home devices.  The Sidewalk Bridge devices such as Echo products and Ring Floodlight Cams use a 900 MHz band and Bluetooth Low Energy (BLE), to extend WiFi networks .  The partnership with Tile announced in the Fall of 2020 can connect with any Bridge device to deliver not only the last mile, but the last inch inside community wide networks build on these Bridge devices.
Sidewalk Bridges
Sidewalk Bridges are devices that provide connections to Amazon Sidewalk. Today, Sidewalk Bridges include many Echo devices and select Ring Floodlight and Spotlight Cams. A comprehensive list of Sidewalk devices includes:
Echo (3rd generation and newer)
Echo Dot (3rd generation and newer)
Echo Dot for Kids (3rd generation and newer)
Echo Dot with Clock (3rd generation and newer)
Echo Plus (all generations)
Echo Spot
Echo Studio
Echo Input
Echo Flex
Ring Floodlight Cam (2019)
Ring Spotlight Cam Wired (2019)
Ring Spotlight Cam Mount (2019)
Sidewalk devices
New Announcements Extend Devices And Reach
The Amazon Sidewalk neighborhood network gained three new features:
Tile joins Sidewalk to help customers find lost items.  Users can find items tagged by Tile via Alexa.  Echo devices will extend the coverage area to find Tiles bluetooth tagged objects.
Level partners with Sidewalk to control smart locks.  The range of Amazon Sidewalk makes it easier for any smart device in connected homes.  Level lock connects directly to Ring Video Doorbell Pro devices.
CareBand improves quality of life.  CareBand is helping dementia pateints with wearable technology that can provide indoor and outdoor activity racking.  Help buttons and automated analysis of activity patterns provide 24/7 monitoring.  With Amazon Sidewalk, no mobile devices are needed.
Sidewalk supports compatible Echo devices on June 8th.  Echo devices can extend the reach of Sidewalk.  Amazon has provided smart privacy provisions.  Shared data is protected with three levels of encryption. Users decide which devices have access.  Data is automaticaly deleted every 24 hours.
Amazon's product boss Dave Limp has been quoted in multiple media outlets stating, "Sidewalk is all about the next billion things that are going to get on the network".  Amazon's attacking the gap between where celluar ends and where home WiFi begins.  Amazon's Sidewalk network will being support for Tile Bluetooth trackers on June 14th.
On the privacy side, Amazon has shipped the products with opt-in requirements for location based services to protect user privacy.  They've also shipped the connectivity with opt-out to make it easier to adopt.  This balance between privacy and convenience will improve adoption and also help customers easily experience the benefits but manage privacy issues.
The Bottom Line: The Battle Of Last Inch Connectivity Is Here
From Starlink to Comcast and Verizon, delivering on the last mile has been a goal.  Reaching the last inch has come with Apple AirTags with Bluetooth tracker and Amazon Sidewalk with Tile.  As tech giants double down on neighborhood and micro mesh connectivity, expect more partnerships and innovations.  Amazon has smartly enabled many of its Echo devices and all of its Ring devices to extend these networks providing mesh coverage and keeping its devices sticky and deliver more value added digital services.  This latest battle for the last inch will result in only a handful of players, creating the next opportunity for connected services.