Adobe launched a new model behind its Firefly generative AI image system and outlined GenStudio, which is a suite that will enable enterprises and marketers to better manage the content supply chain.
Although those two items were among the headliners at Adobe's Max conference in Los Angeles, the company launched several new enhancements, products and services with generative AI layered throughout the company's portfolio.
The company made its case that creativity is the new productivity and will take a huge leap due to generative AI, which will enable creatives to explore possibilities, scale and personalize experiences.
More: Adobe raises Creative Cloud prices, adds generative AI credits | Adobe Firefly heads to enterprises, Adobe Express | Adobe reports strong Q3, ups outlook for Q4 
Not surprisingly, Firefly and generative AI was a common theme for Adobe at Max. The new Firefly Image 2 Model provides enhanced photographic quality with higher resolution and colors and improves human rendering. Firefly Image 2 Model is available today at Firefly's site and roll out to Creative Cloud apps.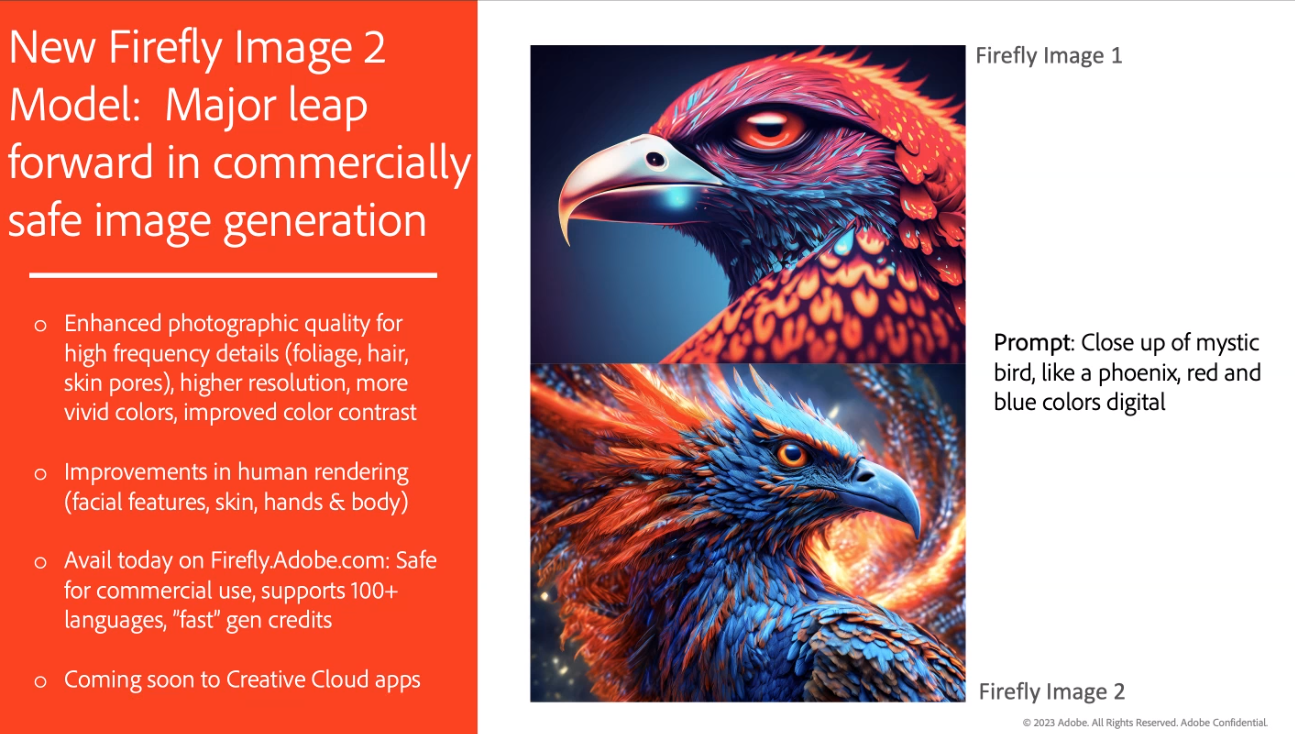 Firefly Image 2 Model will also enable generative match, new photo setting and prompt guidance. Adobe also outlined Firefly Vector Model, which provides the highest quality output for vectors used in logos, website graphics, product packaging and icons, Generative Match, which matches output with existing brand styles, and Firefly Design Model, which is generative AI for template designs.
Adobe added that Firefly models will also play a big role in GenStudio. For instance, teams can customize Firefly with branded assets and automate and integrate custom models in Creative Cloud workflows.
GenStudio is Adobe's enterprise play to improve the content supply chain. Adobe's plan is to move manual processes to AI and automation, connect workflows across silos, democratize content creation and be transparent.
Research: Connecting Experiences From Employees to Customers | Constellation ShortList™ Digital Experience (DX) Platforms | Constellation ShortList™ Content Management System (CMS) – Hybrid | Constellation ShortList™ Digital Asset Management (DAM) for High Volume Commerce
The company said GenStudio brings together applications across Adobe's portfolio including Creative Cloud, Express and Experience Cloud. Firefly and Adobe Experience Manager Assets are also included along with other applications.
Here's what Adobe GenStudio is hoping to do:
Scale content creation with generative AI including ideation, creation and editing.
Minimize manual tasks for creatives and automate production.
Use models to customize content to brands.
Automate workflows and handoffs.
Improve collaboration.
Provide metadata across the content cycle.
Minimize waste and centrally manage approved assets.
Give enterprises insights on performance.
To accomplish those goals, Adobe said GenStudio will be available in modules to cover workflow and planning, creation and production and delivery and activation. All modules will have an analytics engine. GenStudio is available now.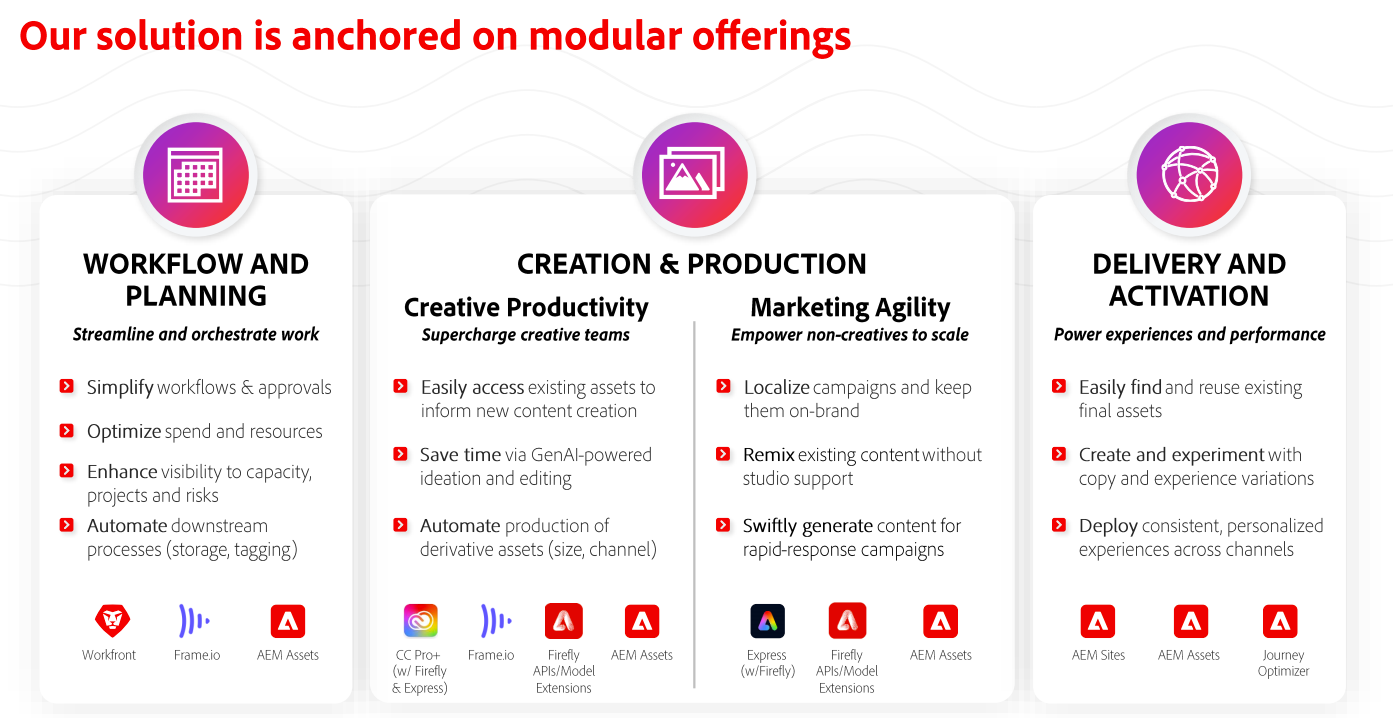 Adobe deployed GenStudio internally and said it saw an 83% decrease in time spent packaging content and an 88% decrease in time spent activating content. Amit Ahuja, senior vice president, Digital
Experience Business at Adobe, said GenStudio "can take tasks that would normally take hours or days down to minutes."
Here's a selection of other Adobe announcements at its Max conference.
Adobe Experience Manager Sites gets updates to be better equipped as an enterprise content management system.  Adobe said Experience Manager Sites has performance improve to boost search rankings, traffic and conversions, tools to optimize web content and experiment. The platform also simplified its authoring tools and enabled marketers to drag and drop Microsoft Word and Google Doc content and layouts into Experience Manager Sites. 
Creative Cloud gets more than 100 new features with Illustrator, Photoshop and Stock adding Firefly features and web-based workflows. Other apps including Lightroom, Premiere pro and After Effects will get AI features.
Illustrator will get Text to vector Graphic capabilities via Firefly. Other Illustrator additions include Mockup and retype. 
Adobe Express will use Generative Fill and Text to Template. Aside from a bevy of new features in Express, Adobe said the software will have an integration with Wix for web pages. Adobe will also make Express available on Google Chromebooks.
Premiere Pro users can publish videos directly to Instagram, Facebook, YouTube and TikTok. 
Constellation Research's take
Constellation Research analyst Liz Miller said:
"While much of the world is launching their first go-round of generative AI tools, Adobe is introducing a significant evolution of the Firefly portfolio of models with Firefly 2. The quality of output from Firefly is truly impressive with more detail, clarity and accuracy with every prompt. But it should also be noted that while the models are being refined to improve output, the business model is similarly being updated and upgraded to answer some of the significant business, ethical and creative concerns the market has. From creator and artist protections to content authenticity data to ensure availability for enterprise use, Adobe is focused on making this new ago of AI creativity positive for creators and users alike.

Adobe has also applied AI tools in smart places, helping creatives, marketers and business users alike be more efficient, effective and authentic. While it might sound trite, for a team to take hours of mundane work off their plate while simultaneously giving space for new paths to creativity to emerge is game changing. AI has revitalized so many creators who can now unleash their ideas in entirely new mediums. Adobe fully intends to stay ahead of that turn.

Adobe's differentiator has always been in the capacity to redefine and reapply creativity, be it through artistry or through portable document formats. The next step will be Adobe bringing these communities of creativity and connecting them in the name of profitable, durable growth."
Looking ahead
Adobe also showcased 11 early-stage innovations that revolved around generative AI. The prototypes may not make it to be commercial offerings but give Adobe's engineers and researchers to highlight their work.
The headliner at Adobe Max Sneaks was Project Stardust, an object aware editing engine. Project Stardust gives users the ability to select, edit and delete elements in any image. You can select people in a photograph, move them to a different place and fill in the background where they were standing. Elements like clothing can also be changed.
Other select innovations highlighted include:
Project See Through, an AI tool that makes it easy to remove reflections from photos.
Project Fast Fill, which takes Firefly to video with the ability to add, remove and expand content with text prompts. This tool, available in Photoshop now, would be added to Adobe's video applications.
Project Dub Dub Dub uses AI to improve video dubbing and automatically translate an audio track to a supported language.
Project Poseable, which takes an image generation model that can interact with 3D objects including poses from photos of real people.
Project Draw & Delight, a suite of generative AI tools that can take an initial doodle or scribble and turn it into polished and refined sketches. Users can then experiment with colors, styles and backgrounds.