In today's fast-paced and data-driven business world, generative AI is now in the midst of transforming the way companies innovate, operate, and work. With proof points like ChatGPT, generative AI will soon enough have a significant competitive impact on revenue as well as bottom lines. With the power of AI that can help people broadly synthesize knowledge, then rapidly use it to create results, businesses can automate complex tasks, accelerate decision-making, create high-value insights, and unlock capabilities at scale that were previously impossible to obtain.
Most industry research agrees with this, such as a major study that recently determined that businesses in countries that widely adopt AI are expected to increase their GDP by 26% by 2035. Moreover, the same study predicts that the global economy will benefit by a staggering $15.7 trillion in both revenue and savings by 2030 thanks to the transformative power of AI. As a knowledge worker or business leader, embracing generative AI technology can deliver a wide range of new possibilities for an organization, helping them stay competitive in an ever-changing marketplace while achieving greater efficiency, innovation, and growth.
While many practitioners are focusing on industry-specific AI solutions for sectors like finance services or healthcare, the broadest and most impactful area of AI will be in general purpose capabilities that quickly enablie the average professional to get their work done better and faster. In short, helping knowledge workers work more effectively to achieve meaningful outcomes to the business. It's in this horizontal domain that generative AI has dramatically raised the stakes in the last six months, while garnering widespread attention for the seemingly immense promise it holds to boost productivity as it blazes a fresh technology trail towards bringing the full weight of the world's knowledge upon any individual task.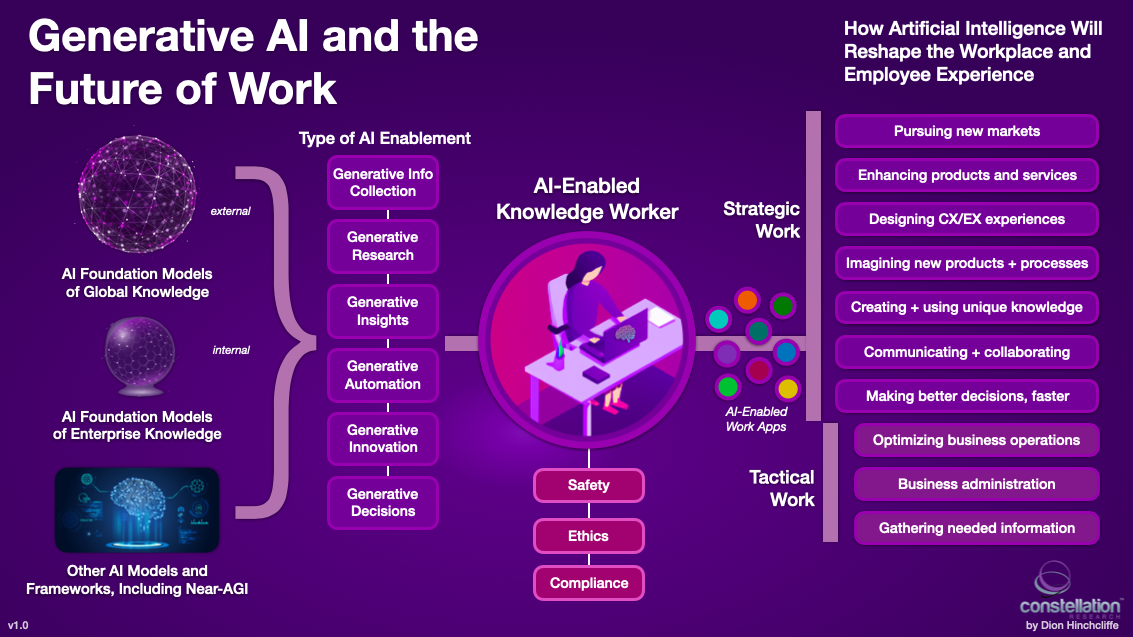 Delivering the Value of Generative AI While Navigating the Challenges
In my professional opinion, the ability for generative AI to produce useful, impressively synthesized text, images, and other types of content almost effortlessly based on a few text cues has already become an important business capability worthy of providing to most knowledge workers. In my research and experiments with the technology, many work tasks will benefit from between a 1.3x to 5x gain in speed alone. There are other less quantifiable benefits related to innovation, diversity of input, and opportunity cost that come into play as well. Generative AI can also provide particularly high value types of content such as code or formatted data, which normally require extensive expertise and/or training to create. It also has the capability to conduct advanced-level reviews of complex, domain-specific materials including legal briefs and even medical diagnoses.
In short, the latest generative AI services have proven that the capability is now at a tipping point and is ready to deliver value in a widespread, democratized away to the average worker in many situation.
Not so fast, say a chorus of cautionary voices that point out the many underlying challenges. AI is a potent technology that cuts both ways, and therefore a little advance preparation is required to use the technology while avoiding the potential issues, which are generally are:
Succeeding with General Purpose AI in the Workplace
However, the siren song of the benefits that AI can bring -- everything from raw task productivity to strategically wielding knowledge more effectively -- will continue as more proof points continue to emerge that today's generative AI solutions can genuinely deliver the goods. This will require organizations to begin putting into place the necessary operational, management, and governance safeguards into place as they climb the AI adoption maturity curve.
Some of the initial moves virtually all organizations should make this year as they situate generative AI in the digital workplace and roll it out to workers includes:
While the totality of theis list may seem to be a tall order, most organizations actually have many pieces of all this in various places in their organization already from department AI efforts. In addition, if they have developed an enterprise-wide ModelOps capability, this is a particularly good home for a large part of these AI oversight practices, in close conjunction with appropriate internal functions including human resources, legal, and compliance.
Related: See my exploration of ModelOps and how it helps organizations have a consistent, cost-effective AI capability with safety and ethics built-in
The Core Focus for Enabling AI in the Workplace: Foundation Models
Organizations looking at providing their workforce with AI-enabled tools will generally be looking at solutions that are powered by an AI model that is able to easily produce useful results without significant effort or training on the part of the worker. While the compliance, bias, and safety issues mentioned above may seem to be a significant hurdle, the reality is that most AI models already have basic protections and safety layers, while many of the others can be provided centrally through an appropriate AI or analytics Center of Excellence or ModelOps capability. 
Large language models (LLMs) are particularly interesting as the basis for AI workplace tools because they are powerful foundation models that have been trained on a tremendous amount of open textual knowledge. Vendors for LLM-based work tools are generally going down one of several roads: The majority of them are building on an existing proprietary model that is specially tuned/optimized for certain behaviors or results they desire, or they are allowing model choice, enabling businesses to utilize language or foundation models they have already vetted. Some are also taking the middle road by starting with well-known, highly-capable models such as OpenAI's GPT-4, and adding their own special sauce to them on top.
While there will always be AI tools for the workplace based on lesser known and not-as-established AI frameworks and models, right now the most compelling results tend to be found with the better-known LLMs. While this list is always changing, the leading foundation models known currently, with varying degrees of industry adoption are (in alphabetical order):
It's also important to keep in mind that while some enterprises will be seeking to work directly with LLMs and other foundation models to create their own custom AI work tools, the majority of organizations are going to start with easy to use business-grade apps that already have an AI model embedded within them. Nevertheless, understanding which AI models are underneath which worker tools is very helpful in understanding their capabilities, supporting properties (like safety layers), and general known risks.
The Leading AI Tools for Work
The following is a list of AI-enabled tools that primarily use some form of foundation model to synthesize or otherwise produce useful business content and insights. I had a tough choice to make on whether to include the full gamut of generative AI services including images, video, and code. But those are covered in sufficient detail elsewhere online and in any case, they focus more on specific creative roles.
Instead, I sought to focus on business-specific AI work tools based on foundation models that were primarily text-based and more horizontal in nature, and thus would be a good basis for a broad rollout to more types of workers:
Here are some of the more interesting solutions for AI tools that can be used broadly in work situations (in alphabetical order):
As you can see, writing assistants tend to dominate Ai tools for work, since they are generally the easiest to create using LLMs, as well as the most general purpose. However, there are a growing number of AI tools that cover many other aspect of generative work as well, some of which you can see emerging in the list above.
In future coverage for AI and the Future of Work, I'll be exploring vertical AI solutions based on LLMs/foundation models for legal, HR, healthcare, financial services, and other industries/functions. Finally, if you have an AI for business startup that a) primarily uses a foundation model in how it works, b) has paying enterprise customers, and c) you would like to be added to this list, please send me a note. You are welcome to contact me for AI-in-the-workplace vendor briefings or client advisory as well.
My Related Research
How Leading Digital Workplace Vendors Are Enabling Hybrid Work
Every Worker is a Digital Artisan of Their Career Now
How to Think About and Prepare for Hybrid Work
Why Community Belongs at the Center of Today's Remote Work Strategies
Reimagining the Post-Pandemic Employee Experience
It's Time to Think About the Post-2023 Employee Experience
Research Report: Building a Next-Generation Employee Experience
Revisiting How to Cultivate Connected Organizations in an Age of Coronavirus
How Work Will Evolve in a Digital Post-Pandemic Society
A Checklist for a Modern Core Digital Workplace and/or Intranet
Creating the Modern Digital Workplace and Employee Experience
The Challenging State of Employee Experience and Digital Workplace Today
The Most Vital Hybrid Work Management Skill: Network Leadership