Photo by UX Indonesia on Unsplash 
What happened?
SoftBank-backed Automation Anywhere, an RPA company, (currently valued over $7B+) recently acquired FortressIQ, a process mining company, for an undisclosed sum. FortressIQ, founded in 2017 by an ex-GenPact (a BPO outsourcing firm) executive, has technology partnerships with Automation Anywhere's direct competitors – Blue Prism and Microsoft Power Automate. 
Why does it matter?
To understand why this is important, you need to understand the Robotic Process Automation (RPA) concept and what is involved in making RPA successful as well. RPA is generally about automating manual work processes by analyzing the inefficiencies, cost, and wastage and improving them by automating them. For any RPA project to be successful, identifying inefficient processes is key. Unearthing the processes to automate, analyzing it, and justifying automation costs to senior management to get approval is a lengthy and expensive process – especially if you bring in outside consulting firms to execute on it. This is where process mining tools come into play. AI-based process mining tools can analyze the data, workflow, and model workflow processes as close to real-life as possible with very little effort. 
With the pandemic and work from home (WFH) in full swing, a lot of IT processes have also moved online – whether it is rolling out digital applications or applying for a mortgage loan application, etc. Many enterprises were not ready for this forced digital maturity. Many of them hired as many warm bodies (aka IT consultants) as they can, to solve this problem in the back office by having many humans in the loop to create a "semi-automated" solution. Many enterprises are tired of paying exorbitant rates to those consultants and are now trying to optimize the loop by automating wherever they can. I wrote a couple of reports about emerging trends in SRE and Incident Management recently on how enterprises are trying to cope with this situation (see the further reading section below).
Business process identification and process mining are about learning the unknowns in the process of mapping known business processes. 
Where do legacy tools fail
Legacy process mining tools mine data logs from ERP, CRM, BPM (Business Process Management), Invoicing systems, etc. to model a business process workflow. The problem with those tools is that they just identify the processes, and the automation tools can automate it, without removing the inefficiencies in the process flow first. These process mining tools read the logs that are generated by the transactions in a specific process. By combining the logs, over many transactions, these tools can map out the process as it is done today. It can get difficult if the logs are dispersed across many systems for a single process. Unless all of the data is fed properly, the tool might land up creating a partial process map which can result in failure. In addition, the tools also assume all of the processes are done in real-time, and in chronological order. If portions of the process are executed in batch mode, those timestamps can create an improper process map as well.  
How Fortress IQ is different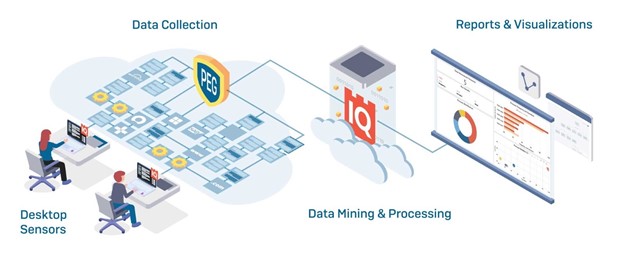 Image Source: FortressIQ. 
Fortress IQ takes a slightly different approach to process mining. They deploy a Virtual Process Analyst (VPA) which is a sensor embedded in user desktops to visually record all activities. Later the recordings are analyzed using AI technology. A combination of computer vision, natural language processing (NLP), and Machine Learning (ML) technologies try to understand the process flow and map out the processes. When deployed across multiple desktops, by capturing various analysts doing the same work, the analysis can reveal the differences and potentially unearth the inefficiencies in the process. After filtering out the noise, and side activities, AI can come out with a clear view of the current process and make recommendations for the most optimized process that can be automated using RPA. One of the major issues is redacting sensitive information from the screenshots/processes captured – AI can help in that front as well while making recommendations. Fortress IQ's DevOps accelerator packs for industry verticals are a good addition for process mining in old-school industries with a closed mindset.  
Understanding the current processes and identifying inefficiencies is key to figuring out the optimal process to automate, hence FortressIQ's motto "understand today, plan for a better tomorrow with process intelligence" makes a lot of sense. Most of the RPA projects fail because they fail to identify the unknowns properly during the process identification which is a very complex work including interviews with process workers, stakeholders, business analysts, and creating process diagrams that may not reflect the true picture with the true hidden nuances.  
Current Landscape
The field is getting competitive with many smaller players popping in the market - Celonis, Kryon, MiniT, SmartSense, ProDiscovery, ABBYY, Kofax, PuzzleData to name a few. Though some of these players with unicorn valuations are not that small anymore.
This space has been acquisition galore for the last few years: 
In Aug 2019, ABBYY acquired TimelinePI 
In Oct 2019, RPA company UIPath acquired Stepshot and ProcessGold 
In May 2020, Microsoft acquired Softomotive to be part of Microsoft Power Automate. 
In Jul 2020, IBM acquired RPA company WDG Automation 
In Jan 2021, SAP acquired gemmal process automation company Signavio 
In March 2021, ServiceNow acquired an Indian RPA company Intellibot.io.  
In April 2021, IBM acquired process mining software company MyInvenio  
In Aug 2021, Salesforce/MuleSoft acquired RPA company Servicetrace 
In Aug 2021, Appian acquired process mining software company Lana Labs 
In Oct 2021, Microsoft acquired Clear Software 
In Oct 2021, process mining software company Celonis acquired Lense.io 
Constellation POV 
We at constellation think this is a good acquisition by Automation Anywhere to justify businesses' money spent in RPA by showing the inefficiencies in current processes without spending a lot of money upfront. We also expect M&A to continue and will consolidate the smaller players to join hands with the bigger backer for business expansion and survivability. There is a lot of VC money is flowing into this space in the last few years, obviously, they will expect to get returns sooner than later.  
Many RPA projects fail because of poor process identification. In addition, many of the inefficient front and back-office business processes still remain undiscovered as no one thought of it. This is where AI-driven process mining tools such as Fortress IQ can help to identify many processes to automate in a very short period. If you don't know what is broken, it is hard to fix it. 
Recommendation
Given that the announcement just came out, and the fact that Automation Anywhere and Fortress IQ are not fully integrated one needs to exercise caution before going full onboard. It is also worth exploring other tools in the market to figure out how to identify inefficient processes faster, and with all hidden nuances, before engaging in full-blown RPA projects. This will increase the success rate of such projects.
Further Reading
Constellation Short List for RPA tools
2022 Trends in Incident Management