This week's big announcements at Microsoft Build 2023 mostly centered, as one might expect these days, around the adoption of artificial intelligence across Microsoft's various products. And by AI, specifically it's generative AI based on vast foundation models that is the focus these days. The well-known annual developer conference in Seattle was a veritable hotbed of AI news, featuring a series of updates aimed at making the company's flagship Windows operating system and productivity apps smarter, more intuitive, and potentially more ubiquitous​​.
Since the AI-powered Bing's launch earlier this year, users have engaged in over half a billion chats and created more than 200 million images using the Bing Image Creator. Furthermore, daily downloads of the Bing mobile app have seen an eightfold increase since launch, demonstrating the substantial interest in this AI enhancement​, especially as it also provides still-rarified access to the latest version of the OpenAI's most powerful new large language model, GPT-4​. The conference also marked a new stage in the partnership between Microsoft and OpenAI, as Bing was integrated into ChatGPT, a move that promises to provide users with more grounded answers and easy-to-access citations​.
But by far the most interesting news for digital workplace and end-user computing professionals was Microsoft's many announcements aimed at incorporating AI into important aspects of the company's desktop platform and productivity applications.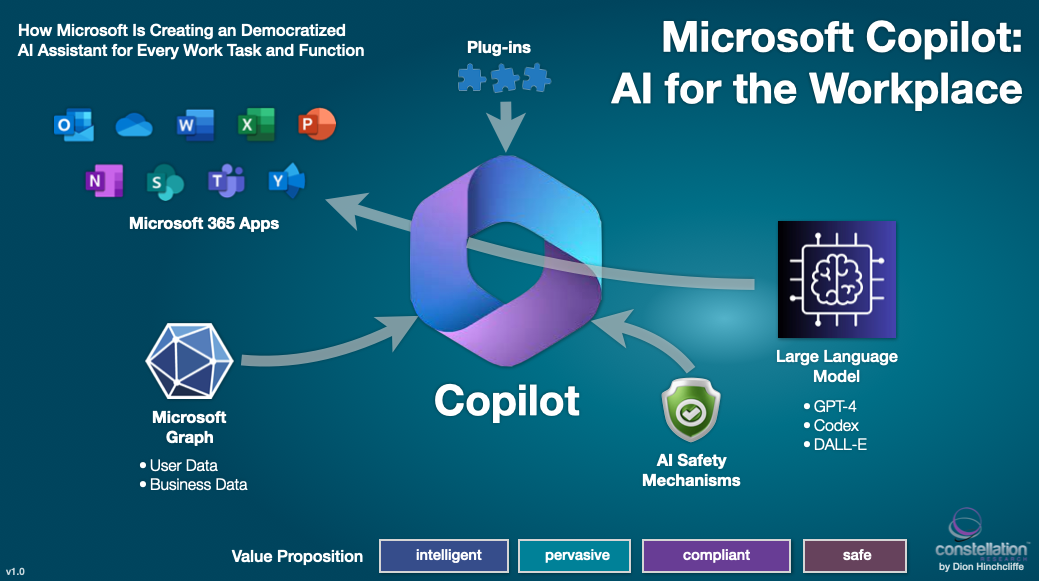 AI is Coming for All Your Microsoft Products (and the Data in Them)
Further complementing the scope of Copilot announcements for Microsoft365 a couple of months ago, Microsoft introduced a native OS AI "Copilot", designed to edit, summarize, create, and compare documents across Windows 11. This tool will provide quick access to personalized answers and relevant suggestions and can perform tasks such as changing a screensaver or turning on Bluetooth. This integration of an AI 'copilot' into Microsoft's platforms is a significant move and is widely seen as a watershed moment for the future of computing as a key way to accelerate work, amplify innovation, and eliminate tedious tasks.
This major announcement moves Microsoft's generative AI capabilities directly onto the desktop. Dubbed Copilot for Windows 11, the tool helps users edit, summarize, create, and compare documents across Windows 11 just as it underscores the company's ambitious plans for AI integration​​. Microsoft's latest Work Trend Index research -- you can read my detailed summary of its fjndings -- has shown that workers are spending two full days of the work week managing email and attending meetings, leading to a growing demand for such AI assistants to tackle and/or reduce the growing volume of digital work​​.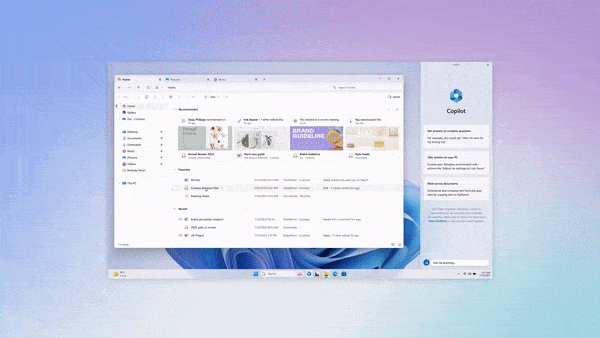 Copilot in Windows 11 sits right alongside the desktop to provide instant AI assistance
Microsoft 365 Copilot is now the overall brand for end-user AI assistance, which combines the power of AI foundation models directly with users' business data in Microsoft Graph and Microsoft 365 apps. Copilot aims to streamline virtually all types of work and increase productivity​​. Another key highlight of the conference was the announcement of extensibility for Microsoft 365 Copilot with plugins to greatly enrich what an AI assistant can do. This move is designed to empower developer everywhere to integrate their apps and services into Microsoft 365 Copilot, aiming to reach hundreds of millions of users and create productive, AI-powered new ways of working​​. Microsoft announced three types of plugins for Microsoft 365 Copilot: ChatGPT plugins, Teams message extensions, and Microsoft Power Platform connectors. The latter will allow developers to use existing software and tooling investments and skills​.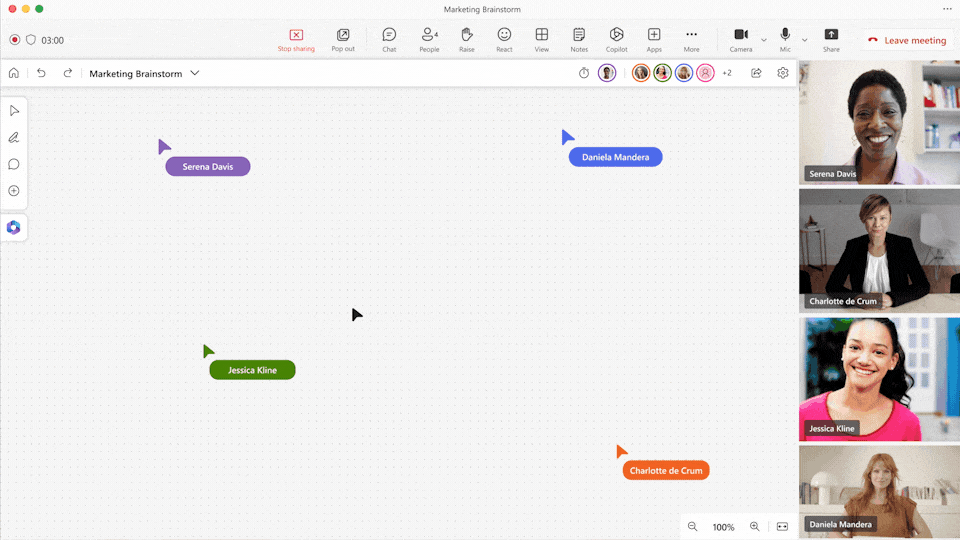 Copilot Whiteboard in Microsoft Teams can auto-generate ideas, organize ideas into themes, create designs
Customers in the Microsoft 365 Copilot Early Access Program will have access to over 50 plugins from partners such as Atlassian, Adobe, ServiceNow, Thomson Reuters, Moveworks, and Mural, with thousands of additional plugins being enabled in the coming months​​.
In terms of user safety and protections, Microsoft announced it is continuing to add AI safety technology such as the ability to help users determine if images are AI-generated based on information included in their metadata​​. Many other safety mechanisms are planned, something that IT administrators and CISOs will care greatly about.
Developers can now create Teams message extensions today that will function as plugins for Microsoft 365 Copilot, with the company introducing new capabilities in Teams Toolkit to make it easier to create, test, and debug plugins​​.

The new Semantic Index for Copilot is a sophisticated AI map of your user and company data
In terms of its line of business apps, Microsoft 365 Copilot can now also access structured data from Microsoft Dynamics 365 and Microsoft Power Platform stored in Microsoft Dataverse, meaning Copilot responses will be grounded in business data in addition to user data in Microsoft Graph​​, which is certainly turning into the strategic business data platform I long suspected it would become.
Remarkably, the news above only scratches the surface of what Microsoft announced at Microsoft Build, with many other niche but significant AI announcements that will be challenging to fully absorb for many of their customers. But the arrival of powerful, democratized AI is a game-changing event in the industry, and most vendors know the stakes: Don't adopt AI fast enough, and users may vote with their feet for platforms that provide the potent capabilities that the latest AI systems have proven to deliver
IT Departments: Starting Preparing for Copilot Now
Wrapping up, the Microsoft Build 2023 conference heralded a new era of AI advancements, with a strong focus on increasing user productivity and streamlining workflows. The integration of Bing into ChatGPT and the expansion of Microsoft's AI tool, Copilot, each demonstrate in their own way Microsoft's commitment to harnessing the power of AI for practical, everyday use. The introduction of plugins for Microsoft 365 Copilot, coupled with robust user safety measures, reflect a vision of a more efficient and user-friendly AI-enabled future. But the star of the show by many accounts was Copilot for Windows 11, which is being billed as the first major AI assistant for a PC platform.
These advancements are likely to have a significant impact on what businesses can achieve with technology in their daily work, ushering in a new era of convenience and productivity for those that adopt them. My recommendation is that digital workplace and employee experience teams immediately begin researching these new additions to Microsoft's platforms and applications thoroughly and train users on the ones that have meaningful impact as they become available, using digital adoption tools if necessary to broadly help with uptake. The rewards for most workers are considerable and for now, the risks appear to remain manageable, but AI skills will soon become the long pole in getting value, not feature availability.
My Related Research
How Generative AI Has Supercharged the Future of Work
Analysis of the White House's Guidance on Responsible AI Research, Development, and Deployment
How Leading Digital Workplace Vendors Are Enabling Hybrid Work
Every Worker is a Digital Artisan of Their Career Now
How to Think About and Prepare for Hybrid Work
Why Community Belongs at the Center of Today's Remote Work Strategies
Reimagining the Post-Pandemic Employee Experience
It's Time to Think About the Post-2023 Employee Experience
Research Report: Building a Next-Generation Employee Experience
Revisiting How to Cultivate Connected Organizations in an Age of Coronavirus
How Work Will Evolve in a Digital Post-Pandemic Society
A Checklist for a Modern Core Digital Workplace and/or Intranet
Creating the Modern Digital Workplace and Employee Experience
The Challenging State of Employee Experience and Digital Workplace Today
The Most Vital Hybrid Work Management Skill: Network Leadership