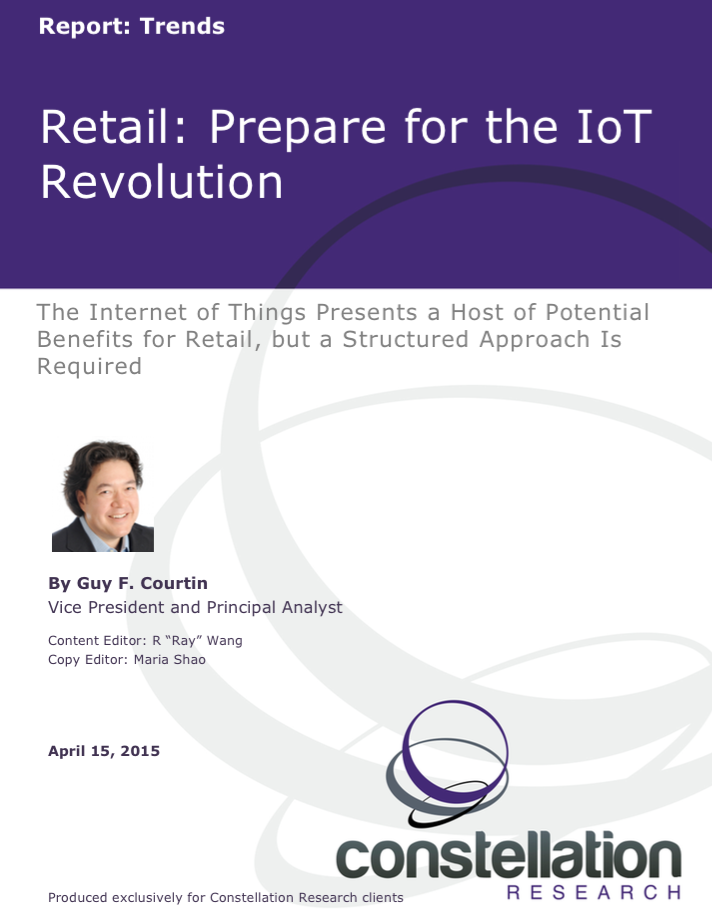 The Internet of Things Presents a Host of Potential Benefits for Retail, but a Structured Approach Is Required
The Internet of Things (IoT) is viewed as a major driver of the third Industrial Revolution. There is no question that the connectivity of "things" will only continue to affect how our businesses are run and how they function moving forward.1 Constellation expects that there will be close to 80 billion connected devices worldwide by 2020. The adoption and usage of IoT has affected different industries at different paces. For instance, heavy industry and aerospace/defense have already been using sensors to better monitor their assets, products and processes – they just never had a cool name for it. However, other industries, in particular retail, are starting to dive into IoT. While tracking technologies such as barcoding and RFID have been around, the ability to bring additional visibility to the supply chain is beginning to truly take root.
The need for greater visibility within the retail supply chain is driven by a number of trends. The diversity and volume of SKUs continue to expand at an unprecedented pace. It is a constant challenge for retailers and consumer packaged goods (CPG) companies to keep up with inventory changes. In addition consumers' expectations are constantly growing and evolving with regard to wanting product how, when and where they want it. These disruptive forces place greater strain on the retail supply chain to be more responsive and nimble. IoT helps retailers and CPG companies extend their visibility deeper into the supply chain. IoT offers a bridge to the last mile of retail connectivity.
However, retail and CPG companies should avoid chasing after the killer application that will drive IoT. Rather, they need to focus on the near-term use cases that can fund and bring a return on investment to IoT, lay down the ground work, and prepare for a future killer application – one we may not have even imagined today.
This report addresses how retailers and CPG companies should prepare for and evaluate IoT. It examines the use cases applicable for retail as well as the different characteristics within retail that must be considered with IoT. 
Watch video: 5 Ways Retailers Can Take Advantage of IoT Today
Purpose & Intent:
This report provides insights into how retailers can prepare for the Internet of Things (IoT). This document is a source for management planning assumptions. Clients should work closely with both the business and technical teams to ensure success in retail transformation projects. This report offers insights into four of Constellation's primary business research themes, Consumerization of IT and the New C-Suite, Data to Decisions, Matrix Commerce, and Technology Optimization and Innovation. 
Get Access to This Premium Content