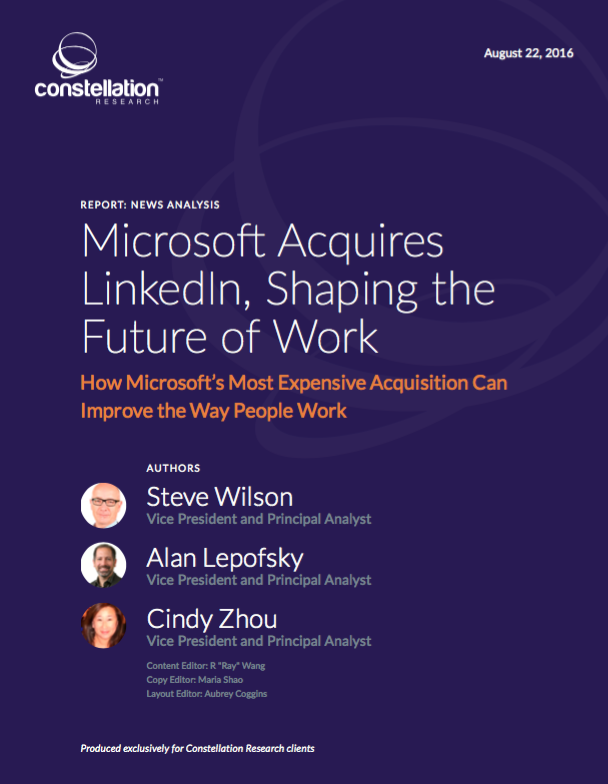 How Microsoft's Most Expensive Acquisition Can Improve the Way People Work
Microsoft turned heads in June 2016 when it announced its $26 billion purchase of online networking company LinkedIn, the software giant's most expensive acquisition to date. Executives from both companies explained that the deal will lead to richer user experiences in Microsoft's Office 365 and Dynamics products. At first glance, analysts imagined the utility of the acquisition to stem from integration of LinkedIn and Microsoft products – for example, incorporating LinkedIn social graphs into Office 365 meeting invitations to help users better prepare for meetings. 
Constellation, however, views the LinkedIn acquisition as a broad strike by Microsoft to solidify its position as a preferred workplace tool for the Future of Work. The acquisition provides Microsoft an opportunity to produce "smart" workplace tools strengthened by the incorporation of LinkedIn's analytics and social data. At minimum, users should expect intelligent workplace tools, powerful native customer relationship management (CRM), and analytics-driven human capital management (HCM) to result from the acquisition. This report examines these potential enhancements to Microsoft's workplace tools resulting from the LinkedIn acquisition, paving the way to new and improved ways to work. 
Get Access to This Premium Content