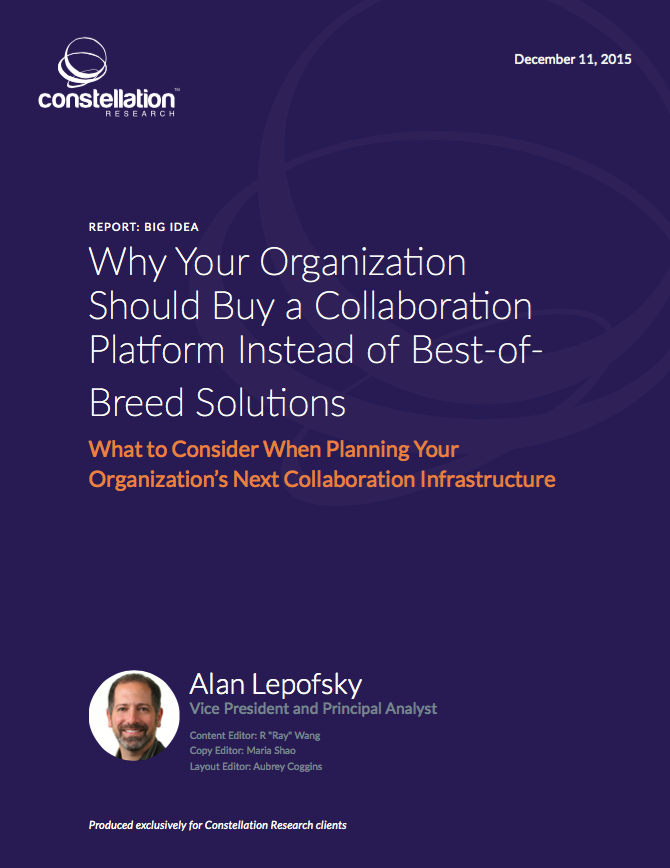 What to Consider When Planning Your Organization's Next Collaboration Infrastructure 
When it comes to communication and collaboration platforms, the tool at the center of work for the last few decades has been email. For most organizations, from small local businesses to the world's largest enterprises, that meant selecting one of three choices: Microsoft Outlook/Exchange, IBM Notes/Domino or Google Gmail. But the days of email-centric platform decisions have come to an end. Organizations face an inflection point as email's dominance fades and as the time has arrived to choose the next generation of tools that will empower both individual productivity and team collaboration for the next decade. These platforms will not be email-centric, but rather will take a more holistic approach to integrating features such as messaging, chat, web-conferencing, social networking, file- sharing, project management and ideally business process software into a seamless experience. 
Organizations must determine if they should buy a suite of products from a single vendor or piece together tools from multiple vendors in a "best-of-breed" approach. While there are benefits and challenges to both options, Constellation believes that overall a suite approach remains the correct decision for most organizations. There is an important point here, though; today's cloud-centric suites are not the locked-downproprietarysilos their predecessors were. Instead, suites from the large vendors have become more open and extensible, thus earning a shift in name from suite to platform.  
Purpose & Intent:
"Should we use a group of products from a single vendor or purchase different features from multiple specialized vendors?" 
This question, otherwise known as "suites versus best-of-breed", is one of the oldest and most important that IT decision makers have to answer. But is the question still valid? Suites are no longer proprietary offerings with long development cycles, but rather open and extensible platforms which are frequently updated. Best-of-breed vendors can still fill niche gaps, but their unique features can quickly be commoditized. Thus, a more accurate question would now be "which platform should we be looking at, and are there niche products that we should integrate into it?" 
The purpose of this report is to show how collaboration platforms provide a more seamless and secure user experience, while reducing costs and administrative complexities from piecing together multiple tools. This report covers two important topics:
How vendors are releasing software in much shorter cycles than before

The advantages of platforms over best-of-breed solutions. 
Get Access to This Premium Content