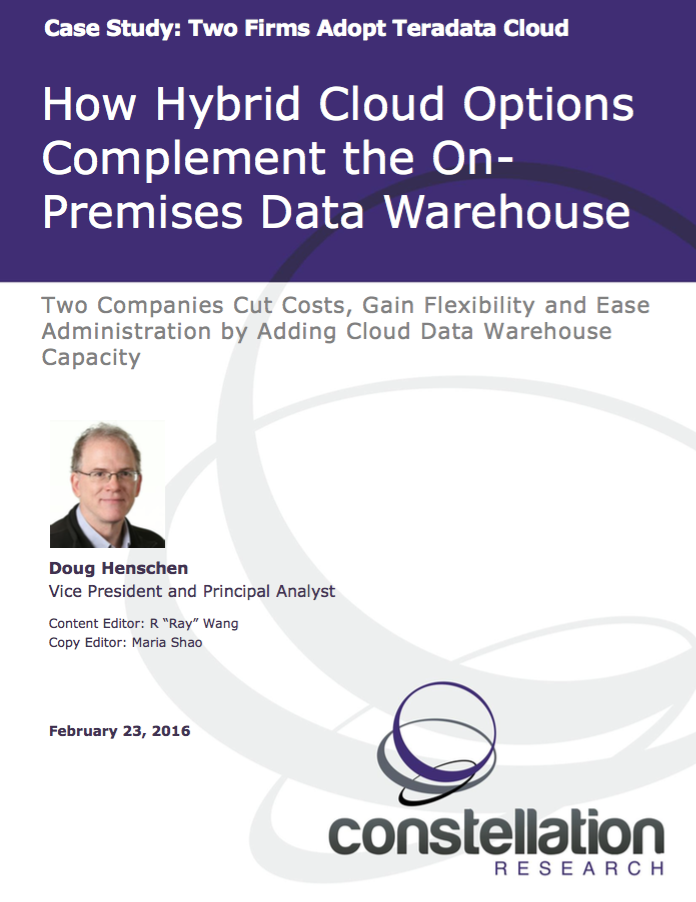 Case Study: Teradata
Two Companies Cut Costs, Gain Flexibility and Ease Administration by Adding Cloud Data Warehouse Capacity
This case study examines the implementation process and benefits of Teradata Cloud for two companies, Core Digital Media and a global mining company. 
Core Digital Media (Core Digital), an online marketing and customer-acquisition business based in the Los Angeles area, wanted to avoid deploying and maintaining a separate physical disaster recovery (DR) system for its on-premises Teradata data warehouse. A second firm, a global mining and minerals company that wished to remain anonymous, wanted a less expensive, less taxing approach to running both its development and testing (dev-test) instances and its disaster recovery environment. Both companies took the hybrid-cloud deployment path, leaving their production Teradata systems on premises while moving DR and both dev-test and DR, respectively, to Teradata Cloud. 
Both of these deployments solved problems and yielded expected and unexpected benefits. The projects also required some adjustments to administrative processes and expectations. Both companies now see hybrid deployment as an invaluable aspect of their respective data warehousing strategies. What's more, they're investigating additional hybrid use cases, starting with data exploration and predictive analysis in the cloud.  
Get Access to This Premium Content