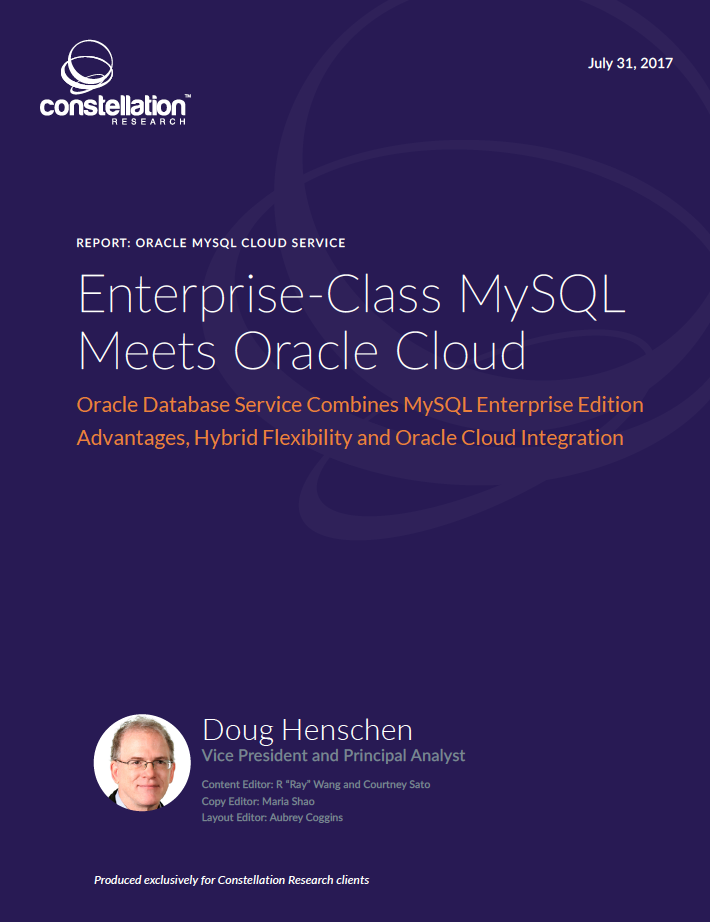 Oracle Database Service Combines MySQL Enterprise Edition Advantages, Hybrid Flexibility and Oracle Cloud Integration
MySQL is the most popular open-source database in the world, according to the authoritative DB-Engines survey, so it should be no surprise that MySQL also ranks among the most widely used databases in the cloud. Not only are an inestimable number of the more than 15 million MySQL deployments running on cloud Infrastructure-as-a-Service (IaaS), but every major public cloud provider also has a managed MySQL Database-as-a-Service (DBaaS) offering. DBaaS is the easiest and most cost-effective way to use database capacity in the cloud because the service provider automates provisioning, deployment and ongoing maintenance tasks, including backups, patching and software updates.
Enter the Oracle MySQL Cloud Service, released for production on the Oracle Cloud in September 2016. This report explores how Oracle MySQL Cloud Service differs from other MySQL DBaaS offerings. For starters, it's the only DBaaS service based on the commercial MySQL Enterprise Edition. This paper details Enterprise Edition-related advantages in monitoring, backup, security, high availability and support. The report also details hybrid deployment flexibility and Oracle Cloud integrations unique to the service.
Constellation sees Oracle MySQL Cloud Service as a good option for including supporting on-premises MySQL Enterprise Edition or Community Edition deployments with backup and test/dev instances in the cloud or for migrating on-premises applications built on these databases to the cloud. It's also a good fit when developing and proving new MySQL applications in the cloud before moving them back on premises or when powering Software-as-a-Service (SaaS) applications. Finally, Oracle MySQL Cloud Service is the only choice for customers who want MySQL Enterprise Edition capabilities as a cloud service or who want to integrate with Oracle Cloud services or Oracle Database and data-management services.
Get Access to This Premium Content