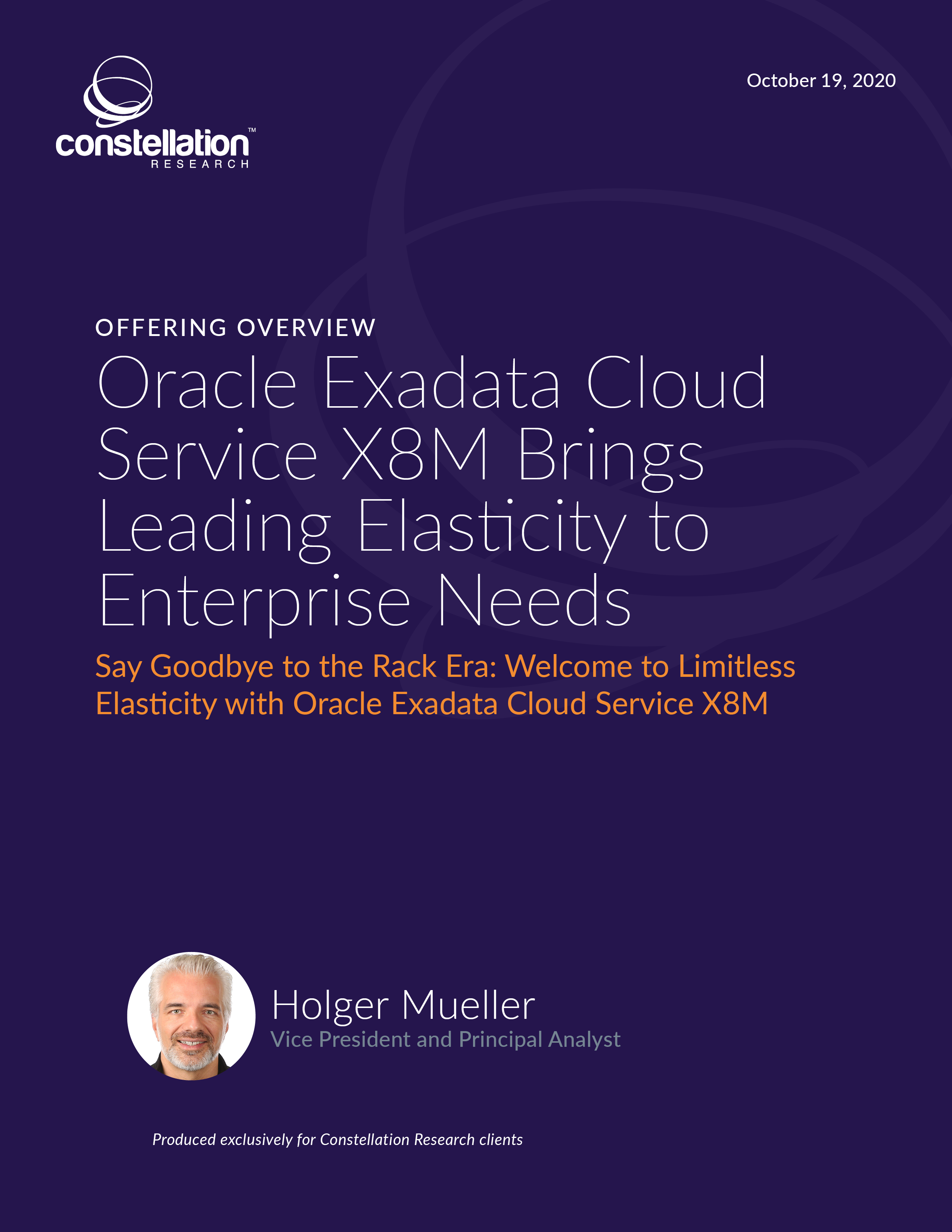 Executive Summary
This report provides an overview of how Oracle Exadata X8M became a member of the Oracle Cloud Infrastructure offering and analyzes its capabilities to meet enterprises' needs for a next-generation computing platform that allows them to deploy workloads across both on-premises environments and the public cloud. It discusses how Oracle Exadata Cloud Service X8M adds key elasticity to the database computing demands of an enterprise, effectively ending the era of racks and moving on to dynamic computing units in the cloud. 

Oracle Gen 2 Cloud Infrastructure is the public cloud manifestation of Oracle's vision for the "chip-to-click" integrated technology stack (i.e., from the CPU silicon, across all ISO/OSI layers and all the way to the end-user mouse click). With the availability of Oracle Exadata X8M in the second half of 2019, Oracle provided a high-performance Oracle Database platform for data-intensive (transactional and analytical) workloads, as well as petabyte-scale data warehouses. Oracle Exadata X8M has followed the traditional "maturation" path of Oracle platforms, first available on-premises, then as part of the Oracle Cloud@Customer offering and now as Exadata Cloud Service in the Oracle Cloud Infrastructure. 

Because Oracle uses the same technology stack and machines in both its cloud and on-premises implementations, it has the highest degree of "identicality" across these offerings to be found among all vendors that are part of Constellation Research's Market Overview on next-generation computing platforms. The others are Amazon Web Services' Outposts on-premises portfolio,  Google GKE On-Prem,  IBM Cloud Private and Microsoft Azure Stack. ,  Also of note is the Constellation Vendor Profile on the newest Oracle Exadata Database Machine, Oracle Exadata X8M,  as well as the recent Offering Overview about Oracle Autonomous Database and Oracle Dedicated Region becoming part of Oracle Cloud@Customer,  the Offering Overview on the latest release of Oracle Autonomous Database,  and, finally, the recent blog post on how Oracle brings its complete cloud technology, database and applications stack to the customer's data center.  
Get Access to This Premium Content