Over $8.5 Billion Invested In 241 Quantum Startups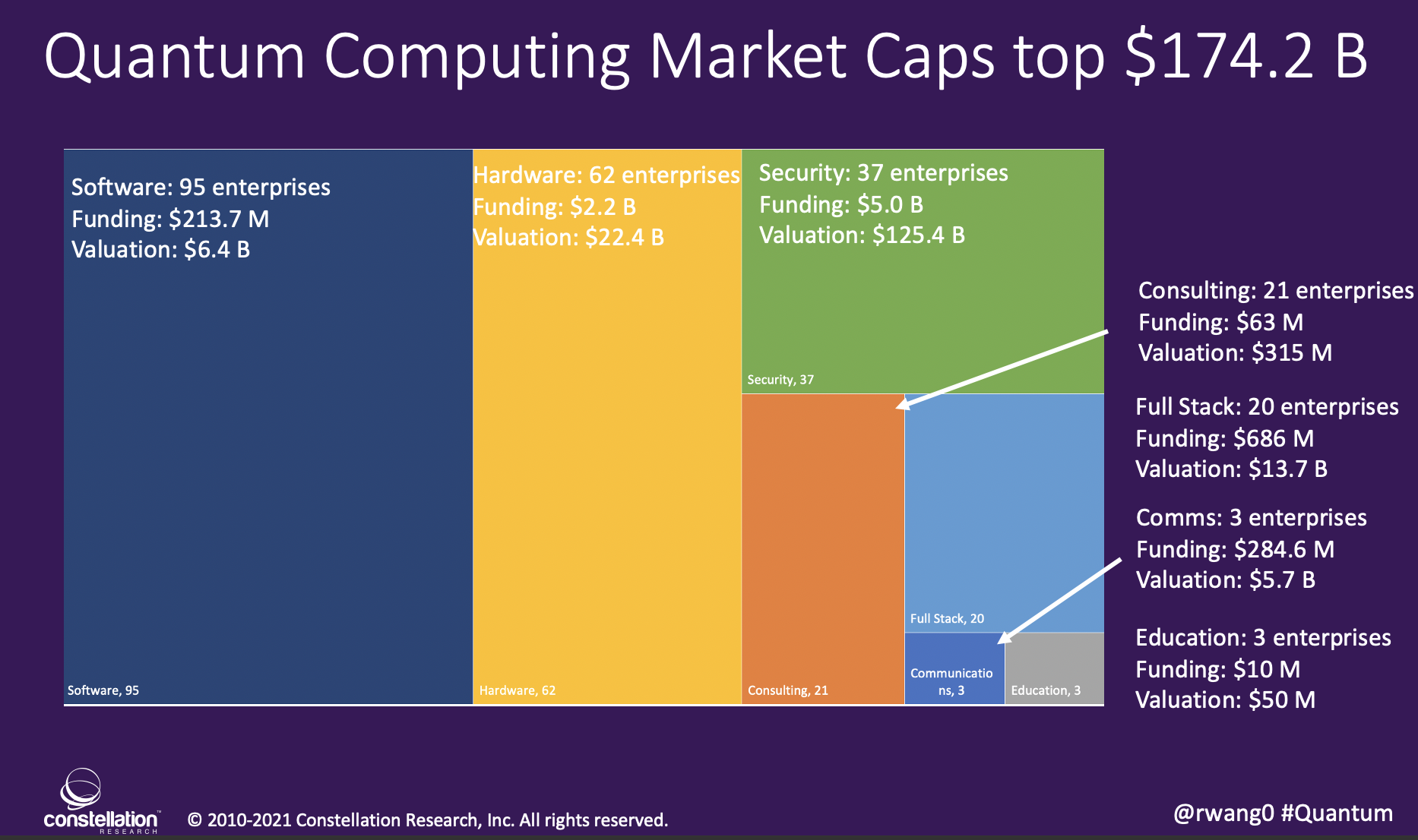 A recent analysis by Constellation Research found 241 companies in the Quantum Computing space in seven categories driving $8.512 billion in investment to date.  A review of funding announcements, deals in pipe, and conversations with investors, demonstrated a tremendous appetite to fund all categories of the quantum ecosystem.  The funding to date does not include investments from established digital giants such as Amazon, Google, IBM, Intel, Microsoft, and Nviidia.
Across the seven categories, security represented the highest estimated market cap at $124.3 B followed by hardware companies at $23.2B.  Full stack vendors who deliver the complete quantum capabilities will drive $14.6 B in estimated market cap.  Software came in at $6.1 billion and communications registered a $5.8 B estimated market cap (see Figure 1).
Figure 1. Investors Flock To The Quantum Landscape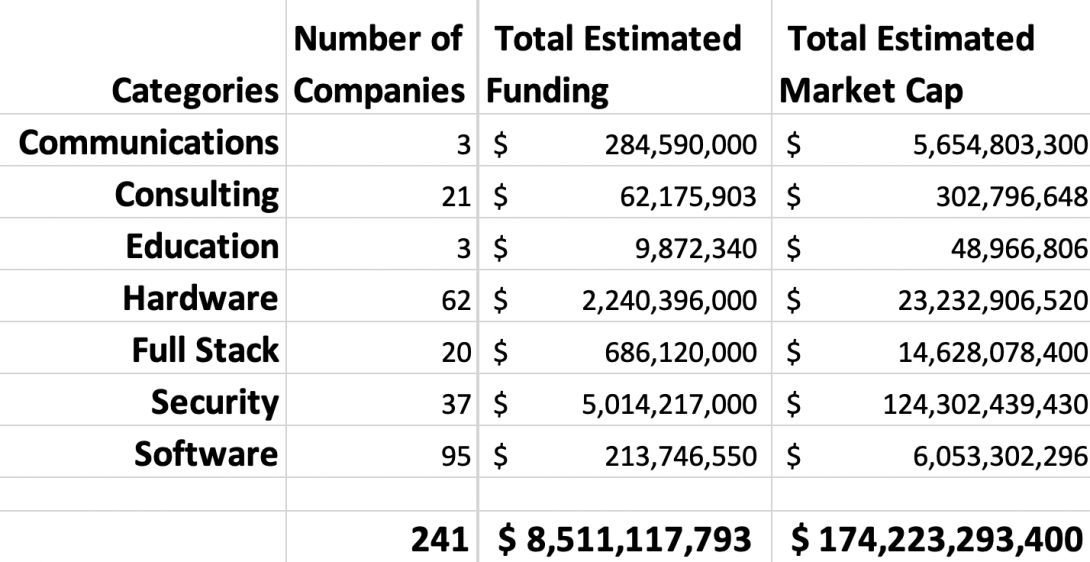 Source; Constellation Research, Inc.
The Bottom Line: Expect A Period Of Innovation and Consolidation Ahead
The Quantum revolution has begun.  Early investors have seen the potential and the market is entering a period of consolidation to acquire talent, intellectual property, and product offering roadmaps.  With over 241 startups in this space, Constellation expects at least a dozen full stack winners to emerge along with five to seven specialists in each category and emerging use case. Security will continue to receive the most funding and attention.  New players will continue to attract funding as the quantum field advances.  The early days of quantum are here and the winners will emerge in the next five years.
Your POV
What quantum use cases drive your interest? Where do you see the quantum players win?
Add your comments to the blog or reach me via email: R (at) ConstellationR (dot) com or R (at) SoftwareInsider (dot) org. Please let us know if you need help with your strategy efforts. Here's how we can assist:
Developing your quantum and digital business strategy
Connecting with other pioneers
Sharing best practices
Vendor selection
Implementation partner selection
Providing contract negotiations and software licensing support
Demystifying software licensing
Reprints can be purchased through Constellation Research, Inc. To request official reprints in PDF format, please contact Sales.
Disclosures
Although we work closely with many mega software vendors, we want you to trust us. For the full disclosure policy,stay tuned for the full client list on the Constellation Research website. * Not responsible for any factual errors or omissions.  However, happy to correct any errors upon email receipt.
Constellation Research recommends that readers consult a stock professional for their investment guidance. Investors should understand the potential conflicts of interest analysts might face. Constellation does not underwrite or own the securities of the companies the analysts cover. Analysts themselves sometimes own stocks in the companies they cover—either directly or indirectly, such as through employee stock-purchase pools in which they and their colleagues participate. As a general matter, investors should not rely solely on an analyst's recommendation when deciding whether to buy, hold, or sell a stock. Instead, they should also do their own research—such as reading the prospectus for new companies or for public companies, the quarterly and annual reports filed with the SEC—to confirm whether a particular investment is appropriate for them in light of their individual financial circumstances.
Copyright © 2001 – 2021 R Wang and Insider Associates, LLC All rights reserved.
Contact the Sales team to purchase this report on a a la carte basis or join the Constellation Executive Network