The return to live tech conferences is heating up, and so, too, is competition in the always-competitive business intelligence (BI) and analytics market. At its May 9-12 Beyond.2022 event held in Las Vegas, ThoughtSpot made it clear that it is accelerating growth by focusing on companies that are moving to modern cloud data platforms offered by the likes of Snowflake, Databricks, Google and AWS.
An innovator of natural language querying and AI-augmented BI and analytics, 10-year-old ThoughtSpot made a cloud transition of its own from 2020 into 2021 by moving from selling software that customers had to deploy to offering its software as a service. Many of ThoughtSpot's largest customers still self-manage ThoughtSpot's platform in their own data centers, but the vendor's double-digit growth is now centered around SaaS and companies moving to those hot cloud data warehouses and lakehouses.
To land new enterprise customers, ThoughtSpot is going to market in lock step with partners including Snowflake and Databricks. Executives from both of these companies joined the Beyond.2022 keynote and were there to rub elbows with joint ThoughtSpot customers including Disney Streaming, Verizon, Merck, CapitalOne and others.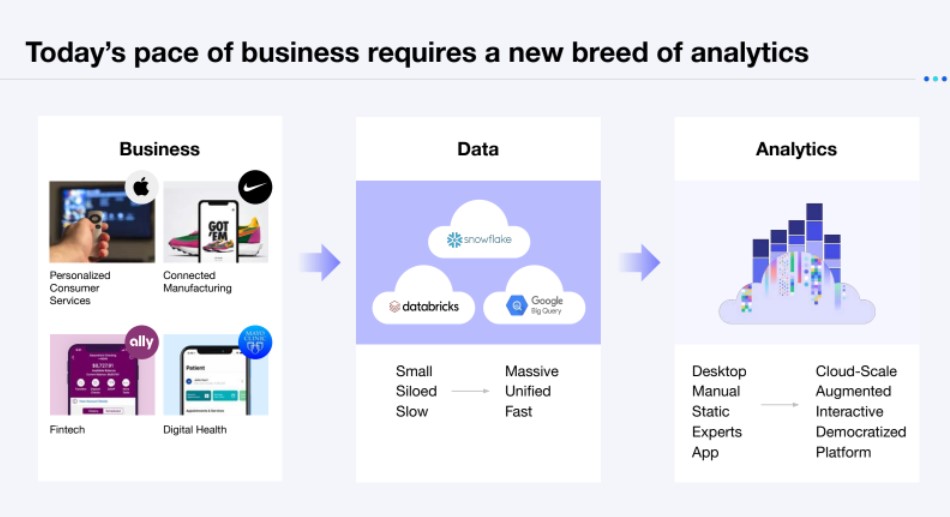 ThoughtSpot has aligned itself with cloud data platforms and touts a "new playbook" for insight-enabling a broader base of business users.
The big news at Beyond.2022 was that ThoughtSpot is now also going after midmarket customers with new "Team Edition" and "Pro Edition" offers priced at $95 and starting at $2,500 per month, respectively. Each edition has different limitations on data capacity and user groups with unlimited users, the only Team limitation being the scope of data that team members can explore and the number of groups they can create for administrative purposes. The Pro edition supports up to five such user groups. The Team and Pro editions are delivered through self-service cloud deployment and community support and would not have been possible before ThoughtSpot's switch to SaaS.
ThoughtSpot has long favored unlimited-seat subscription approaches rather than pricing per seat because the focus is on reaching as many users as possible – particularly business users who tend to take to its natural language query and computer-augmented analysis approaches. The subscription approach is a key differentiator versus competitors such as Tableau and PowerBI, and it also applies at the enterprise level, where ThoughtSpot is moving to consumption-based (per-query) pricing, again with unlimited seats and no pricing barriers to analyzing more data (other than the cloud-platform's storage costs and query consumption).  
ThoughtSpot's unlimited-users, no-shelfware approach appeals to high-scale customers including Verizon. Presenting during the Beyond.2022 keynote, Dr. Ansar Kassim of Verizon said the company's ThoughtSpot deployment now surpasses 10,000 users – well beyond the analyst class and into the business-user mainstream.
Inviting customers to reimagine the next "decade of data," ThoughtSpot co-founder and chairman Ajeet Singh encouraged customers and would-be customers to "throw out the old playbook" and move to a "true self-service" approach in which business users can explore and analyze data for themselves. That's done through the vendor's search-driven interface, which is focused on uncovering what happened (a.k.a. descriptive analytics) and the SpotIQ interface, which brings AI and augmented capabilities to bear to uncover exceptions and patterns and why they occurred (a.k.a. diagnostic analytics).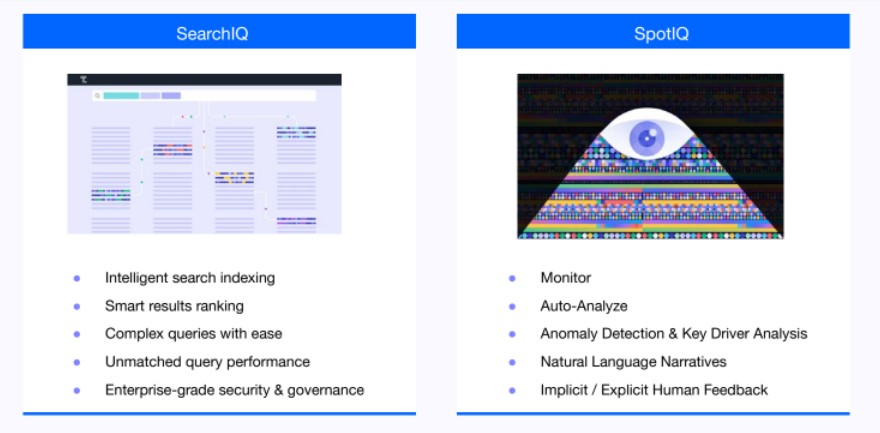 ThoughtSpot's search-driven and augmented SpotIQ interfaces are geared to intuitive data exploration, but it also delivers dashboard-like "Liveboards" offering pre-defined views of a business.
ThoughtSpot executives acknowledged that customers still want SQL tools for developers and the pre-defined views of the business provided by dashboards. What's more, many customers don't want to have to support two vendors to get everything they need. Toward that end, ThoughtSpot demoed stepped-up dashboarding capabilities and new tools for SQL-savvy developers including a data workspace, new ELT templates, and prebuilt "data block" connectors to popular data sources. Conventional, pixel-perfect reporting remains a gap in the ThoughtSpot portfolio, though many companies now favor dashboards coupled with exception-based alerting and mobile, ad hoc analysis over scheduled delivery of static PDF reports.  
Another initiative that seems to be working for the company is its 18-month-old "ThoughtSpot Everywhere" embedded program, which is aimed at helping software and SaaS companies to seamlessly weave ThoughtSpot analytical capabilities into their own offerings. On this front ThoughtSpot offers both the consumption-based (per-query) model and a capacity-based (per-row) pricing model. 
Whether a relatively small, 700-employee challenger like ThoughtSpot can make serious inroads against giants like Tableau and Microsoft Power BI has yet to be seen. The jury is also out on whether ThoughtSpot can successfully meet all BI and analytics needs for the majority of its customers (I talked to a few who are keeping legacy reporting platforms in place). Nonetheless, I came away from Beyond.2022 with a sense of a focused company that is poised to ride the coattails of the larger trends toward cloud data platforms and the desire to enable business users to use insights to drive action and make better decisions.        
Related Reading:
Market Overview: What to Look for in Analytical Data Platforms for a Cloud-Centric World
Big Idea: Why Data-Driven Innovators Choose Embedded Analytics
Trend Report: It's Time to Prepare for the E in Environmental, Social, and Governance Initiatives