The world of the digital workplace has long been dominated by two major divisions of applications. The first is the system of record, such as ERP and CRM platforms, which have had a long and storied history, only now reaching robust maturity in the cloud. The second are systems of engagement, which have seen a tremendous blossoming and growth in the Internet era. These started off as relatively general purpose communications and collaboration tools that we still use to work together today as teams and organizations, but have since branched into countless niches.
This second category of application has seen long and sustained evolution over the last 30 years, starting with e-mail, groupware, and content/document management, then exploding into social media and enterprise social networks, and then finally re-emerging downstream and smaller scale, first as enterprise instant messaging and now team chat, like Slack or Microsoft Teams.
However, one of the most serious and long-standing criticisms of the often less than transformative impact of systems of engagement -- which were supposed to literally revolutionize how we function as enterprises --  is that they were too often put off to the side of the actual work and unconnected from core applications. The systems of record then took the resulting data describing the outcome of a collaborative activity and thus the credit, even though much of the actual work was carried out -- in fact most of it -- in the systems of engagement.
This is not a new realization, and we've been discussing ad nauseum in the industry for years that most collaboration and communications tool were too generic and disconnected to get into the specifics of our work and business data, despite that they're being general purpose is what make it possible to use them in the largest number of situations. Instead, there was an artificial gap between the structured world of systems of record and these potentially highly useful collaborative systems. But try as we might to resolve over the years, we ultimately could not contextually connect the whole picture together into a single source of truth or place to work.
Now a major new category of collaboration software is actually making substantial progress in enabling a more integrated and connected collaboration ecosystem, one with more profound impact. This is accomplished by situating lightweight structure and business process templates around coordination systems that rapidly gets us working together on the details of important business process, while keeping all (or at least many) of the dots connected in underlying systems.
Known as Work Coordination Platforms, or occasionally Work Management Sofware, this category of digital workplace application has steadily grown as it has become more effective at connecting the people, application, and data silos of our organizations into a more coordinated work model. Constellation has been tracking the category closely in recent years, and we now observe an inflection point in growth and maturity, as leading players like Smartsheet have gone on to become full blown industry unicorns with successful debuts on the stock market and several of the players have become unicorns (Silicon Valley-speak for reaching billion dollar valuations.)
Work Coordination Now a Top Level Digital Workplace Category
The result is that I have determined that the category has moved from a powerful niche that some departments will use (typically marketing, operations, or project management), to one that has general applicabilty for most workers. The heart of a business is teamwork, and we've either had too focused and specific vertical or industry solutions to help us, or far too generic and broad communication and collaboration tools to aid our work.
What work coordination tools have gotten right at last is coming in at the right level of complexity, while riding on a revolution in composability, customizability, and easy integrations that make Work Coordination Platforms an example of what I call a true digital workplace hub, albeit not always the primary center of gravity that I've been talking about for a while now.
Who then are the top vendors in the space? What's happening with them and how do they break down? This brings us to my just-released new ShortList of the top nine Work Coordination Platforms:

As we considerably expand coverage of this space throughout 2020, here is a recap of the latest developments with each of these companies, to get a sense of how the Work Coordination Platform segment is evolving and maturing today:

Billed as part spreadsheet and part database, one of the most compelling aspects of Airtable is its ability to organize a cumbersome list of to-dos in different ways for specific uses or for the way individual members of the team work best. Now a unicorn in its own right, the product has seen steady evolution including ever more improved integrated digital workplace apps like Google Drive, Dropbox, Box, and OneDrive. The mobile app is frequently updated and is one of the stand-out features of the platform. Customers use Airtable for everything from career devleopment tracking to UPC scanning for retail scenarios and editorial planning.
Aimed at more robust, process-centric work coodination in the enterprise, Asana has been making inroads at the high end of the market. A third member of the unicorn ranks of the segment (and considering a direct listing like Slack instead of an IPO), the firm has lately added features that help with the automation of rote tasks including a new rules builder to avoid reptitive tasks, as well as voice transcription to speed information input. Smart project templates are also a new addition that builds on top of Asana's robust templates library. When using a template, like an event plan or campaign launch, a complete work schedule will be instantly layered on. When a conflict arises between tasks, Asana will now automatically resolve the issues. This helps teams to spend less time managing projects and processes and more time getting work done.

Podio focuses on task management with content, conversations, and processes structured and together into a single tool. Its highly-rated mobile app gets excellent marks and is updated fairly regularly. Notable features including automated workflows, data visualization, connected CRM, and project management. One of the platform's notable features is it very level of uptime and strong security, designed to appeal to customers where those needs are paramount.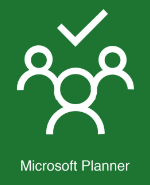 More of a team-based tool as part of Office 365, Microsoft Planner has nevertheless grown in popularity as it has evolved and added features. It provides collaboration around tasks and visual mapping of them into buckets. Charting features were recently added to the popular mobile app for the service, which is routinely updated. New prioritization and content integration features round out recent additions.

Designed expressly for managing  your projects, workflows, and everyday work, Monday.com bills itself as a "Work OS." The company offers work templates for a variety of use cases and business functions. It also offers a robust and growing set of application integrations that connect various work systems together. One of the more recent additions is a new beta program that lets you build your custom widgets, workflows, integrations, and apps right on top of the Monday.com service. The mobile app is very frequently updated and adds important new features regularly.

One of the most extensive and enteprise-grade work coordination offerings, Smartsheet has a dedicated fan base and an excellent set of case studies. Using the spreadsheet as the model, the company rapidly evolves the product and most recently has incorporated new navigation experiences, new integrations such as with Microsoft Teams, contextual conversations, accelerators for GDPR, powerful new formula features, and much more. The mobile app is the most highly rated of its competitors and is regularly updated.

More consumer-focused than some of the others on this list, Trello is well-known for its boards, lists, and cards that enable users to organize and prioritize projects in a flexible and visual manner. The product offers a robust set of templates, and it has a mobile app that routinely offers significant new features including document scanning, bulk item creation, new board organization features, and a continuous stream of improved usability features.

Taking the integrated digital workplace concept to heart, Workfront advertises that it is "the one place for all enterprise work." Users can automate workflows across teams and departments, integrate their applications into one place, and streamline activities like digital asset management. The mobile application is update regularly and has received a recent complete overhaul that includes special features for the iPad as well as the addition of custom conditions.
Aimed specfically at enhancing enterprise-wide productivity, improving team collaboration, and focusing work with a more integrated workspace, Wrike addresses most of the top organization functions and industry verticals such marketing, creative, and operations teams, professional services, and project management, among others. Wrike also has over 400 application integrations, make it leading class in this vital feature category. These integrations make it easy to bring in information from systems of record and organize processes and projects around up-to-date data.  The mobile app receives regularly updates and has added features like customized navigation, new dashboards, and project widgets.
A Deeper Story Coming Soon
To help enterprises select the right Work Coordination Platform for their needs, I am developing a comprehensive new market overview with key features and differentiations that will be published in the second quarter of 2020. It will delve into the complex but powerful new features, templates, integrations, and use cases of this important new digital workplace category with an eye towards each platform's strengths and value proposition. Please contact me if you believe you have a Work Coordination Platform that should be included.
Additional Reading
2020 Predictions for the Future of Work
RPA Evolves into End-to-End Intelligent Automation
Creating the Modern Digital Workplace and Employee Experience
Transforming the Abilities of Workers with Online Learning Platforms