One of the more interesting and vibrant new spaces in enterprise software in the last few years has been the category of Robotic Process Automation or RPA. The premise is simple and compelling: Show a software robot how a repetitive work task is done, and it will literally learn how to do it by watching the employee carry it out manually. The result is a rules-based algorithm that can then be adjusted, configured, optimized, and deployed quickly in the field to have that task carried out by the software robot going forward.
RPA can handle a wide variety of business use cases, from invoice matching to mortgage processing that previously required humans to do most of the work (though they still have to help with edge cases, but usually with greatly reduced workloads.) What's been interesting is that because RPA goes so deeply into exactly what a business does on the ground, inside its processes, RPA is often viewed more as a business tool than an IT tool. Thus IT has been surprisingly slow at times in introducing it to the business side, and businesses, not being in the IT field, are often unaware of the potent capabilities of this generation of much smarter process automation tools.
This state of affairs -- unclear ownership and tech unfamiliarity -- has led the RPA industry to flourish a bit less than it might otherwise have, yet still capture some of the most impressive growth stats in the enterprise IT industry
RPA also shows some of the best ROI of any new category of business apps. As the industry has matured and evolved, RPA has succeeded in having considerable real-world impact in the enterprise, with a growing wealth of case studies. While there are also some potentially concerning outcomes of adopting RPA, such as displacing workers at scale or the use of the technology by bad actors to engage in unwanted activities, so far negative outcomes appear rather limited.
The result is that RPA is one of the most practical and impactful applications of artificial intelligence (AI) so far. Yet the realities of making RPA operational quickly became apparent in the initial years, overcoming the overly-simplistic expectations of quick watch-run-deploy-optimize cycles.
End-to-End Intelligent Automation As a Platform
For RPA to sustain and adapt within a business it needs proper support. In other words, adequate design, planning and governance of an overall automation approach, while staying agile enough to quickly change with the business. So too is having a well-defined end-to-end technology framework to automate new processes. This includes integrating a host of related capabilities in an outcome-based sequence: Data capture, ingestion, and cleaning, data enrichment, automation output, quality control, downstream analytics, and exception handling, not to mention back-end features like system integration, autoscaling, capacity management, security, and compliance. 
In fact, wouldn't it be nice if most of this was already assembled as a ready-to-go solution around a capable RPA engine so it could be quickly applied to the business? This is, in fact, where a good part of the RPA industry is currently headed, so that businesses don't have to bolt-on the inputs and the outputs to an RPA tool, and then layer on the necessary analytics, operations, management, and governance capabilities.
The AntWorks Platform: Beyond RPA
The above was the background to an recent trip to ANTENNA 2020, the yearly industry analyst confab organized by leading RPA vendor AntWorks, which is currently on my RPA ShortList of solutions in the space to watch. Taking place in mid-January, 2020 in Turks and Caicos, our hosts were the co-founders themselves, Asheesh Mehra, currently the Group CEO, and Govind Sandhu, who is the COO.
AntWorks as a company is an interesting story, and is on quite a respectable growth trajectory, with about 600 employees today, despite being founded in just 2015 in Singapore, where they remain headquartered. AntWorks is still regarded as the new kid on the block in RPA, however, even though their offerings consist of a more complete and encompassing platform than just that capability. Asheesh notes that this helps them win deals, because they're ready to go out of the box, with less system integration and cobbling together of different pieces to arrive at a solution. While you can use pieces of AntWorks if you already have other upstream or downstream components, it's the entire solution that works together where they shine, something I confirmed by talking with some of their customers at the event.
Asheesh and Govind did much of the presenting in the morning, and were good advocates for the company, laying out the key principles that AntWorks is driven by. One aspect clearly stood out during their presentations: Both founders are grounded in what they want to accomplish, have a crisp vision, and are very careful that fast growth doesn't derail where they are going. They are committed to this to the point that they told us that they still interview every hire they make for cultural fit, something that by now must be quite a burden. However, it will likely pay sustained dividends by laying a strong people foundation in what is -- like most mid-sized enterprise startups these days -- a far flung organization with many small, separate offices that make it hard to build a common identity.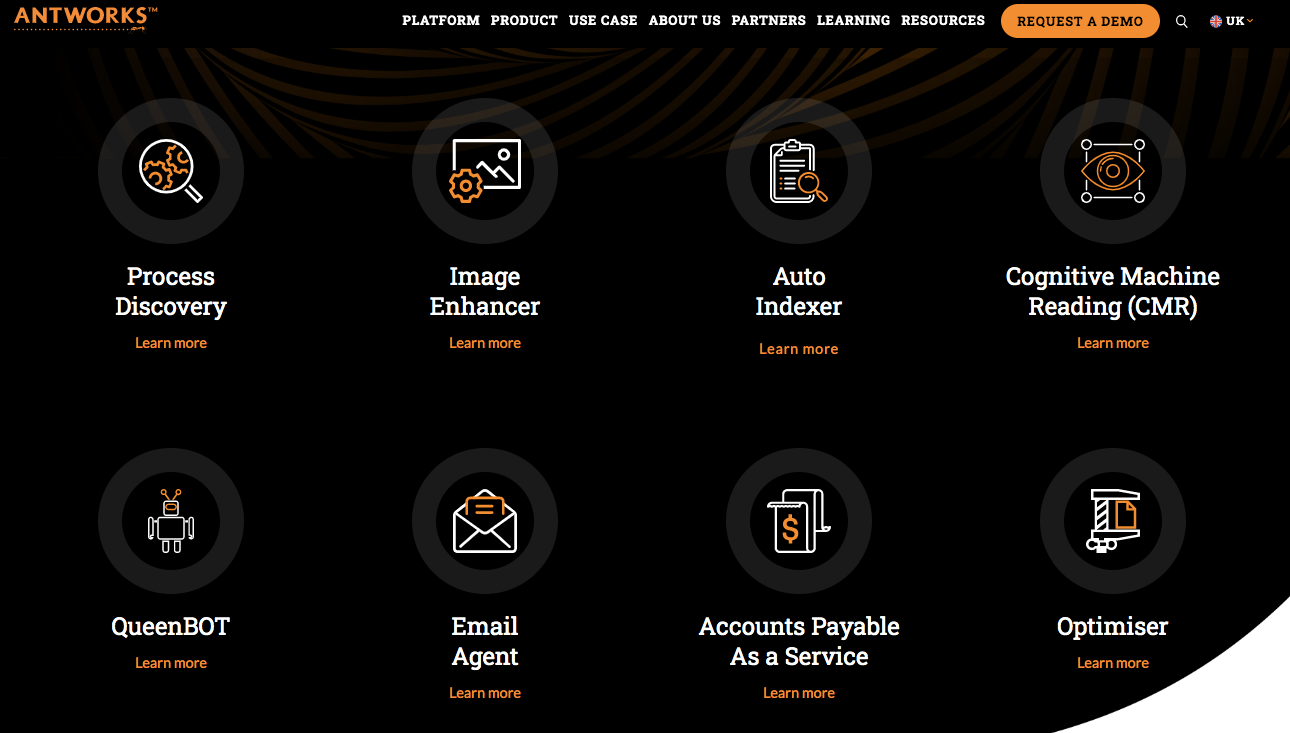 The core AntWorks product offerings as of early 2020
The AntWorks offering itself is based on the principle of 'Integrated Automation' because the company believes that process automation takes a good bit more than just an RPA offering. They divide their solution into four product segments, broken down into Intelligent Automation, Intelligent Document Processing (IDP), Fractal Science-based Artificial Intelligence/ Machine Learning (AI/ ML) that includes handwriting, RPA itself, and process discovery, along with other associated solutions (see product view above.) These are all wrapped together into a seamless solution for those that want to to identify the processes with highest automation propensity, pull data out of forms, images, or really, anything, and then automate the business processes that use that data.
The Six AntWorks Differentiators
Overall, there are six key takeaways from the various presentations of our day at ANTENNA 2020. Given the relatively newness of AntWorks to the industry, I will couch them as key differentiators, because that's what they are:
Fractal science for more robust and effective machine learning. A key part of the company's special sauce is caught up in a form of fractal science, the kind that many of us learned about in high school, but that here gives them an edge in image recognition and processing, including intelligent document processing of structured, unstructured, image and inferred data as well as handwriting recognition. Their machine learning engine, known as Fractal ML, does this by establishing a more advanced and model-based, pattern recognition understanding of objects. Govind has a detailed YouTube presentation on why they believe Fractal Networks is a more modern approach to machine learning.
Long-term investors that allow the best product to emerge. SBI Holdings is a key investor in AntWorks and takes a long-term and relatively low touch stance with the company, allowing it to make significantly stronger but perhaps slower burn product decisions that other organizations would have a harder time adopting (see: Ethical AI below.)
A principled stance towards Ethical AI. This is a deeply held belief by the Asheesh, as well as the company broadly, that AI is a superpower that must only be used for good. They believe that to achieve this requires widespread realization and participation from businesses and governments to address, so that they ensure that use of AI is conducted accountably and responsibly. First, in a do-no-harm position, they call for AI providers to limit the carbon footprints of their solutions. Second, they call for the pervasive enablement of broad auditability and traceability of every AI decision. Finally, providers must not let their AI technology be used for criminal or fraudulent pursuits. Over lunch at the event, Asheesh told me they rigorously examine each deal to ensure their technology will be used properly within these constraints. It slows down sales a bit he said, so I asked him if his investors supported this approach. He indicated they are fully behind the AntWorks Ethical AI approach. Personally and professionally, I applaud their position, especially as the technology within AntWorks has real and immense power to automate human activity, for good or otherwise.
An end-to-end solution for intelligent automation that goes beyond simple RPA. As cited above, AntWorks has both the vision and capabilities not just for RPA, but for solutions that span virtually the entire process automation value chain, from data capture and ingestion, finding processes, rule processing, workflow, connecting to outcomes, managing galaxies of bots doing this at scale, and providing both operational and strategic insights via analytics. It's a full stack RPA in other words. Also, because it's an integrated solution, AntWorks provides a Hybrid Processing functionality which allows very different data formats (data fields, check boxes, signatures, etc.)  to be interpreted all at the same time, speeding up the process and improving contextual quality. Here's a view of ANTstein SQUARE, showing the complete AntWorks stack:

A purposefully built and maintained corporate culture that puts customers first, even in the face of high growth. A company of this size has already passed several key growth milestones that sometimes undoes smaller, high growth companies. I attribute this to the strong, positive, helpful culture that emphasizes helping the customer that the co-founders have clearly put great effort and expense into developing. I expect that while this must be a rather significant time drain, that they will be able to stay cohesive even as the company grows beyond any possibility of the hands-on approach the co-founders still maintain for hiring and shaping the global staff of the company, as they rapidly open offices around the world.
High security and robust information safety protections. RPA systems often handle a company's most sensitive data, including financial and customer information. AntWorks emphasized the extensive effort they put into complying with and passing the security reviews of even largest regulated organizations. I did however press on them if they were truly security-first, and based on the answers, they are not quite 100% there yet, but it's clearly an objective of theirs. Bottom line: I rate them as about as high in security as the RPA industry gets based on my conversations with their architects.
AntWorks: A Fully Contemporary Automation Solution
That said, I do have a few minor concerns with a couple of key aspects of the strategy of the company. While they are very careful to build deep partnership with implementation firms and professional services companies that should drive delivery, growth, and net new logos, I believe they are still underpartnered for global growth. In fact, many geographic regions and industries will likely struggle to obtain local AntWorks implementation teams quickly enough, at least for a while. But I suspect they will solve this issue relatively short-to-medium term. Second, they don't have a clearly articulated future roadmap (or are at least not willing to share one yet, considering market competitiveness). While many tech vendors don't have this either, I find it's one of the most sought after pieces of information that buyers want. They want to understand where they are going to be taken. It will be helpful to see at least a high level product roadmap provided by AntWorks in the future.
Finally, there is probably one more key differentiator of the AntWorks platform, and that is a higher than average degree of usabilty. But I have not been able to personally verify that's the case yet, but I'll provide an update when I do.
In the end, it's clear that AntWorks knows what it's about and where it's going. The company has a very well-defined identity and industry objective, which is to bring end-to-end intelligent automation to a truly global market while upholding the highest industry standards of Ethical AI and customer security/safety, with RPA at the core. Their customer case studies were impressive as well, and were among some of the better ones I've seen. Thus, I came away from ANTENNA 2020 with newfound respect for the company, its aims, and its products. It also reaffirmed for me their place on our RPA ShortList as a prime automation platform for digital transformation in the enterprise.
Additional Reading
My live tweet stream with real-time analysis at #ANTENNA2020
2020 Predictions for the Future of Work and Automation
The Digital Transformation of Back-End Customer Experience with AI