It wasn't that long ago that the Learning and Development department of a Human Resources group had a paper course guide that one could order through interoffice mail. This guide was matched nicely with a set of physical classrooms and slowly changing learning content provided at facilities around the organization. Onboarding and keeping up to date with one's career skills was fairly straightforward
For better or worse (and fortunately, it mostly seems the former), those days have completely disappeared in the face of a near-total revolution in learning technologies. Driven by rapidly changing digital capabilities, a faster, more complex pace of business, and the rise of the Internet, we are witnessing the emergence of potent new models for learning that seem to either work better, can fit more easily into workers' lives, or are much cheaper. Or all three. Online learning platforms, adaptive learning, peer-based learning, MOOCs, and other advances are now all the rage in corporate learning circles, matched by new consumer-style learning solutions that look a great deal more more like Netflix or YouTube than a traditional LMS.
While creating a beta version of my new Astrochart on Digital Learning Trends (see below), I am amazed at the innovation and energy in the space. And the economics: Digital learning is a huge global business today, on track to be a $139 billion industry by 2023, with a 29% annual growth rate, faster than the not all that much bigger cloud industry itself. In short, digital learning in its numerous present forms is currently a very in-demand resource for both individuals and enterprises to help prepare hundreds of millions of people to enter and stay in the modern tech-centric workforce today. 

Coursera's Multi-Product Offering Fits Into a Number of Categories on the Digital Learning Trends Astrochart
Like so many other industries touched by technology, digital learning is very much disrupting the old industries of education (universities, business schools, and traditional corporate learning and development, to name just three), while creating whole new ones. To further add to the confusion to education departments and L&D teams seeking to modernize what they offer to employees or the general public, is that the terminology in the space is quickly evolving and/or shifting, as well as overlapping and duplicative in many cases. For example, the difference between a learning management system (LMS) and an online learning platform (OLP), forming the main core of the digital learning experience today for many learners at businesses just isn't that clear today. One is perhaps more aimed at educators and older learning models while the other is arguably more aimed at the student experience and uses newer models of learning. Yet there is litlte consensus on what to call these so-called next-generation LMS systems.
The educational challenge in organizations today is very real and truly profound: Today's skills have the shortest lifespan of any time period in human history. Educational needs have increasingly become situational and just-in-time. Sometimes a skill might need to be acquired and used only over a matter of months, then a new replacement skill comes along, especially in the tech industry. Continuous learning has thus become a matter of top importance to workers and businesses, far beyond a nice-to-have. The bevy of new learning tools, techniques, and technologies that exists now -- with more emerging all the time -- make it a very exciting time, as well as a challenging one, to navigate in order to provide an effective and sustainable enterprise learning program that will meet stakeholder needs. Fortunately, as we'll see, more a strategic sensibility -- with matching capabilities -- is appearing in today's digital learning platforms to meet modern needs.
Related Reading: My 2020 Predictions for the Future Of Work
A Snapshot of Coursera: A Pioneering Leader in Digital Learning
I recently had a chance to get an update on one of the top online learning platforms in the industry today, Coursera. The company was founded in 2012 by Stanford professors Andrew Ng and Daphne Koller as a massively open online courses (MOOCs), and has since evolved to offer a sophisticated multi-product learning system that provides online instruction, certificates, applied learning, and degrees backed by assessments that verify what a student has achieved.
As of 2020, the company has 47 million registered learners, 200 university and industry partners, and over 2,200 entities using its Coursera for Business, Coursera for Government, and Coursera for Campus offerings. These last three are relatively new however, and launched in 2016,  2017, and 2019 respectively, demonstrating a steady and sustained rate of growth and product innovation.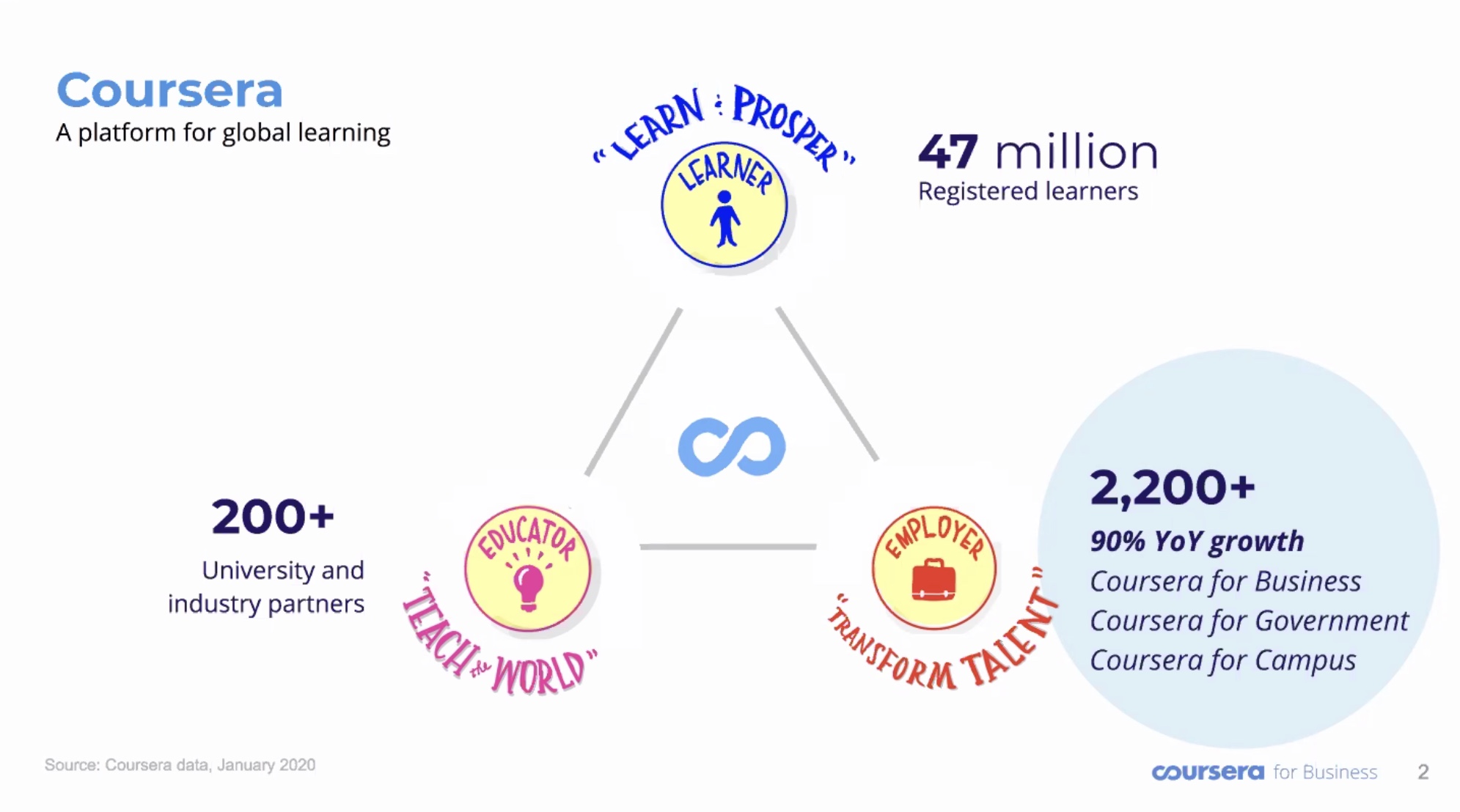 The company offers a variety of business models, which range from its original fee-based model for completion certificates, a subscription model that lets learners use as much as they want, to more costly master's degrees. Coursera offers its products at a wide range of prices. There are thousands of courses that are free to audit, as well as so-called "Signature Tracks" that cost up to $100. Coursera's Specializations, which are a series of courses on a specific topic like data science (the single most popular category of Coursera specializations, by the way), typically range from $39 to $89 in the form of a monthly subscription. The company's more traditional online degree programs range from $15,000 to $30,000, while its Coursera for Business has a standard price of $400 per employee per year, although these are likely starting points for negotiation with larger customers.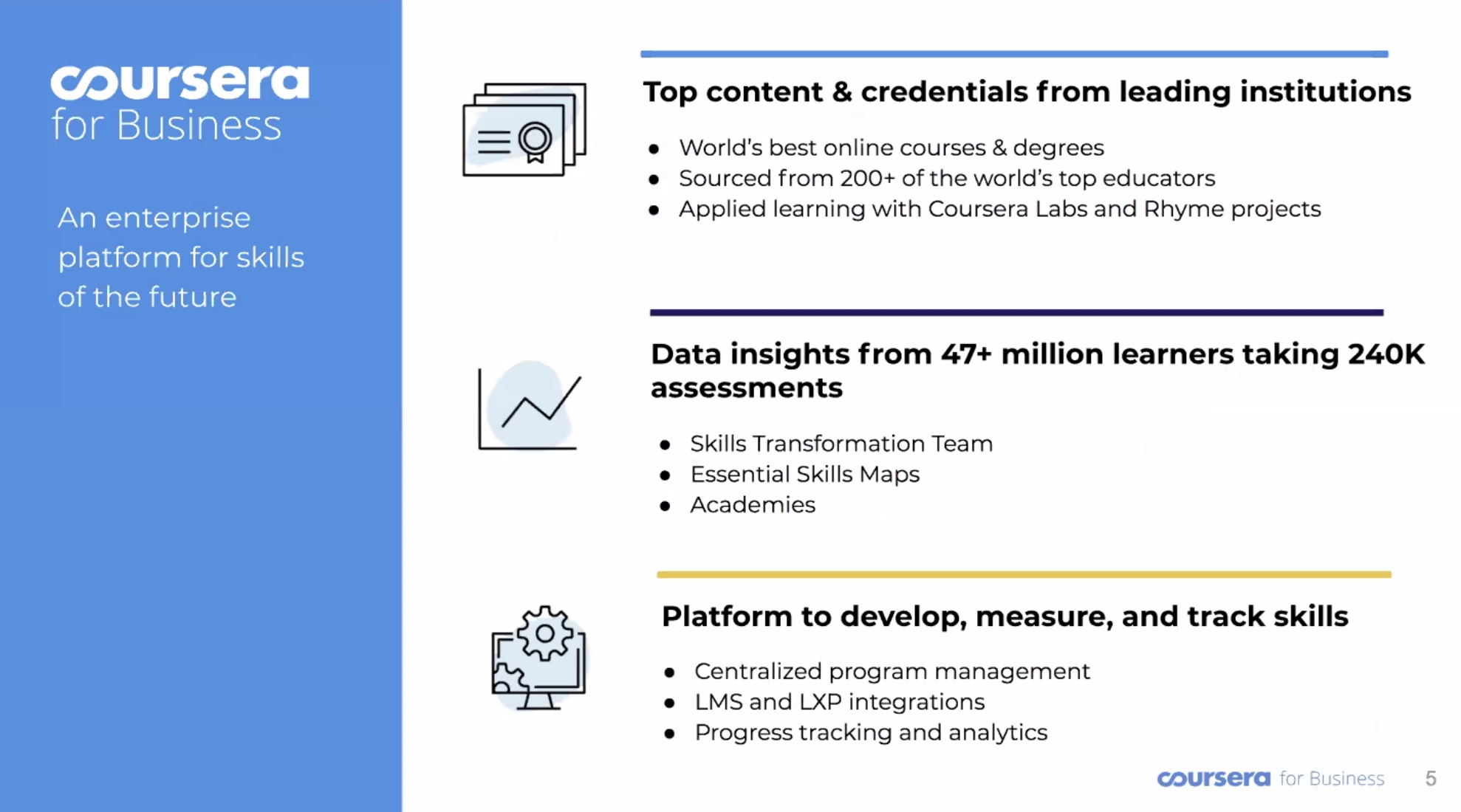 Coursera is proud of its connection to top traditional educators like Duke University and Yale, as well the cutting-edge addition of what it calls applied learning, basically hands-on education, with its Coursera Labs and Rhyme projects.  While education has always tended to be data-driven, Coursera is also driving differentiation and network effects by wielding the insights that it's gathering from its 47 million learners, who can take over 240,000 different assessments, providing a rich tapesty of learning data that the company can turn into useful insights for individual learners, corporate customers, and its own product development. Coursera is a full digital platform intended as a modern answer to what organizations need today to develop, measure, and track skills. It has centralized learning program management capabilities like you would expect from a more-traditional LMS. It also has student progress tracking and analysis, as well as integrations back into three other types of associated systems: LMS platforms, the emerging category of learning experience platforms (LXPs), and HRIS systems, to build bridges to other parts of the organization that also manage or track learning.
The Coursera course catalog spans over 1,000 business courses, 700 technology courses, 380 data science courses, and hundreds more in health, social sciences, art, and the humanities, totaling over 3,700 courses covering 70,000 lessons and growing. While many of the company's competitors offer the equivalent of specializations or courses, Coursera also offers MasterTrack Certificates, Professional Certificates, degrees, as well as something called projects, which are learning courses specifically focused on end-to-end, outcome-based activities like building a new business or developing a finished software application. When compined with its applied learning offerings, Coursera offers numerous formats and several key modalities of education that will please most learning and development departments, excepting those looking for the most cutting-edge education technologies.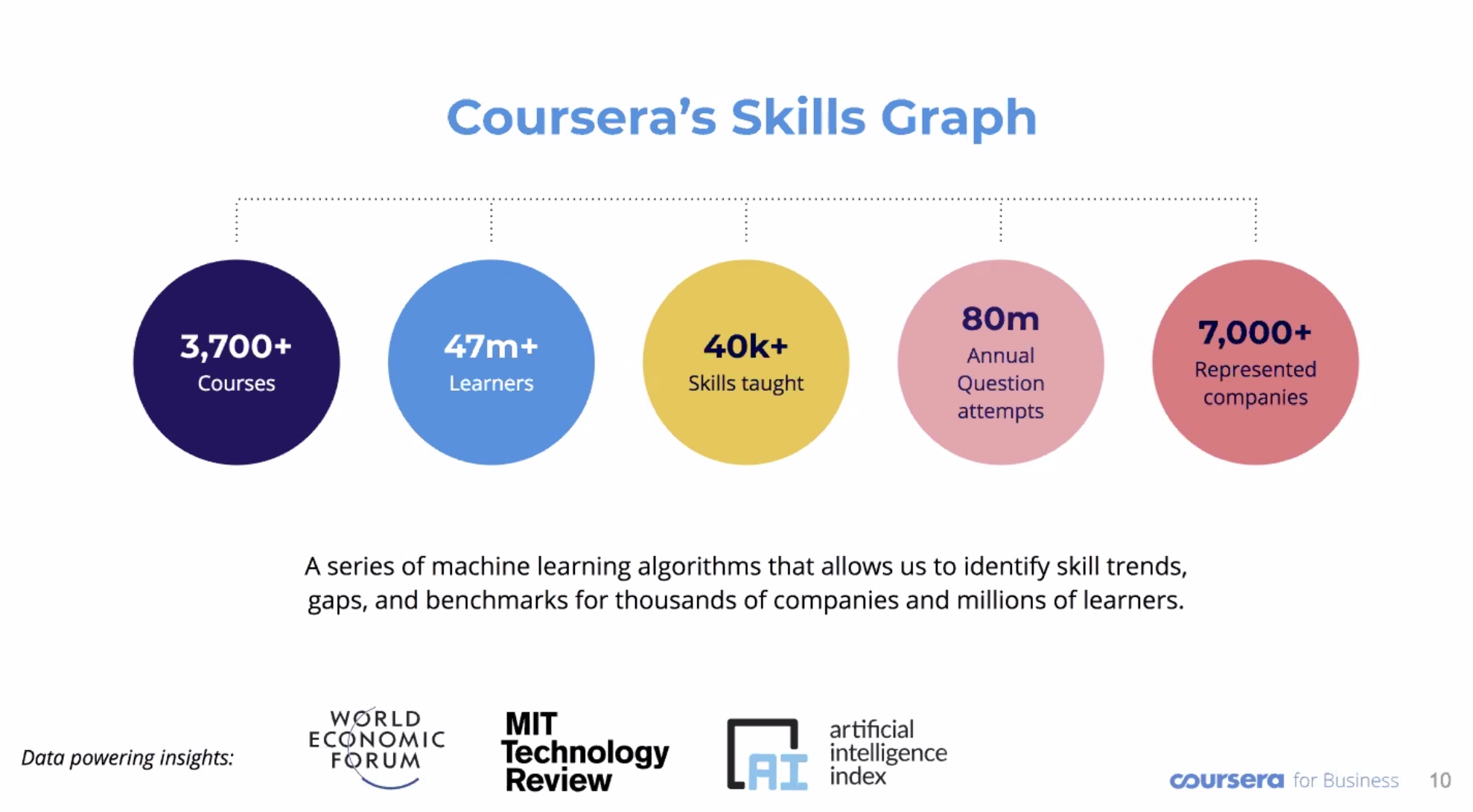 Perhaps one of the most intriguing capabilities of the Coursera platform is its Skills Graph, an aggregate data model of its courses plus its tens of millions of learners, its taught skills universe, millions of annual question attempts, and 7,000 participating companies. It's a mineable graph database (which are all the rage lately) to which Coursera applies a set of machine learning algorithms that they use to identify key skill trends and gaps in learner ability, as well as tailored, company-specific benchmarks to help the latter understand the current state of learning in their organization. Given the richness of this data and taking the size and longevity of the company compared to many competititors, I believe the Skills Graph is a vital strategic differentiator that can help companies analyze and understand the totality of their learning status across the workforce, then take proper advantage of the available opportunities. In other words, companies looking to maximize the potential of their workers can use the Skills Graph to build highly tailored, yet mass-customized learning programs that fit their workforce like a custom-made glove. These insights have real industry credibility and are being used today by numerous organizations, from the World Economic Forum to the MIT Technology Review.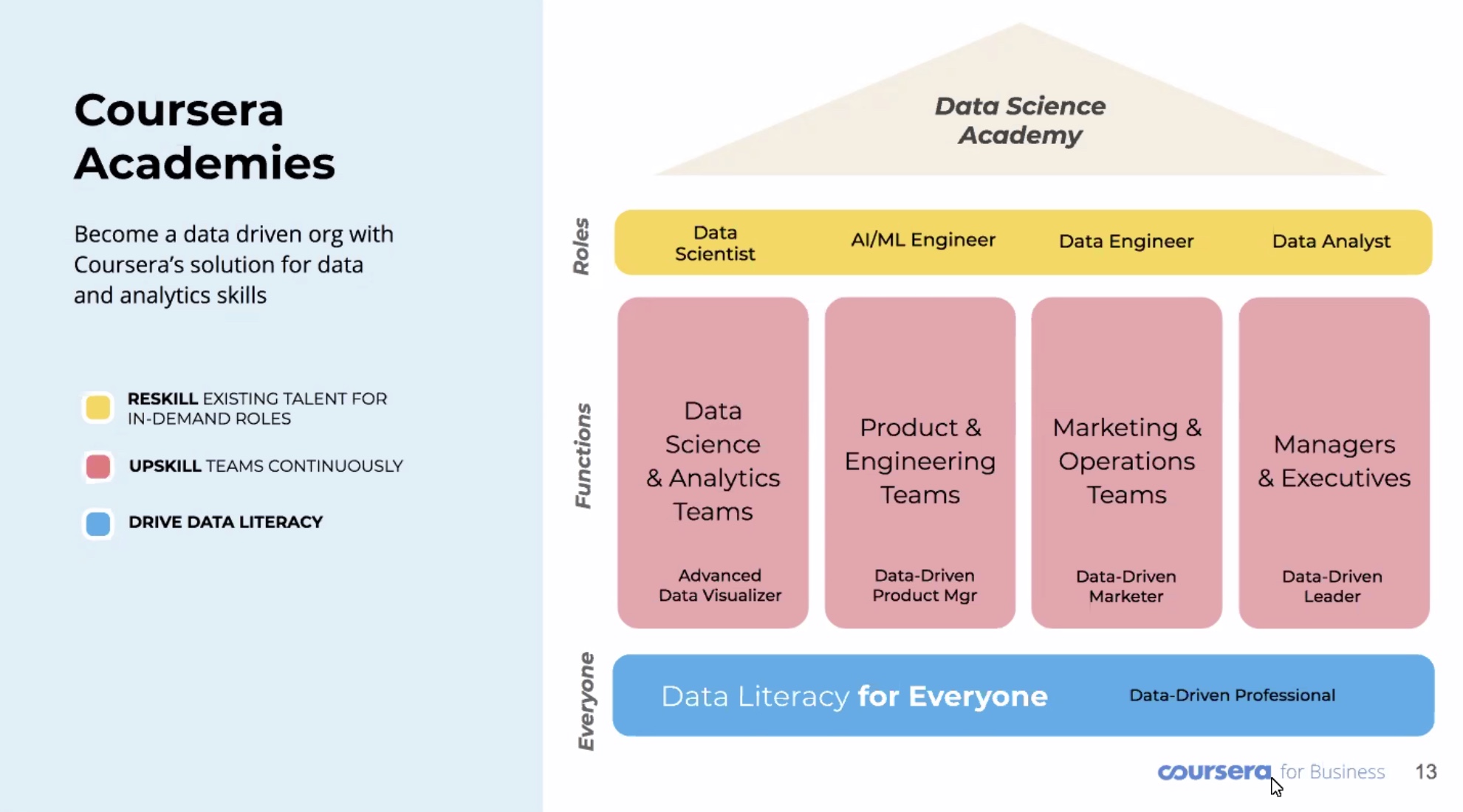 Rounding out the firm's newer offerings are Coursera Academies in a number of popular subjects, with their Data Science Academy, which launched last year, leading the pack. This academy is designed to help organizations develop the ability of individuals to fill out important roles on a data science team (including data scientist, AI/ML engineer, data engineer, and data analyst), the academy starts with a basic foundational course called Data Literacy for Everyone. It then devles into specific functions and roles, from hands-on analysis to data-driven leadership for managers and executives. Academies are directed learning programs aimed at creating practical, functioning abilities and capable teams based on new skills, and then keep them skilled. Given the tremendous shortage of data scientists today, many organizations are being forced to develop their own in-house talent. Bottom line: Coursera's Academy is a more advanced model that is aimed directly at filling the talent gap in critical new skills in an enterprise-class way using existing staff, structured in a more sophisticated and effective way that's intended to address the inevitable doubters.
What's Next for Coursera and Digital Learning?
In a relentlessly crowded field that is getting harder to differentiate in, Coursera has a number of strong advantages going for it. First and foremost, Coursera stands out for its size (both in learners and content), maturity, and depth. It's also becoming authoritative enough that companies like Baidu are increasingly using Coursera's assessments as a definitive proof point when it comes to recruiting talent. The company is evolving its products to address the topical needs of the day for businesses (creating dynamically skilled employees that are kept current effeciently), while building a long-term data-based advantage with its Skills Graph that will be very hard to match for most other competitors.
As long as the company can maintain their topical appeal and keep its vast dataset fresh, it will be able to maintain its status in the industry as well as its price points, as one of the few "go to" online learning platforms in the industry. In an era of easy, informal, essentially free learning content that saturates the Web, Coursera has carved out and continues to maintain a leadership niche in that most important of traits in a pure digital educational institution, that of proven prestige and authority.
The challenge will ultimately be in navigating the rapidly innovating industry of educational technology as well as commoditization. If a new disruptive competitor discovers more effective ways to deliver learning, or the closes in with the same quality of offerings, but at a commodity price point, then it may be challenging for the company, especially as competitors like LinkedIn Learning and Udacity attempt to close the gap. It was impressive to see their latest progress however, and I do believe they will keep up the pace of innovation enough to ward off most competitors for the foreseeable future.
Additional Reading
How the Gig Economy is Transforming Work in the Enterprise
Creating the Modern Digital Workplace and Employee Experience
The Digital Transformation of Learning