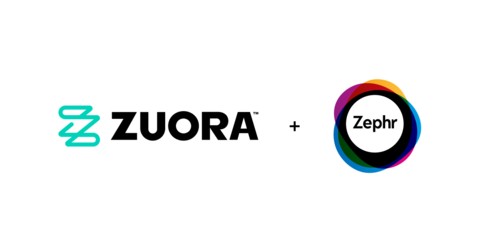 Zephr Brings New Experiences to Zuora
On August, 25th, 2022, the digital monetization leader Zuora acquired Zephr, a subscription experience platform, for $44 million cash on closing and an additional $6 million performance earn out.  Zephr has been a key Zuora partner providing features such as dynamic paywalls, entitlements management, Intelligent trials, and identity management for the digital publishing and media industries. 
"The winners in the media industry are those continuously innovating around new services, bundles and offers," noted Tien Tzuo, Zuora's CEO and Founder.
Constellation believes that the merger provides customers with:
Dynamic paywall capabilities. By gauging individual behaviors, Zephr can tailor meter limits and proposed call to action to assess how best to engage with a prospect or customer to match their needs.  The result - improved conversion rates, and higher retention rates among subscribers.
End-to-end subscription experiences. Customers gain complete processes including first digital interaction, conversion, on boarding, and renewal.  User specific personalization and corporate subscription management
Best practices from media and publishing. Industries such as high tech, capital equipment, and B2B distribution can learn from early pioneers.  A recently announced BNP Pariba Leasing Solutions partnership showcases the applicability with the professional equipment industry.
The Bottom Line: Digital Monetization Grows More Sophisticated With Increasing Adoption Of Subscriptions
Brands and enterprises must meet the growing needs for mass personalization at scale and more tailored subscription experiences.  The Zephr acquisition provides Zuora customers with new capabilities to manage the subscriber journey. Immediate strategies include registration walls, intelligent paywalls, and first-party data walls, The goal - serve customers and prospects with unique and contextually relevant experiences to improve conversion rates across each state and grow sustainable revenue.
Constellation believes as customers mature in their subscription strategies, they will seek additional digital monetization strategies.  Capabilities in the Zephr offering provide a gateway to other forms of digital monetization across a broad set of industries. Zephr will enable Zuora to deliver on more goods, services, memberships, and future digital assets.
Your POV
Have you deployed a successful digital monetization strategy? Have you used Zephr with Zuora?  What type of dynamic paywall strategy have you deployed?
Add your comments to the blog or reach me via email: R (at) ConstellationR (dot) com or R (at) SoftwareInsider (dot) org. Please let us know if you need help with your strategy efforts. Here's how we can assist:
Developing your metaverse and digital business strategy
Connecting with other pioneers
Sharing best practices
Vendor selection
Implementation partner selection
Providing contract negotiations and software licensing support
Demystifying software licensing
Reprints can be purchased through Constellation Research, Inc. To request official reprints in PDF format, please contact Sales.