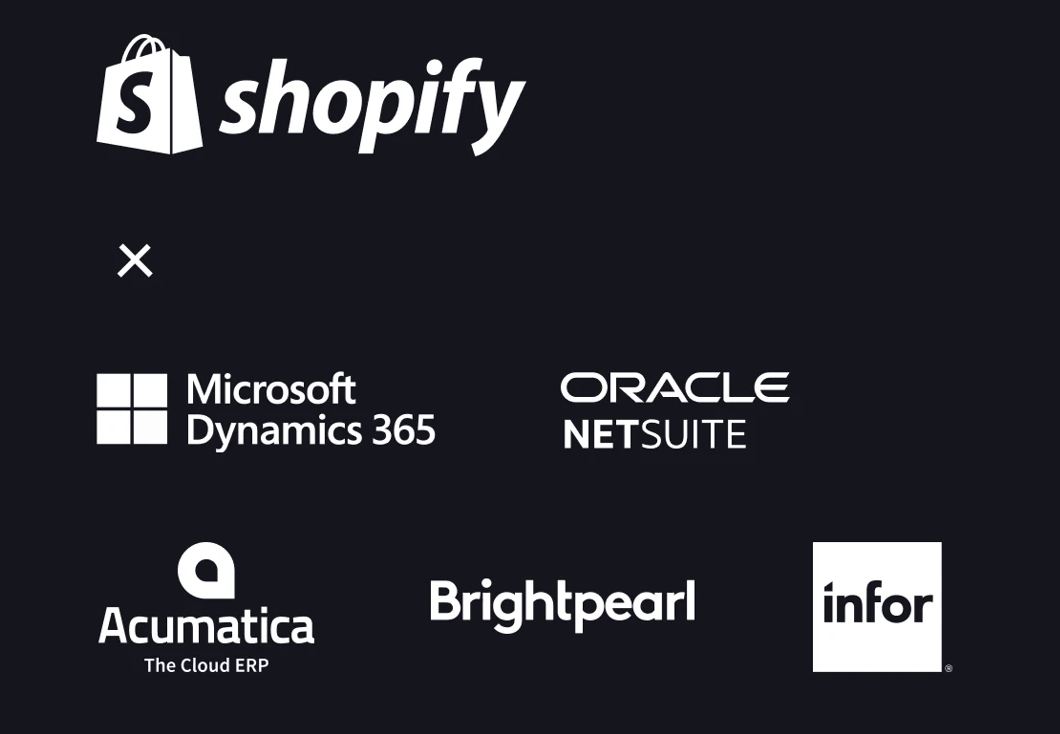 Five Major Global ERP Vendors Join Shopify App Store Program
On October 14th, 2021, Shopify announced a broad-based partnership with five leading ERP vendors to improve the data and workflow integration of Shopify's commerce platform to key back office capabilities such as financials, order management, inventory, and supply chain.  Upon closer examination inside Shopify's App Store, each vendor provides varying levels of functional integration:
Figure 1. Inside the Shopify App Store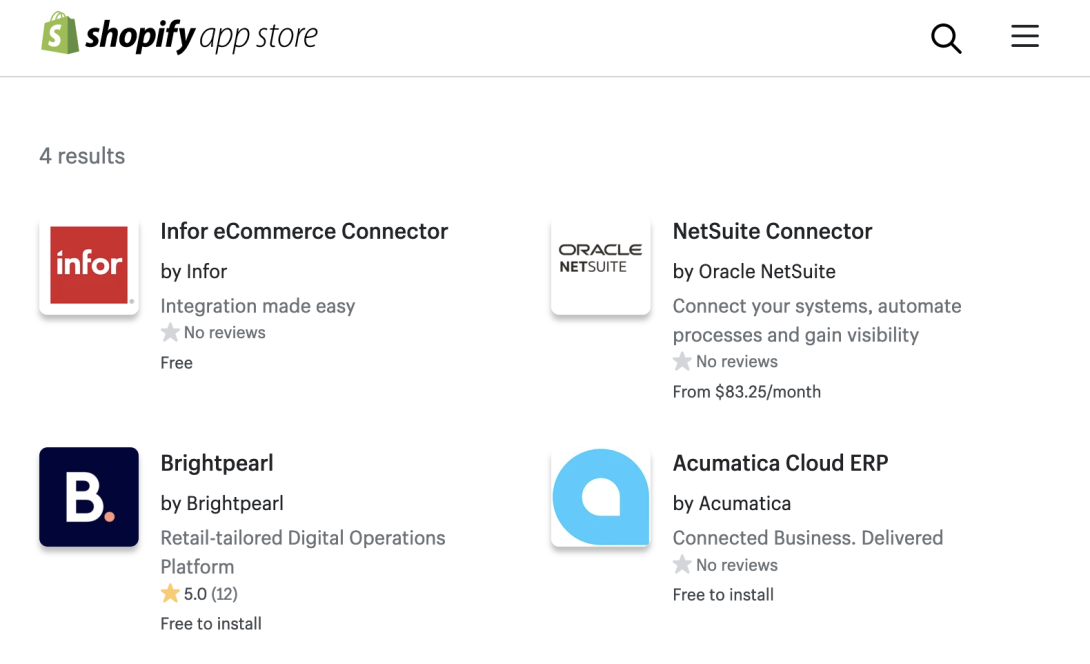 Source: Shopify
Acumatica Cloud ERP
Acumatica Retail-Commerce integration provides a free connector to Shopify.  Users can manage omni-channel orders, accounting, customer support, inventory, picking-packing-shipping, and returns.  The offering integrates with Financials, Sales, Inventory, CRM, and Fulfillment.
Brightpearl
Brightpearl's Retail-tailored Digital Operations Platform is a free integration that handles back off retail operations.  Key integration points include orders, inventory, shipments, and payments. Customers often choose Brightpearl for multi-currency capabilities, fulfillment center management, inventory reporting, inventory demand planning, integrated warehouse management, and multi-location inventory mapping.
Infor
Infor eCommerce Connector is a free connector synchronizing order, inventory, pricing, and customer information between Infor CloudSuites and Shopify.  The connector will allow for existing, new, and guest customers to purchase products via credit card.  Customers will also be able to initiate a return and request a refund through Shopify.   Product images and enriched data will be enabled through Infor's PIM.  The connector is designed to be a one-touch connector, fully tested and certified to ensure seamless order processing.
Microsoft Dynamics 365 Business Central
While not yet on the Shopify App Store, Microsoft Dynamics 365 Business Central has teamed up with Shopify to provide ERP integration with Shopify's commerce platform. Pricing details have not been disclosed to date.  The app will be available Spring of 2022.
Oracle NetSuite
Oracle NetSuite provides full integration with Shopify, Shopify Plus, Shopify POS, and NetSuite.  Product information is centralized and synchronization of data ranges from real-time to 90 minutes depending on the service.  Key services include Order Sync, Coupon Sync, Gift Certificate Sync, Fulfillment Sync, Price and Quantity Sync, Full Product Sync, Real-time Price and Quantity Sync, Real-time Order Sync, and Refund Sync.  Oracle NetSuite's connector starts at $83.25 per month and goes up to $333.25 per month to include full real-time synchronization and refund sync.
The Bottom Line: ShopifyPlus Customers Gain Key ERP Integrations
Shopify customers and prospects gain solace in knowing that Shopify has worked closely with the five of the 10 major ERP providers in the small to medium sized enterprise space.  The ability to seamlessly integrate data, workflows, and processes will help customers spend more time on their core differentiators and less time on managing integration.  Moreover, the ability to have near to real-time insights will help with improving decision velocity in the field.  As customers and prospects double down on the 3A's of analytics, automation, and AI, this foundational initiative will help customers gain much needed scale to compete with the digital giants.