Salesforce launched a rebuilt Data Cloud and Einstein 1 Platform that is now native to a unified metadata framework to go along with a series of product updates designed to make generative AI easier to implement. Salesforce also introduced a series of copilots across core clouds such as sales, service and marketing.
By enabling metadata across the Salesforce platform, the bet is that the data model is in place to automatically customize and update across enterprise applications. The revamped Data Cloud, dubbed the Einstein 1 Data Cloud, will also be connected to the Einstein Trust Layer.
The Einstein 1 Platform underpins all applications and connects Salesforce apps and services in a stack held together by the metadata framework.
According to Salesforce, Einstein 1 Platform is a hyperscale data engine inside Salesforce that connects all of your data with 2 trillion records processed per month. Within Data Cloud, enterprises will be able to prepare and transform data, map to a unified metadata model and resolve customer identities.
Marc Benioff, CEO of Salesforce, said during the company's second quarter earnings conference call that Data Cloud will be a major focus of Dreamforce 2023, which will feature more than 1,500 sessions and more than 200,000 attendees in person and virtual. Data Cloud's revamp is part of a series of Salesforce AI moves. 
Speaking at Dreamforce, Salesforce CEO Marc Benioff said:
"We are now the third largest software company in the world [with $34.8 billion in revenue] and the second-largest software company in Japan, where we just surpassed Oracle. We did it with a huge focus on growth and values: Trust, Customer Success, Innovations, Equality and sustainability."
He also talked up the impact of AI on productivity.
"This burst of artificial intelligence is like nothing we've seen before. It's incredible what's going on, but here's the thing: We also recognize that it's going to impact who we are and how we operate, but it's going to bring us back to our core values. Salesforce is already the largest AI platform used around the world. Where about to hit another wave with general artificial intelligence. There's no question that this AI wave is going to change everything, so what we do matters."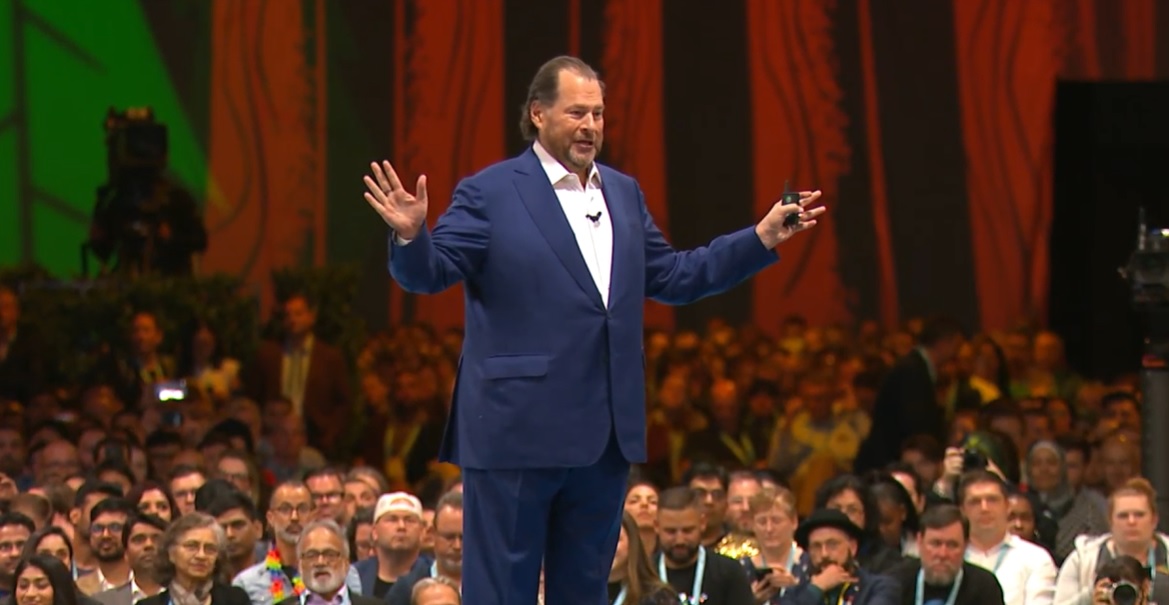 Benioff's bet is that Data Cloud will be a big part of the AI ecosystem. Data Cloud will connect to a bevy of data lakes and warehouses including Snowflakes, Google Cloud and Databricks as well as models from AWS, Anthropic, Cohere, Databricks, Google Cloud and OpenAI.
In addition, Salesforce is enabling free Data Cloud and Tableau for customers with Enterprise and Unlimited Editions. Customers can unify 10,000 profiles with two Tableau Creator licenses.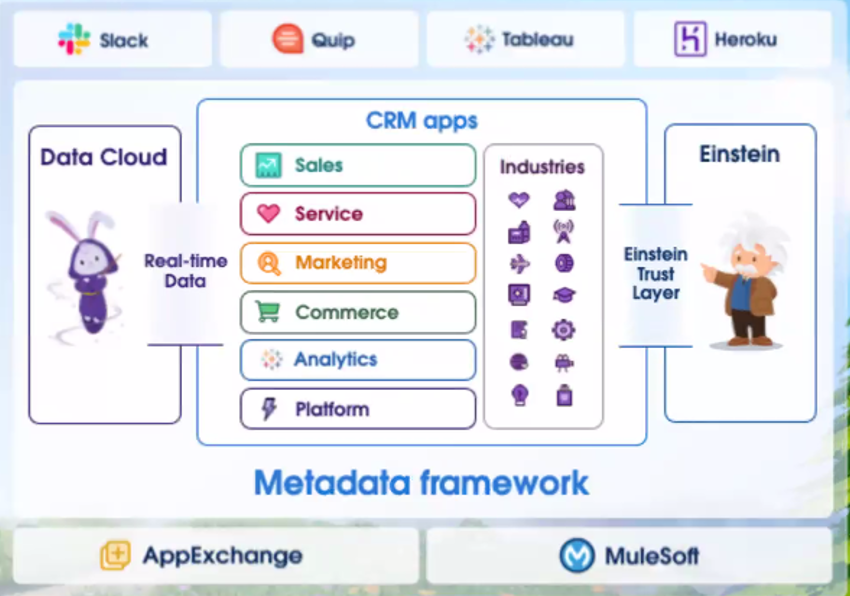 Constellation Research analyst Doug Henschen, who contributed to this report from Dreamforce in San Francisco, put the Salesforce moves in context. Henschen said:
"Unified metadata management is a key theme that many data platforms vendors are pursuing – with Databricks highlighting Unity Catalog and Google pushing Dataplex, for example – so it's no surprise to see this added to the unifying data-management capabilities associated with the Salesforce Data Cloud. The free instances of both Data Cloud and Tableau are Salesforce's push to accelerate adoption of its data platform and leading analytics product throughout the Salesforce customer base, though it's also promising openness and compatibility with incumbent data-platform choices such as Snowflake, Databricks and Google BigQuery. My take is that Data Cloud deserves consideration from any customer that uses multiple Salesforce clouds and that requires customer identity resolution. The jury is out on Data Cloud's utility and cost-effectiveness as a general data platform for managing non-Salesforce data.

Tableau keeps gaining tighter integration with Salesforce, with the latest advances including Lighting app-building capabilities. Salesforce CRM Analytics, meanwhile, is increasingly the foundation for pre-built and custom analytic applications. Customers with deep investments in third-party data platforms and analytic tools will have to weigh the touted 'Salesforce-Native' advantages of the Salesforce Data Cloud, pre-built analytic apps and Salesforce-integrated options including Tableau and CRM Analytics."
Research: How Data Catalogs Will Benefit From and Accelerate Generative AI | Constellation ShortList™ Embedded Analytics Platforms for Cloud Applications | Analytics and Business Intelligence Evolve for Cloud, Embedding, and Generative AI
Other key items from Salesforce's Dreamforce launches.
Einstein Trust Layer will use dynamic grounding to make data before it is sent to a large language model. There's zero data retention outside of Salesforce.
Einstein 1 Platform will include copilots across sales to enhance relationships, service to resolve cases, marketing for content creation and Tableau to highlight insights.
Einstein Copilot, a AI assistant built into the user experience of every Salesforce application. 
Einstein Copilot Studio, which will enable enterprises to customize with prompts, skills and models. 
Slack will be able to see and update Salesforce data, track work, automate with AI and summarize using AI.
All Salesforce clouds will get updates from the Einstein 1 Platform update. MuleSoft and Tableau will also get AI enhancements as will industry clouds with copilots for contracts, CPG, ESG, financial services, utilities, education and health to name a few. The glue of these efforts revolves around Salesforce's Data Cloud and metadata platform.
Henschen said:
"The promise of better-unified and more trustworthy metadata is clearly tied to delivering more accurate and trustworthy generative AI, natural language interaction, and search. What wasn't quite clear, during analyst previews, was whether the new metadata framework is entirely behind the scenes or whether there might also be user-facing enhancements, such as new data catalog, data model, or business glossary interfaces, any and all of which would make the promise of better metadata management more tangible."
More: