Salesforce launched AI Cloud, which aims to be the layer that keeps corporate data private and secure as enterprises roll out generative AI and large language models.
As previously reported, enterprises are focused on generative AI, LLMs and the productivity and cost savings those technologies provide but are wary about keeping corporate data private. The aim for many enterprises is to take foundational models from multiple providers and add their corporate data to it for competitive advantage.
Salesforce, which already houses enterprise data via CRM and its Data Cloud, is aiming to be that abstraction layer between foundational models and enterprise data. Indeed, a Salesforce survey found that 73% of employees believe generative AI will introduce security risks.
AI Cloud includes the Einstein Trust Layer to preserve data privacy and security as foundational models are used in the enterprise. Einstein Trust Layer prevents LLMs from retaining sensitive customer data. AI Cloud also includes Salesforce's existing AI technologies across its portfolio (Tableau, Salesforce, Flow and MuleSoft) including Einstein and its recent Commerce GPT and Marketing GPT. 
As for pricing, Salesforce is offering an AI Cloud Starter Pack for $360,000 annually with an annual contract. The AI Cloud Starter Pack includes Data Cloud, MuleSoft automation, Tableau Analytics, Slack, CRM and an AI readiness assessment from Salesforce services.
The AI Cloud Starter Pack includes:
CRM: 50 Unlimted Edition Licenses.
Slack: 50 Enterprise Licenses.
Tableau: 50 Explorer Licenses. 
Einstein: Usage.
MuleSoft: Usage.
Data Cloud: Usage.
Salesforce Services: AI Coach for Readiness.
The price depending on the size of the company will vary. Services can be delivered by integrators such as Accenture, Deloitte and PwC. Large enterprises will also have more licenses beyond the starter pack and change management will also need to be considered.
The biggest takeaway from Salesforce's AI Cloud is that it can host LLMs from Amazon Web Services, Anthropic, Cohere and others within Salesforce infrastructure. Salesforce also has a partnership with OpenAI to keep data retained inside of Salesforce.
Other key points about AI Cloud include:
Customers of AI Cloud can use Salesforce LLMs for code generation and business process automation. Salesforce LLMs include CodeGen, CodeT5+ and CodeTF.
Users can bring their own models and can connect Amazon SageMaker and Google Vertex AI directly to AI Cloud via Einstein GPT Trust Layer.
Generative AI will be embedded into Salesforce's portfolio.
AI prompts will be optimized and be context-rich across sales, service, marketing and IT teams.
Einstein GPT Trust Layer will be generally available this month with Service GPT. Sales GPT is in pilot with general availability in July.
Benioff: Trusted AI is critical
At an event in New York City, Salesforce CEO Marc Benioff said the company has been working with select customers on generative AI for the last year and a half.
For instance, Vasilis Dimitropoulos, VP Global Gucci 9 and Product Care at Gucci, said his company was "business case zero in AI." Dimitropoulos said Gucci took LLMs from Salesforce, complemented them with internal data and ultimately looked to "Gucci-fy" generative AI so it could help multiple functions.
AAA was a customer trying to balance security, hype and innovation. Generative AI at AAA is initially focused on customer service, support and DevOps. 
F1 was also cited as a Salesforce customer that was connecting to data sources via MuleSoft, harmonizing data in Data Cloud and then providing a unified view of a customer that can be used for generative AI personalized marketing campaigns.
Benioff said generative AI can take data from the call center, enable customer service reps as well as sales, commerce and marketing. "One of the great promises of generative AI to augment humans," said Benioff.
The caveat with generative AI is that it can also lead to data issues. "The onus is on us to give enterprises the next generation of AI," said Benioff.
He added that trust is critical. In 1999, Salesforce had to create a sharing model where customers could block off data. In 2016, Salesforce enabled private prediction training with anonymous predictions across the platform. For 2023, Salesforce is offering private generative training. "Customers have the ability to use generative AI without sacrificing data privacy and security," said Benioff. "It's not just about trusted AI. It's also about responsibility. We're all on a societal AI journey. We've all seen where this could go. Responsible AI use is so critical."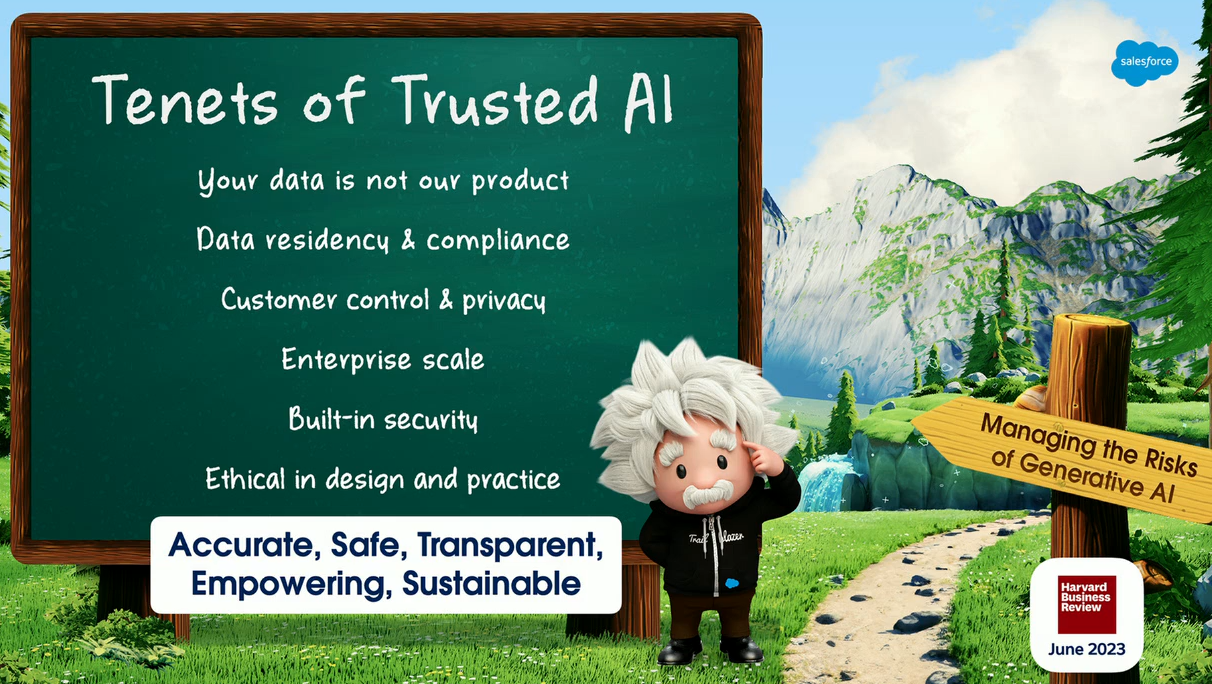 Benioff said:
"When we look at these new models, there's a big AI trust gap over privacy, hallucinations, data control, bias and toxicity. These are technical terms that's actually happening inside of these models."
A look at the trust model
Salesforce executives walked through the AI Cloud and how it is architected to preserve corporate data. Key items:
LLMs don't have control over recall. Salesforce will be able to show customers the lineage of data and where it's stored.
The Einstein GPT Trust layer includes inter and intra enterprise trust, anonymized zero retention generation and an open model approach.
AI Cloud will leverage Customer 360 data from CRM, Slack and engagement events.
AI will be able to be used for workflows across departments, outcomes and generative AI tools.
Salesforce's Patrick Stokes, EVP and general manager of platform at Salesforce, walked through how generative AI prompts can include instructions based on logic instruction and details from within a corporate data sets. "Consider all of the data that Salesforce has as well as the context. This is all data that we can add to the prompt for better generation on the other side," said Stokes.
Stokes added that the Einstein GPT Trust Layer can securely retrieve data, mask data for PIAA so it can't be used and erase the prompt completely. "We can delete the prompt so it is never learned by the LLM," said Stokes.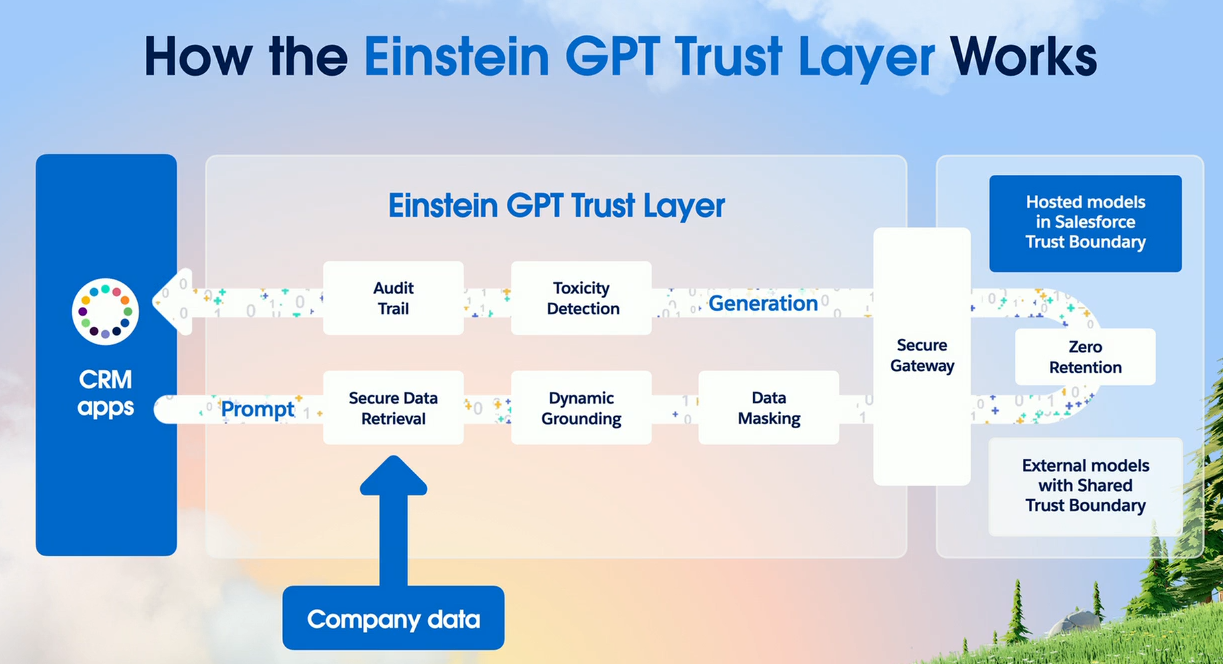 Here's a look at the architecture behind AI Cloud including the trust layer as well as models involved.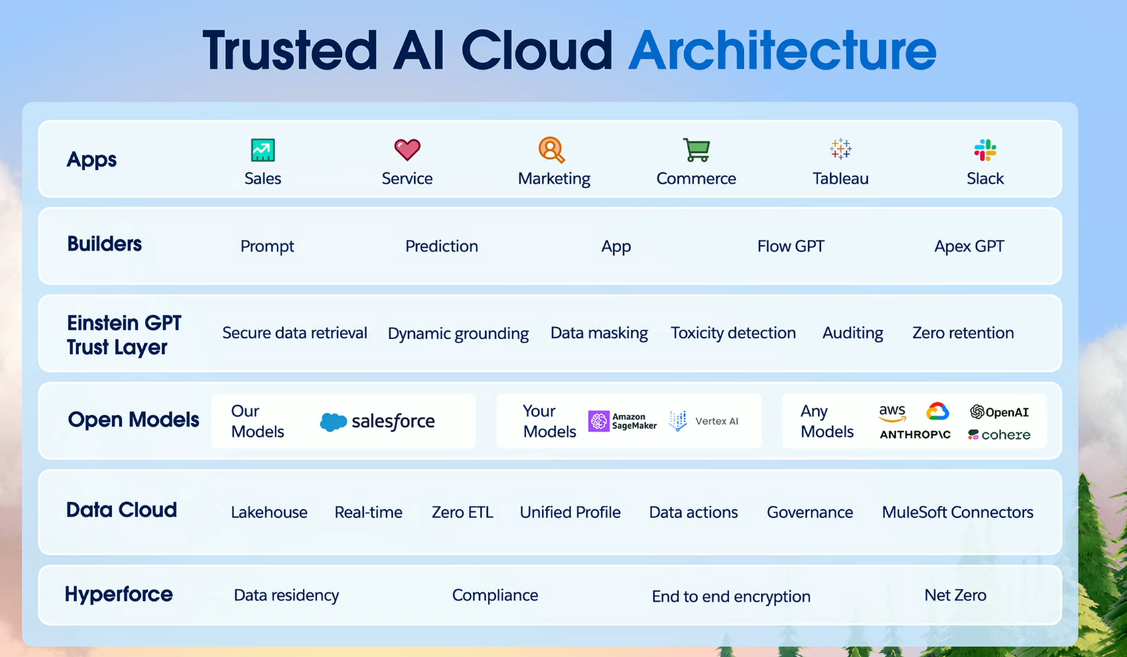 Ultimately, there will be multiple models. Enterprises will pick models based on costs as well as efficiency. There will be models focused on use cases and tethered to business outcomes, said Srini Tallapragada, President and Chief Engineering Officer at Salesforce. "We don't want to pick models for you," he said. "Right LLM for the right task is important."
That theme about right model for the right job has been popping up repeatedly among CIOs. For instance, Goldman Sachs CIO Marco Argenti said that his company is likely to use a broad range of smaller models. See: Goldman Sachs CIO Marco Argenti on AI, data, mental models for disruption
Tallapragada said enterprises will be able to build their own generative AI models. Demos were focused on personalization, code building using generative AI for developers and multiple use cases. 
How enterprises are approaching generative AI
Enterprises CIOs and CXOs have said that generative AI is promising, but security and data privacy are critical. There's also the need for data architecture to support AI. Salesforce's plan is to argue that its AI Cloud and the combination of LLMs and human feedback will better deliver business outcomes specific to tasks and industries. 
Here's a look at what CXOs are saying about generative AI.