Apple launched its $3,499 Vision Pro extended reality headset with its VisionOS software, its first new software platform since watchOS launched with the Apple Watch in 2015. The core pitch: Vision Pro can be a hybrid work and collaboration tool. Vision Pro is available early next year. 
"This is a day that has been years in the making. Augmented reality is a profound technology," said Apple CEO Tim Cook. "It's the first Apple product you look through, not at."
Vision Pro will include immersive media consumption, MacOS integration, and outward-facing cameras so users can see people around them. Apple's Vision Pro will also have its own App Store to enable gaming, watching sports and media and fitness and meditation. 
A toggle similar to the Digital Crown will enable users to switch between AR and VR modes. Enterprise use cases may revolve around FaceTime, which will have a VR version, and productivity features for Apple's Keynote, Pages and Numbers software.
As for the hardware, Apple Vision Pro has Apple's M2 chip, but further specifications weren't disclosed during the WWDC keynote or on Apple's product page. Vision Pro has a sleek design, but there are a bevy of compromises including an external battery pack, which provides about 2 hours of power similar to HTC's Vive Pro. When plugged in, Vision Pro can run all day. Among the takeaways from Apple's WWDC keynote:
Cook said Vision Pro will usher in the era of spatial computing. 
One of the first use cases shown for Vision Pro was for work. Apple showed office, remote and collaboration use cases. 

Microsoft productivity apps will be ready for Vision Pro as will Zoom and Cisco WebEx.

Unity apps will also work with Apple Vision Pro.
Developers can use Reality Composer Pro, which works with existing Apple frameworks in iOS and MacOS. 
Of course, there were consumer use cases as Disney outlined a few sports, movie and entertainment scenarios. Think Disney World and Marvel via Vision Pro.  Disney+ will be available at launch. 
When you open Vision Pro you see your apps in your physical space to create presence. 
There are no hand controllers because Vision Pro has eye tracking and hand tracking. 
Iris scanner can be used for security via Optic ID. Vision Pro will also mask where you look from apps. Camera data is processed at a system level. 
Apple said it focused on a glass device with wearability via a modular design for a precise fit and included flexible straps. 
Vision Pro can connect to Apple Watch, iPhone and iPad.
In addition to an M2 chip, Apple included R1, a processor to eliminate lag and process real-time data from sensors and 12 cameras. M2 offers performance. R1 ensures experience quality. 
Siri is the voice interface. 
Like Apple's other product lines, you can expect new Vision Pro units at lower price points as well as one that's business-friendly.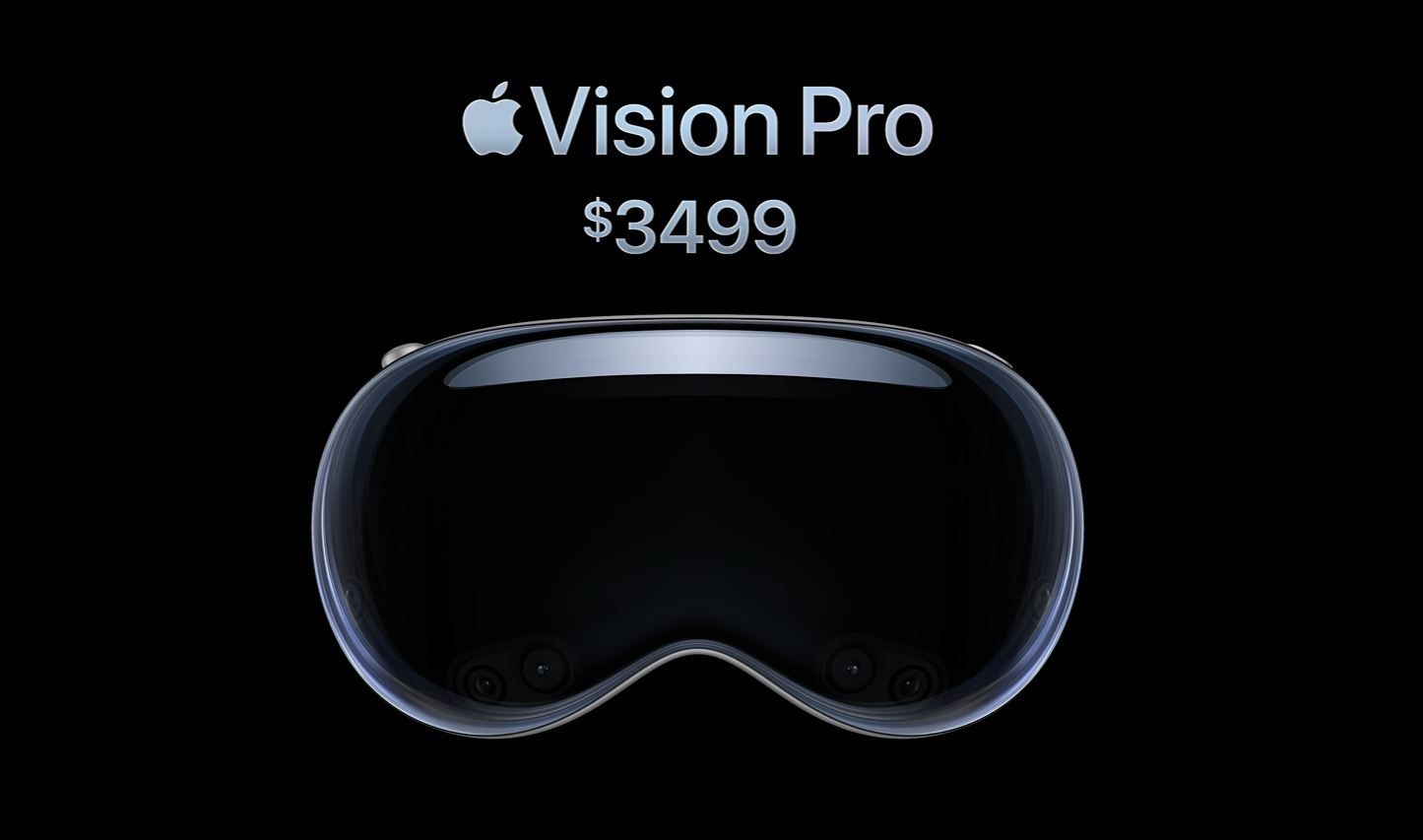 "This is the next generation of computing and how developers respond to the launch will determine how robust the ecosystem will be for Apple," said R "Ray" Wang, CEO of Constellation Research.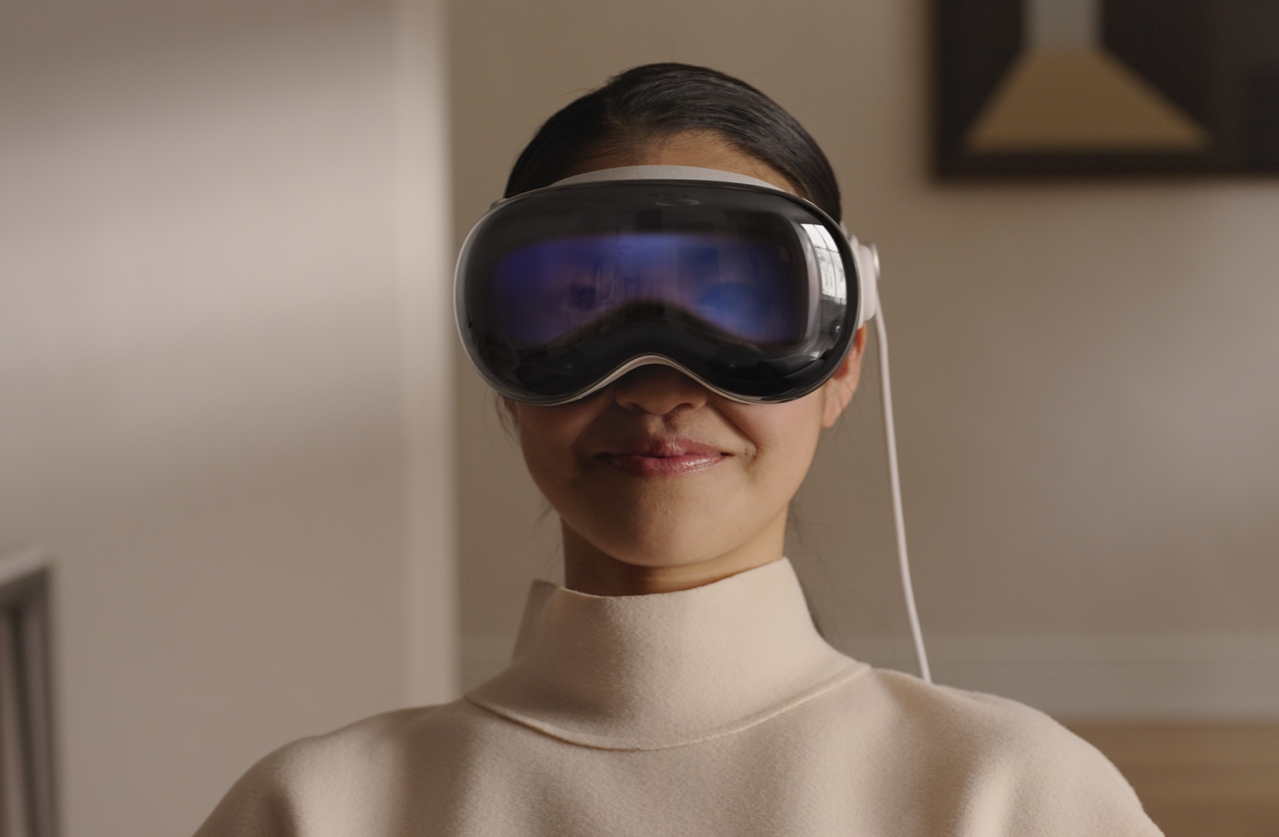 What's unknown is whether Apple's ecosystem leverage can make AR, VR and the metaverse more of an enterprise staple. The metaverse was a big theme in 2022 but has taken an enterprise back seat to generative AI, optimization efforts and automation.
The competition for enterprise use cases
Apple's vertically integrated approach with hardware and software has gained enterprise traction with its Mac, iPhone and iPad lineup and the software that powers it. Augmented and virtual reality, which is often pitched for mainstream consumers, has more enterprise use cases including training, collaboration and remote maintenance.
Cook usually gives Apple's enterprise traction a mention on earnings conference calls even though the company doesn't break out sales to consumers vs. businesses. On Apple's most recent earnings call, Cook noted: "We see business customers continuing to invest in the Apple platform to drive higher employee productivity and satisfaction."
Cook added:
"We have our estimates for how much is enterprise versus consumer. And the enterprise business is growing. We have been focusing a lot on BYOD programs and there's more and more companies that are leaning into those and given employees the ability to select which is plays to our benefit, I believe, because I think a lot of people want to use a Mac at work or an iPad at work.

And so, but we're certainly primarily a consumer company in terms of our revenues, obviously."
When Meta launched its Quest 3 headset last week, it noted that Quest Pro is optimized for work use cases. With Quest 3's increased performance, Quest 2 and Quest Pro will also see better performance via an upcoming software update.
Meta now has three headsets at different price points and use cases. Quest 3 starts at $499.99, and Quest 2 starts at $299.99. Quest Pro starts at $999.99.
Lenovo also launched its ThinkReality VRX headset, which will start at $1,299.
In comparison, Apple's Vision Pro headset is going to be too pricey for wide enterprise adoption. However, Apple can leverage its ecosystem of apps and developers to jump-start enterprise use cases. It's unlikely that Apple will talk up business for the Vision Pro, but the odds are good that it'll garner enterprise attention over time.
After all, Apple's iPhone pulled the iPad and Mac into the enterprise.