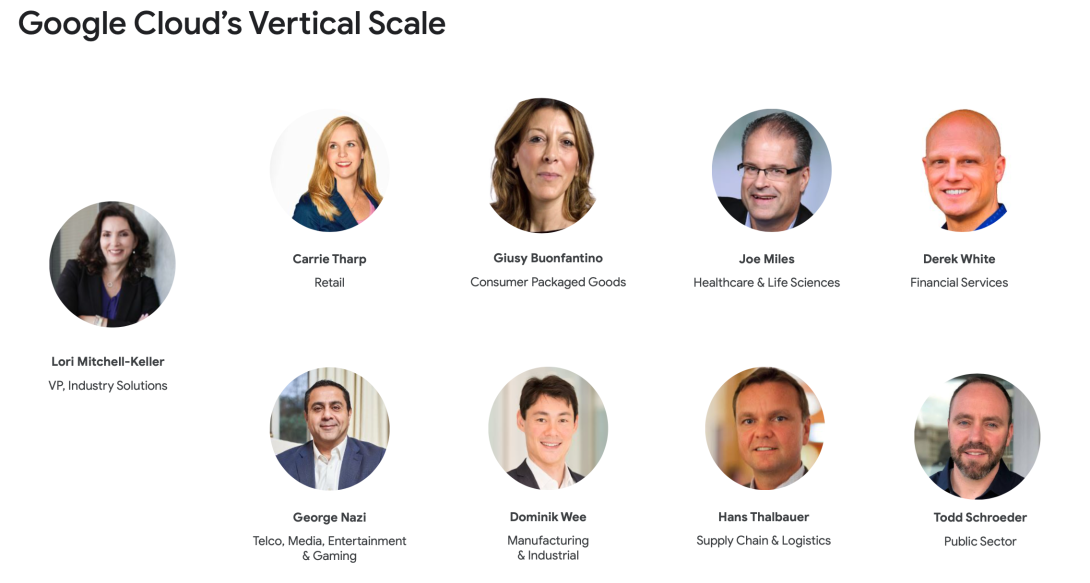 Google Cloud Has Hired A Brain Trust Of Industry Vertical Leaders
On March 31st, 2021, Google Cloud hosted an Vertical Analyst Roundtable.  Google Cloud CEO, Thomas Kurian, opened up the day with a warm introduction on the role industries will play in the growth of Google Cloud.  Lori Mitchell-Keller, VP of Industry Solutions shared how Google Cloud differentiates its approach to Industries with customers.  The key industries and the leaders for Google Cloud's Verticals include:
Customer Wins Range From Level 1 to Level 4 Digital Giant Partnerships
Retail - focus on immersive and frictionless customer experiences using first party data to accelerate activation, and decrease cost of business
CPG - know customers in a data privacy first world, deliver growth in an omni channel ecosystem, and enable a more intelligent sustainable operations
Health and Life Sciences - accelerate R&D and clinical insights, achieve precision decisions with ML/AI, and enable population health and value based care models
FSI - humanize digital experiences, modernize core technologies and drive out technical debt, adjust to a deluge of regulatory requirements, and manage risk through data
Communication Service Providers - create new network-enabled revenue streams, improve low touch high value experiences, evolve service provider networks, upgrade legacy technical debt and core systems, and upskill work force.
Media and entertainment - drive up content velocity, deliver mass personalization at scale, ad create dynamic feedback loops to improve relationships and context
Manufacturing - digitize customer journeys to improve experience through data, optmiize operations and sustainability, and address cultural and technology needs for digital transformation
Supply Chain and Logistics - deliver exceptional customer experience, drive circular economy and sustainability, achieve autonomous enterprise status
Public Sector - deliver compliance without compromise, provide tools to accelerate digital transformation, solve for mission needs, and apply vast public data troves for public good.
While most of the customers are focused on Level 1 and Level 2 capabilities, Google Cloud is starting to see growth in Level 3 vertical industry wins and becoming more competitive with both Amazon Web Services and Microsoft Azure in industry deals (see Figure 1).  Google Cloud's customer wins at Amwell, Ford, MLB, Target, Unilever, Unity, and Verizon are proof points on the extent of the partnerships with industry for data-driven digital transformation.
Figure 1. The Five Levels Of Cloud Provider Partnerships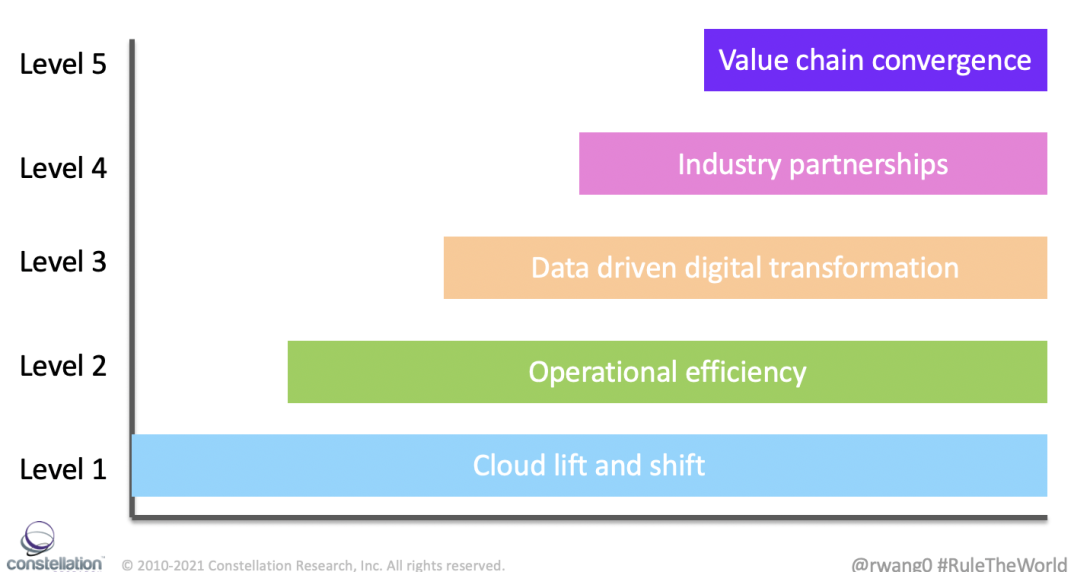 The Bottom Line: Build, Partner, or Perish
In my upcoming book, Everybody Wants To Rule The World, we discuss how the collapse of vertical industries along a convergence of value chains will lead to 100 companies in 50 value chains across seven major geographic trade zones by 2050.  Established organizations who survive to compete against the next set of well-funded digital giants will have to create joint venture partnerships in Level 5 in order to succeed.
Given the capital constraints of the established industry leaders, most will have to partner instead of build. Many of those partnerships will occur with the major cloud platform vendors who can provide the investment capital, the technical expertise, and the key cloud computing and technology prowess needed to win.  Digital leaders who plan for the future will have to double down on one to two cloud players across the world to build deep partnerships or invest in the capital to establish their capabilities.  Winners will build or partner. 
Your POV
Are you a digital leader driving key initiatives? Have you partnered with a cloud vendor? What level is your partnership?  Nominate your project for the 10th annual Constellation SuperNova Awards and buy the book to find out how Everybody Wants To Rule The World
Add your comments to the blog or reach me via email: R (at) ConstellationR (dot) com or R (at) SoftwareInsider (dot) org. Please let us know if you need help with your AI and Digital Business transformation efforts. Here's how we can assist:
Developing your digital business strategy
Connecting with other pioneers
Sharing best practices
Vendor selection
Implementation partner selection
Providing contract negotiations and software licensing support
Demystifying software licensing
Reprints can be purchased through Constellation Research, Inc. To request official reprints in PDF format, please contact Sales.
Disclosures
Although we work closely with many mega software vendors, we want you to trust us. For the full disclosure policy, stay tuned for the full client list on the Constellation Research website. * Not responsible for any factual errors or omissions.  However, happy to correct any errors upon email receipt.
Constellation Research recommends that readers consult a stock professional for their investment guidance. Investors should understand the potential conflicts of interest analysts might face. Constellation does not underwrite or own the securities of the companies the analysts cover. Analysts themselves sometimes own stocks in the companies they cover—either directly or indirectly, such as through employee stock-purchase pools in which they and their colleagues participate. As a general matter, investors should not rely solely on an analyst's recommendation when deciding whether to buy, hold, or sell a stock. Instead, they should also do their own research—such as reading the prospectus for new companies or for public companies, the quarterly and annual reports filed with the SEC—to confirm whether a particular investment is appropriate for them in light of their individual financial circumstances.
Copyright © 2001 – 2021 R Wang and Insider Associates, LLC All rights reserved.
Contact the Sales team to purchase this report on a a la carte basis or join the Constellation Executive Network