Anticipating a Post-Pandemic World
In the last week, we've seen the first glimmer of light of what will eventually become the full arrival of a post-pandemic operating environment. It will be a brave-new reopening world -- and a notably different and rapidly changing one -- that the CIOs of most organizations will have to quickly and effectively adapt to in order to ensure the survival, renewal, and regrowth of their organizations. Not the least because CIOs are now required to help lead business strategy today.
For the moment, most of our organizations are very different than they were just eight weeks ago: They are now virtual and almost entirely digital. The oft-neglected digital workplace is now our primary employee experience, with its historically low IT investment priority and associated long-standing challenges clearly evident in many cases. Remote work is currently very much the norm around the world, but -- and at least in its present form -- is also creating varying degrees of worker fatigue, disengagement, and impediments to function that must be overcome. For a good many of us, our supply chains are in disarray and our operations aren't far behind, with limited ability to recoup until global trade and travel have resumed. Our strategic trajectories have been sharply altered too: 2019's digital transformation plans for 2020 have largely been overcome by events and now require thorough review and rethinking.
A new financial reality has arrived along with the plague, with greatly raised IT requirements for robust and ongoing business continuity capabilities, skyrocketing new cybersecurity threats, a suddenly very different service delivery posture, and an urgent need for outside-the-box problem solving, all while facing demands for headcount reductions and budget cuts in most cases as the CFO and the entire executive team struggles to keep the organization stable and afloat. While a few sectors are actually seeing increased IT investment, most are seeing IT budgets changes in the range of +13% to -27% (see graph below.) As a result, most CIOs I've talked with recently are planning to or have started full portfolio contract renegotiations with their SaaS and cloud vendors.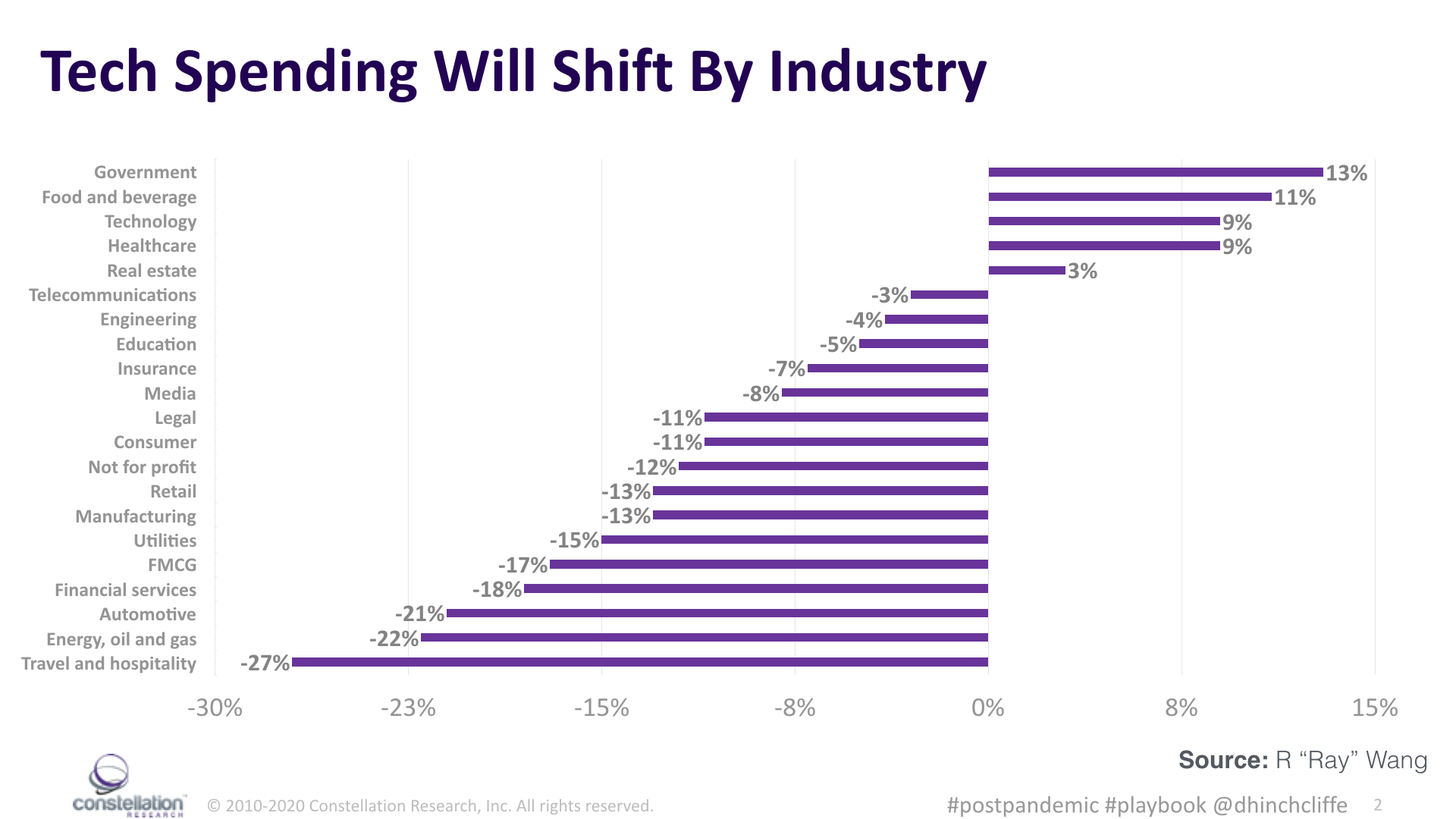 Collectively, all of this can be challenging to take in and respond to, given that what Bill Gates has famously called "the first modern pandemic" is remaking our institutions, our organizations, and our IT departments. However, COVID-19 has also proven to be a particularly potent teacher to IT leaders and staff as well, and from which we can already learn a great deal, as we will see.
The Hard-Won IT Lessons of the Pandemic
Currently, we observe a number of stark yet useful lessons learned that have spawned directly from the global crisis and which are now presenting themselves as key clues to the future of IT after the pandemic wanes:
Fast digital change is much more possible than most of us thought. When there is no choice to change rapidly, it appears there's not nearly the dilemma or actual barriers we had previously encountered. Extremely rapid transformation is much more achievable than we gave ourselves credit for. While some IT departments struggled in the early weeks of the virus, today we can see that IT did help most organizations become remote working ones in a dramatically short time, typically in just two to three weeks. Corrollary: Times of large scale change are fertile ground to make hard and/or difficult shifts within an organization. Recommendation: Use the "bully pulpit" of ongoing interrelated strategic changes in play to make the necessary bold shifts in the IT organization, from restructuring to a fundamental reimagining of the function.
Resiliency is inherent in the culture, structure, and processes of an organization, not in pre-laid crisis plans. While strategic planning certainly helps, you simply cannot adequately prepare upfront for unanticipated events. Many CIOs had insufficient crisis plans for a pandemic, a rapid shift to remote work, a disaster recovery, or all three. What matters more is having organizations that are inherently resilient and can respond appropriately with all of its available resources as needed. Recommendation: Begin plans to build resiliency more deeply and intrinsically into the organization. This includes education and investment in staff resilience, as well as new dynamic capabilities, such as more distributed functions, more systemic capture of knowledge, as well as regular modeling and simulation of crises and their response. Oh, and don't forget to design for loss of control.
The old ways of operating are often badly outmoded in this new era. Organizations that have shifted broadly to agile methods, DevOps, and especially DevSecOps, are in a much better position to pivot and change course with the prevailing winds and fresh disruptions, as growing data shows suddenly increased investments as nearly two-thirds of IT leaders say they plan to increase spending in these areas as an immediate result of the pandemic. Even more significantly, we're now seeing that a straightforward physically copying of the ways of working in the physical workplace into the virtual one is a rather inadequate adaptation. Managers, team leads, and other roles that require frequent meetings have often resorted to replicating them by holding endless video conferences and conference calls, and thus Zoom fatigue has set in. While we've long known that there are much more effective ways of working digitally and that are more asynchronous and scalable, and therefore more productive, they are not nearly as widely known as they should be. Recommendation: CIOs should review, pilot, and activate as appropriate as many new digital native equivalents as possible for employee experience, workforce collaboration, management capabilities (especially talent analytics), and operations as possible while vast change is still the norm.
Pandemic induced resource reductions are spurring a mass redoubling of automation efforts. Three challenges are making IT response to the pandemic harder: The sheer scale of digital issues, which often involve the entire organization, or most key IT systems, or affect the whole customer base. Second, the timeframes are so short to address critical goals like transitioning to remote work, or moving sales and customer service entirely into new operating environments in just a few days or a few weeks. Finally, cost reductions are already a priority and are already impacting service delivery and employee/customer satisfaction. This is leading to a large emerging new push into robotic process automation (RPA), artificial intelligence (AI), and even a resurgence in old fashioned business process automation/management (BPA/BPM) to get ahead of the curve. The goal is to automate rote IT and business tasks to cover for downstaffing, productivity hits, and enable major new processes related to managing pandemic response.
Strategic use of the cloud is the primary key for rapid response to operational changes and disruptions. This should come as little surprise to most IT leaders, but there's certainly a large cohort that has nevertheless been lagging in cloud adoption. I've heard major stories of impact due to the shift to remote work for those with little cloud presence. For most purposes, the cloud is far more nimbler and elastic during large operational changes. One trend is clear: The coronavirus pandemic is spurring cloud adoption like few other events, though multicloud data management is going to be the next emerging issue as cloud complexity swiftly grows.
Data supremacy is the ultimate tool for mitigating and managing fast change. Understanding what is going on in IT, in the business, and beyond into the customer base has been of huge interest during the outbreak. I've seen a dramatic uptick in everything from surveying to usage analytics and other data gathering to actually measure everything from usability of remote work solutions to assessing the stress levels of workers during the large changes they've faced. As never before, we have profound powers for capturing, integrating, and synthesizing amazing views of reality that we can use to guide strategic decision making in near real-time.
Taking these lessons as a whole, we can begin to understand some of the key aspects of the IT and business changes in front of us.
Key Reading: Insufficiently Bold Thinking and Action Post-Pandemic Risks Limiting the Needed Digital Transformation of Work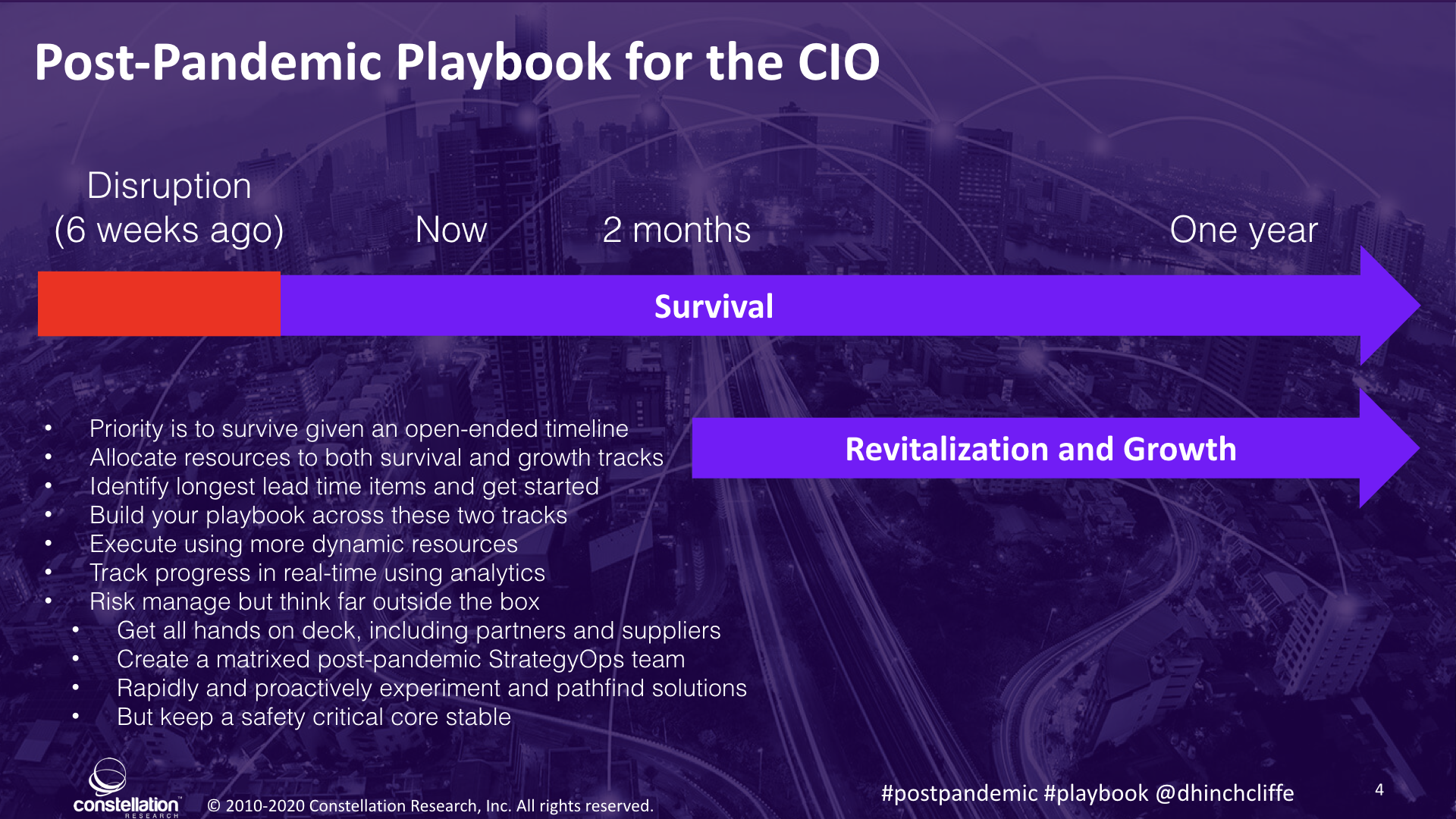 Preparing IT for Post-Pandemic Success
Our very own R "Ray" Wang has separately laid out an overall post-pandemic framework for organizations, which the analysis herein complements and extends for the CIO and other IT leaders. Such a playbook, whether you call it that or not, is an absolute necessity to maintain focus while appropriately allocating time between urgent IT priorities. Day-to-day operations are currently getting the lion's share of attention in most organizations, against the growing need for longer-term strategic planning and action, which must begin right around now in order for the overall organization to be situated well as the pandemic fades.
Using Ray's overall framework, there are four supporting pillars to a CIO's post-pandemic playbook, with my specific adaptations of it for the CIO function:
People and Process
Expanded Remote Work and Reskilling Programs for the Long Term. What most of us have in place for remote work is simply inadequate for a sustained and fruitful program, in that we're often using the wrong tools and channels at the moment, and our workers largely don't have necessary strategic skills. I've previously explored in considerable detail what we should do to improve the current remote work situation, from a move to modern mass collaboration tools that scale better with improved non-blocking simultaneity (i.e. more people working at once, without interfering with each other) to vital digital skills like Working Out Loud and network leadership.
Upleveled New Hybrid Digital Employee Experience. Current survey data show that we're not going all the way back to the previous status quo in our organizations when it comes to the physical workplace. But some will return, and some businesses are just much more physically oriented than others. Our digital employee experiences must mature so that physical and remote workers are on an equal plane as much as possible, from remote workers having increasing visibility and engagement to physical workers have better ways of working to connect across the entire organization, remote or otherwise. Here's my exploration of how to get started in up-leveling employee experience around actual employee needs. Digital adoption support and training will considerable accelerate a newer, better experience. As the newly released Slack Remote Work Survey found, worker education and experience matters when it comes to being effective in a remote employee experience.
New Lean, Automated Operations. I've long been on record that IT has to have 90% of what they do today become automated by 2025, just to tread water on current staff given the growing responsibilities and involvement in technology and IT in virtually everything in an era of exponential digital progress. In the short term, increasingly automation will be driven by the need to survive and thrive during and after pandemic-era budget and staff cuts, but it's just a more effective and necessary way to help organizations become more strategic and move "up the stack" in general, as tactical and rote work gets carried out by the machines. CIOs will need to proactively invest in talent and tools that can realize RPA, AI, BPA/BPM across the organization, and especially in low-code and no-code solutions that can be used by the entire business, instead of just IT staff, as part of the IT is more distributed trend, and to curtail the impact of IT staff reductions.
Business Continuity Reinforcement. As shocks continue to arrive via the economy, new cybersecurity exploits, from major phases of the pandemic, such as the (eventual) coming return to the office, the CIO will need to closely manage, update, and reinforce their business continuity plans (BCP.) BCPs will need a dedicated operations and crisis management presence in medium to large-sized organizations for at least until several months after the pandemic ends. When it is mothballed, it should be done with care, so it can be revived quickly if needed.
A Strategic Plan to Return to the Office. How this will happen will be unique to each organization, its industry, their modes of product and service delivery, local/regional/national regulations and orders, customer needs, and business requirements. Businesses themselves are forecasting everywhere from May to sometime in 2021. But the CIO and the employee experience team, along with HR, legal, compliance, and other functions need to come together in short order to begin planning this inevitable eventuality, though certainly, for some organizations, the possibility of remaining mostly or entirely remote is certainly a real option, given the lack of current clarity on the cyclical nature of the SARS-CoV-2 virus itself, and whether it will come back yearly like the flu.
Move to More Modern Staffing Model, Especially Gig Economy. With so much uncertainty remaining, staffing is a challenge, especially for organizations that seek to be preferred employers and want to avoid laying off staff in most cases, yet wish to avoid the vast financial impacts of keeping unproductive workers on payroll. Over the last two years, there has been a sea change to IT employment to a more gig economy model that is much more professional and white collar than say, Uber drivers. IT workers, application developers, and even capable product managers can now be engaged on-demand through services like Gigster and a growing cadre of gig firms for IT and professional services. IT organizations should create a healthy more of full-time, contract, and gig economy workers to manage swings in demand, capacity, delivery projects, and service requests.
New C-Suite leadership. Supporting IT employees right now is perhaps the most important job of all. Getting them the help, personal and professional, that they need to work through these times is paramount. Learn to become a new digital leader that is a profound enabler, champion, and mentor to the organization both in the current times of acute crisis as well as the steady leading light through recovery and growth. Leadership matters the most in a time of crisis, and CIOs must find their best selves, both for themselves as well as their full talent stack, however it is structured.
Technology
New Digital Playbook and Digital Transformation Plan. If we look back at typical 2019 plans for digital transformation, there has been a significant disruption in most organizations' objectives, at the very least due to budget changes. The effect has been split, however. Some organizations will have to shelve or postpone their plans for now, or greatly scale them back. Others are looking at accelerating their plans due to large changes in the markets and operating conditions that can't be ignored. What's for sure is that the CIO now needs to sit with the C-Suite and stakeholders and rethink priorities, plans, and resources. It's also safe to say, that as digital transformation often appears like the easiest activity to delay for now, it's also one of the most strategic for the future. CIOs will need to carefully balance the needs of today with the imperative for the overall future of the organization, which is digital.
Reinforced Cybersecurity. The shift of work and IT to workers' homes is a cybersecurity challenge of a high order. CIOs will be driven by the need to harden and secure the explosion of new endpoints they are acquiring through the shift away from the physical office. The CIO will have to underscore to the CFO that cybersecurity is one budget area that cannot be cut.
New Digital Workplace and Collaboration Tools. Enterprise social networks, online forums, virtual communities, visual collaboration tools, status gathering apps, workplace analytics platforms, and much more will be needed to create more humane and effective digital remote work environments and employee experiences.
Business Models and Economy
Recovery and Growth Plans. While most organizations are still focused on survival, a growing amount of attention must now go into the revitalization and growth efforts of the near future, especially in identifying long lead time issues and challenges. Recommendation: Create a matrixed, integrated "Post-Pandemic StrategyOps team" that can quickly determine a roadmap forward and make it executable in real-time. Put all hands on deck to collect and evaluate innovative ideas to recover and grow. Instrument all recovery work with real-time analytics and give out dashboards to key management and stakeholders, as well as for IT to use to rapidly iterate and course correct the effort.
Rebuild the Supply Chain. Most organizations have to take the pieces of their supply chain combine them with the latest digital marketplaces and procurement capabilities to begin the hard work of finding a high growth way of finding to a sustainable return path to operational health.
Financial restructuring of IT and a new uncertainty set aside. There is likely going to be a difficult discussion with the board on a new model for IT that is much more cost effective in the near-term. The CIO must prepare for the eventuality of very challenging discussions about going near 100% cloud, managed services, and outsourcing. Having a strategic IT and digital function is actually more critical than ever, however, though there will be need to move much of the rest to more dynamic sourcing. The cost savings will be small in either regard for most, and the key is not to give up agility or innovation capabilities in any resulting effort. The CIO, contrary to budget cutting discussions, must also now maintain a larger set aside for crises for the foreseeable future.
Mergers and acquisitions. I am already speaking to private equity firms that would like help understanding who they should buy up in terms of likely financially distressed firms, to recombine them into new conglomerates and portfolios designed for a post-pandemic era. Be prepared to help the CFO fend these off if needed, but if they occur to help with and preferably lead the IT integration process.
Politics and Legislation
Dealing with New Geopolitical Constraints and Challenges. It's likely that the pandemic ends with a fairly different political landscape than it started. This will affect supply lines, cloud data residency, and sources of talent. Study and be prepared for the long term effect on IT strategy.
Emerging Pandemic Rules and Regulations. It's likely that laws and other government orders around the world with regards to employment, sourcing, and data sharing/access will be passed that will greatly impact IT.  Field an ongoing study group to understand these as they emerge and risk manage their implementation as appropriate.
Financial Aid and Bailout Access and Protections. IT will be both a data source and potential recipient of the complex network of aid and bailout packages that have emerged and will likely continue to emerge from governments around the globe. Getting a fair share of these may be vital for survival and certainly for helping staff be successful in navigating the pandemic from their perspective.
To Survive and Thrive: We Must Now Invest Time in Both
If you've explored my frameworks for digital transformation, you know I believe in generative processes for them. Meaning that you must plug in the unique aspects of your business, culture, and processes before you can use them well. The first one in the list, the adaptable framework, is the one most organizations can take advantage of most. Yes, I'm saying that the best post-pandemic response is a digital transformation of the organization, both IT and business (which is truly becoming one and largely the same after many, many decades.)
I believe the elements above represent the most important and urgent areas of focus, but they won't be every major item a CIO has to worry about. That means the exploration above is a vital cross check, but not the post-pandemic playbook itself. That is up to you. We at Constellation Research wish you luck in your urgent and vital endeavor.
Summary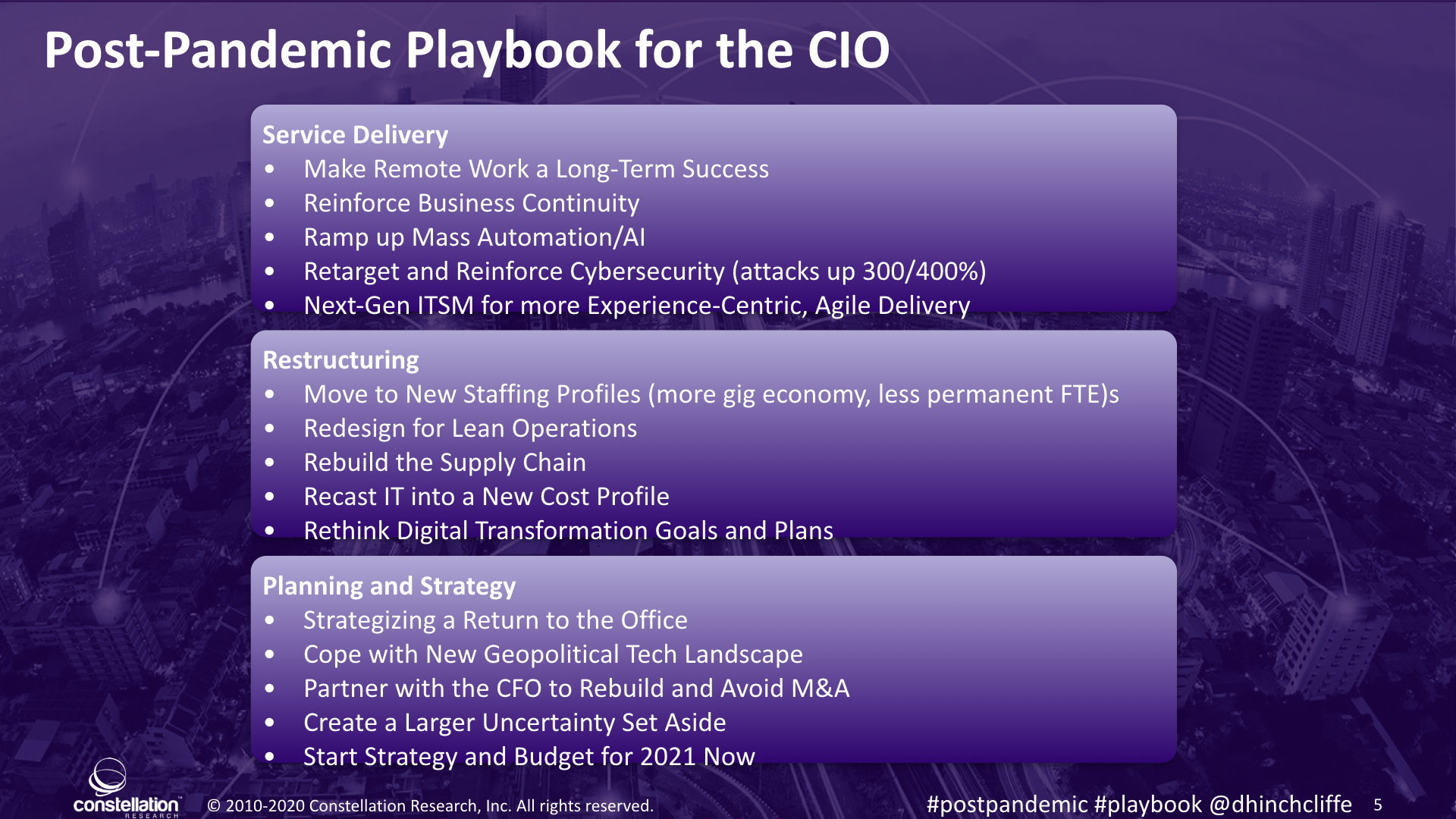 Please be sure to contact me with your stories of pandemic successes, challenges, and insights. Also, if you need assistance in externally reviewing and strengthening the post-pandemic playbook that you are developing. We'll be covering more on preparing for post-pandemic in coming days, weeks, and months. 
Additional Reading
Managing Beyond the Crisis: On the Minds of CXOs
News Analysis: Tech Vendors Takes On #Coronavirus
Lead with Visibility and Agility During and Beyond the Pandemic