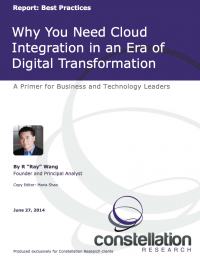 A Primer for Business and Technology Leaders 
Cloud integration has become a foundational topic for executives engaged in digital business. The proliferation of cloud applications and digital endpoints has created a byzantine data landscape. Integration provides the nervous system digital businesses need for rapid access to a wide variety of data.
Unfortunately, many projects began in a haphazard or unplanned manner. The goal to connect a few cloud apps seemed simple at first. However, increasing requirements for integration often tested the limits of simple hand coding and point-to-point strategies. The shift to cloud integration has changed the landscape by addressing business value. Strategies for integration hubs and platforms now provide the solutions and techniques that will support the shift to digital business.
As a key component of the four personas of the Chief Information Officer, the integration officer role must address the needs of digital businesses by improving integration. Chief Digital Officers and line-of-business executives will want to understand integration as it enables digital business. Constellation recommends buyers select the integration pattern best suited for their needs using the Constellation Cloud Integration Pattern Decision Matrix, which considers integration objective, number of apps, processing style, information usage, and analytical requirements. 
Purpose & Intent:
Cloud integration has emerged as a key pillar in the enablement of digital business. This research provides a primer for business and technology executives on the business rationale and use cases for cloud integration. 
Get Access to This Premium Content