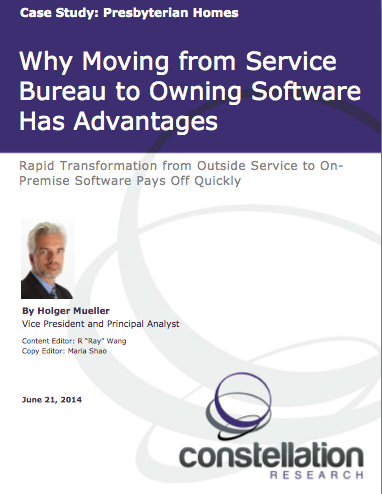 Why Moving from Service Bureau to Owning Software Has Advantages 
Presbyterian Homes is a senior living and retirement community provider in the greater Chicago area. In 2013, executives decided to convert HR process from a services-based solution to an on-premise solution run internally. This case sudy details Presbyterian Homes' selection, implementation, and ROI of Kronos as its new HR system. 
"We were not looking for a cruise ship with all bells and whistles but an agile sailing boat that fitted our needs."

Nadim Abi-Antoun, V.P., Information Technology, Presbyterian Homes 
Table of Contents
At a Glance

The Company

The Challenges

The Solution

The Impact

The Takeaways

The Recommendations
Bring disruptive innovation to your organization. Learn more about Constellation Academy.
Get Access to This Premium Content