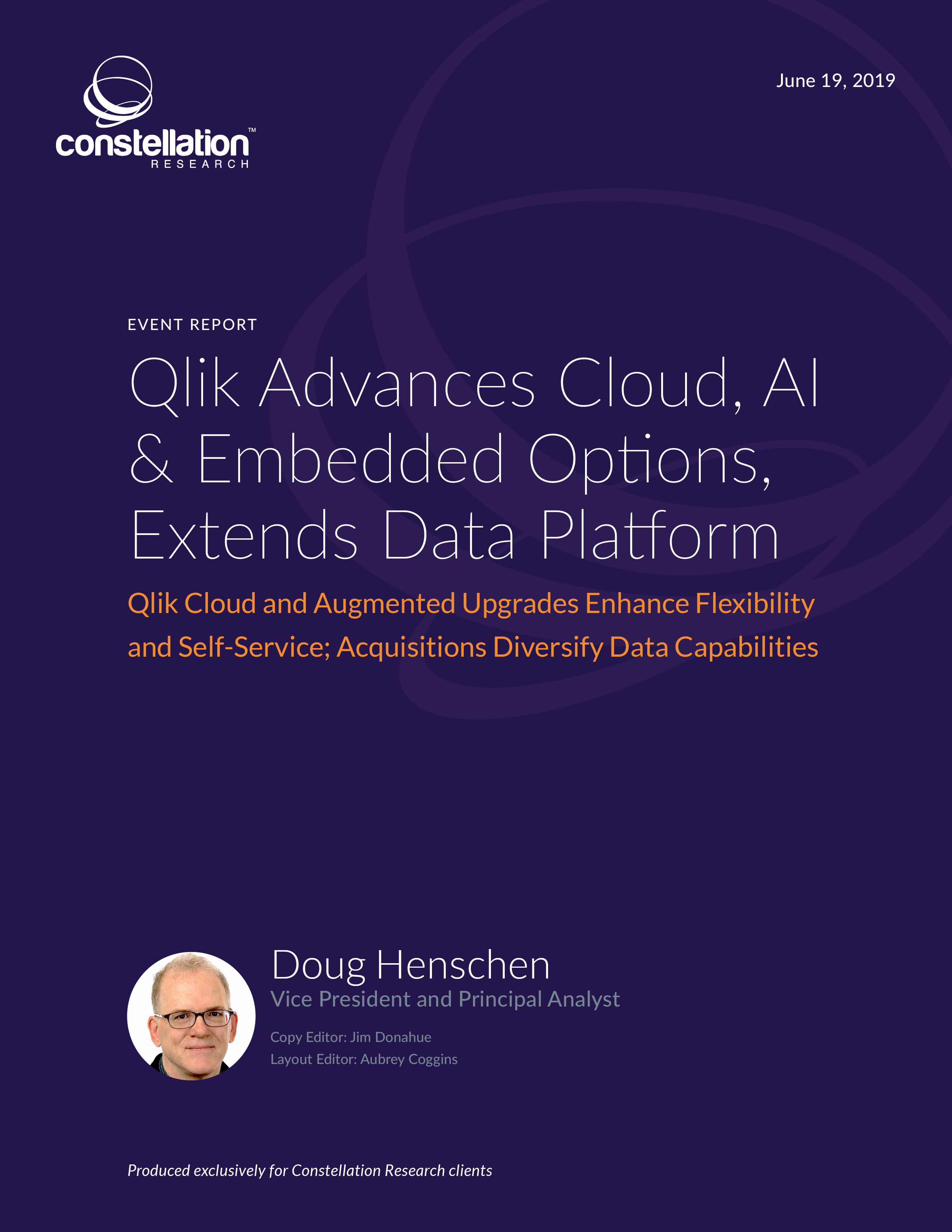 Qlik Cloud and Augmented Upgrades Enhance Flexibility and Self-Service; Acquisitions Diversify Data Capabilities  
Business intelligence (BI) and analytics vendor Qlik Technologies Inc. (Qlik) has responded to emerging hybrid-cloud and multicloud deployment demands by offering a choice of deployment modes and the ability to combine software-as-a-service (SaaS), private cloud, public cloud and on-premises deployments. What's more, Qlik now offers functional consistency among these options as well a unified subscription approach that lets users log in to any type of deployment with a single license.  

To better support cloud migrations and evolving data pipelines that span hybrid-cloud and multicloud deployments, Qlik also has invested in data management, acquiring data integration vendor Attunity and data catalog and governance vendor Podium Data. The Attunity deal, in particular, was a bold move to broaden Qlik's platform and addressable market, but the synergies in this acquisition can only be measured over time. 

Qlik is also pursuing an augmented intelligence strategy, adding features that harness machine learning (ML) and natural language (NL) capabilities to assist humans and make BI and analytics more accessible and intuitive for untrained business users. Qlik's recent Crunch Data acquisition and subsequent release of the Qlik Insight Bot has greatly accelerated the vendor's NL capabilities. Finally, as application requirements, low-latency demands and user interfaces evolve, Qlik is supporting embedded deployments that inject analytics into custom, mobile, virtual and transactional applications. Qlik has been a leader on this front, offering an embedded approach that supports decision-making in the context of work, rather than forcing users to navigate to reports and dashboards. 

This report explains and offers Constellation Research's point of view on Qlik's cloud, augmented intelligence and embedded BI initiatives as well as its move to broaden its platform with data integration, data catalog and data governance capabilities.    
 
Get Access to This Premium Content