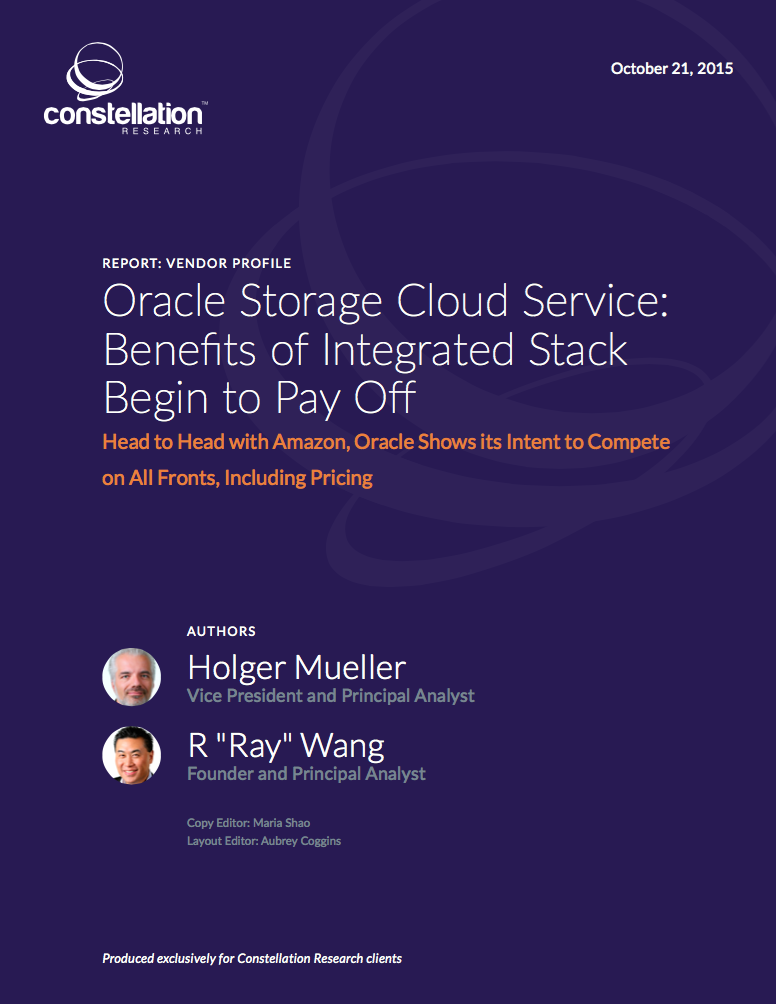 Vendor Profile: Oracle Storage Cloud
Head to Head with Amazon, Oracle Shows Its Intent to Compete on All Fronts, Including Pricing 
With almost four decades of serving enterprises with software and hardware offerings, Oracle plays a significant role in helping organizations with solutions ranging from on-premises to cloud-based. Unlike its competitors, Oracle's unique strategy always provides customers with a choice of having one integrated stack, from the silicon of hardware to the clicks in enterprise software and the option to select Oracle as a best-of-breed component. Oracle believes that an integrated stack from the bottom up delivers unique value to customers by reducing the cost of integration between different layers of the technologies that are required to operate an enterprise. Moreover, Oracle sees benefits on the scaling side of the offering. When all is engineered to work together, enterprises will see better performance for every dollar spent on Oracle software compared to its key competitors. 
Traditionally, Oracle has been a quiet participant in the storage market, owning assets from the Sun Microsystems acquisition such as tape storage. As Oracle has invested in Software-as-a-Service (SaaS) software and its customers have asked Oracle to operate this SaaS software for them (in the Oracle Cloud), Oracle has gone back to the drawing board and introduced a brand new cloud-based storage offering for customers and for itself. 
This report focuses on Oracle Storage Cloud Service, a key area in Infrastructure-as-a- Service (IaaS). 
Purpose & Intent:
This vendor profile explores the features and functions of Oracle Storage Cloud system and its suitability for supporting key business objectives such as hardening of infrastructure, next generation application projects, storage services, and global compliance and operation. 
Get Access to This Premium Content