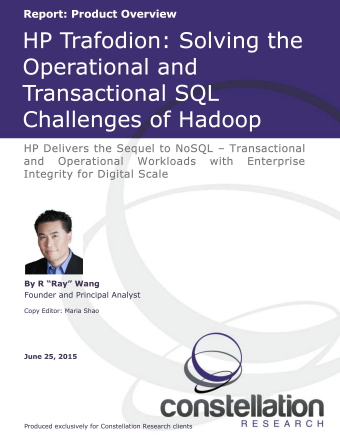 Vendor Profile: HP Trafodion
HP Delivers the Sequel to NoSQL – Transactional and Operational Workloads with Enterprise Integrity for Digital Scale 
With $22.398 billion in annual revenue and more than 14,000 employees, HP Software is the third largest software organization in the world. Executive Vice President and General Manager Robert Youngjohns leads the organization and its five major groups: Security, Big Data Software, Operations Management, App Lifecycle, and Services and Support. 
Launched as an open source project on June 10, 2014 and released commercially on January 29, 2015, Trafodion provides customers with an open source and commercial solution to address the limitations of HDFS/Hadoop and HBase in running transactions (OLTP - online transactional processing) and operational workloads at scale. 
This initial open source project was sponsored by HP and incubated at HP Labs and HP-IT. Trafodion is licensed under the Apache License, Version 2.0. The software development is part of the IT Group and overall Big Data software effort within HP. Successful users of Trafodion gain a tool for enterprise-class transactional processing for the Hadoop world. 
This vendor profile provides an overview of HP Trafodion and identifies key differentiators, product offerings, and a short list guide for buyers. 
Get Access to This Premium Content