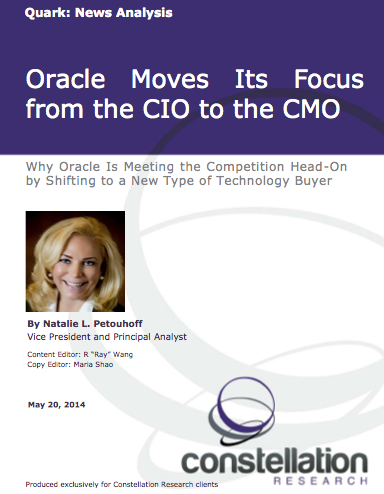 Why Oracle Is Meeting the Competition Head-On by Shifting to a New Type of Technology Buyer
Wondering how Oracle is going to compete for its share of the marketing and social technology budget? The mega-vendor is shifting its focus from the standard buyer of technology (the IT department) to line-of-business buyers such as the CMO. The announcement made at the Oracle Marketing Cloud launch event April 30, 2014 provides insight into where major players like Oracle think the market is headed. Perhaps for some vendors, it's time to say goodbye to IT and hello to the CMO. Or it's time for IT and the CMO to collaborate.
Attendance at the event reinforced the message that Oracle not only wants to deliver on "customer-centricity", but also wants to make the marketer's life easier. The ideas of the marketing/social cloud are that your company would be able to:
Unify Data
Engage Audiences
Analyze Performance 

Extend the Ecosystem
How that can all happen is the topic of this paper. It's not just about the technology. It's about the people, the processes and the technology that together, when used with purpose and great leadership, can provide unprecedented results. 
Get Access to This Premium Content