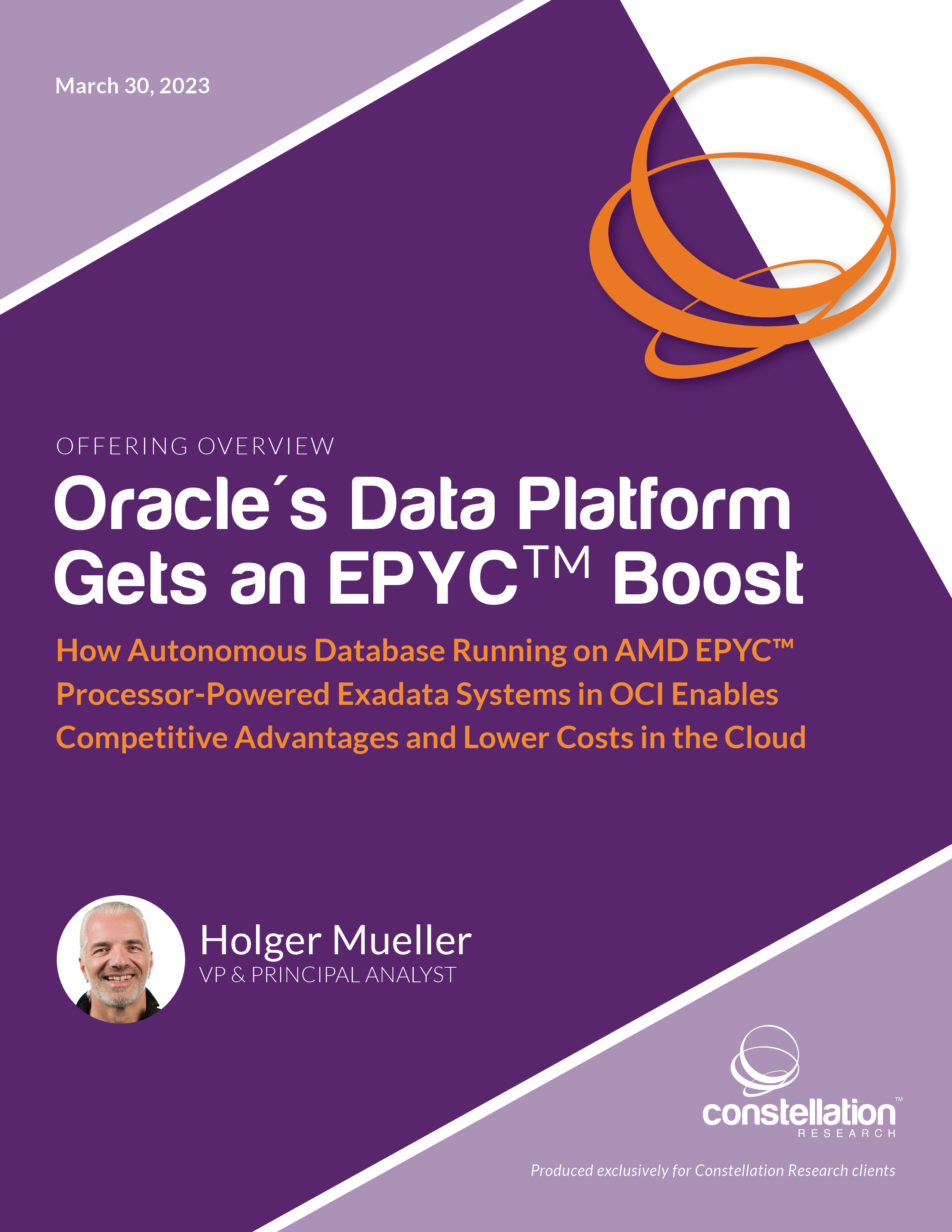 Executive Summary
This report provides an overview of how the Oracle Data Platform running with Oracle Autonomous Database enables Enterprise Acceleration,  with a special focus on how Oracle's use of AMD EPYC™ processors in Exadata enables better, more-efficient results in an organization's application and database portfolio. It analyzes how Exadata in Oracle Cloud Infrastructure (OCI) helps organizations meet their needs for a next-generation computing platform that allows them to deploy and move workloads across on-premises environments and the public cloud. 

Exadata Cloud Infrastructure is the public cloud manifestation of Oracle's vision for the "chip-to-click" integrated technology stack (i.e., from the CPU silicon, across all ISO/OSI layers, and all the way to the end-user mouse click). No matter where it's deployed, the Exadata system provides high performance for data-intensive transactional and analytical workloads as well as data warehouses with tens of petabytes of capability. New, more powerful and efficient processors are crucial to keep Oracle's offerings at the forefront of attractiveness for CxOs searching for enterprise data management solutions. The partnership between AMD and Oracle is critical to meet requirements that are evermore complex and demanding as Oracle continues to deliver leading performance and cost savings, making Exadata on OCI simply the best system for Oracle Database to run on. 

Because Oracle uses the same technology stack in both its cloud and on-premises implementations, it has the highest degree of Identicality  across these offerings to be found among all vendors that are part of Constellation Research's Market Overview on next-generation computing platforms.  The others are AWS Outposts  on-premises portfolio, Google Anthos,  IBM Satellite,  and Microsoft Azure Stack.  The Identicality that Oracle offers between the cloud solutions discussed here and its Exadata [email protected] hybrid cloud solution makes it easier for customers to run the same workloads in different environments or move workloads between environments when needed.
 
Get Access to This Premium Content