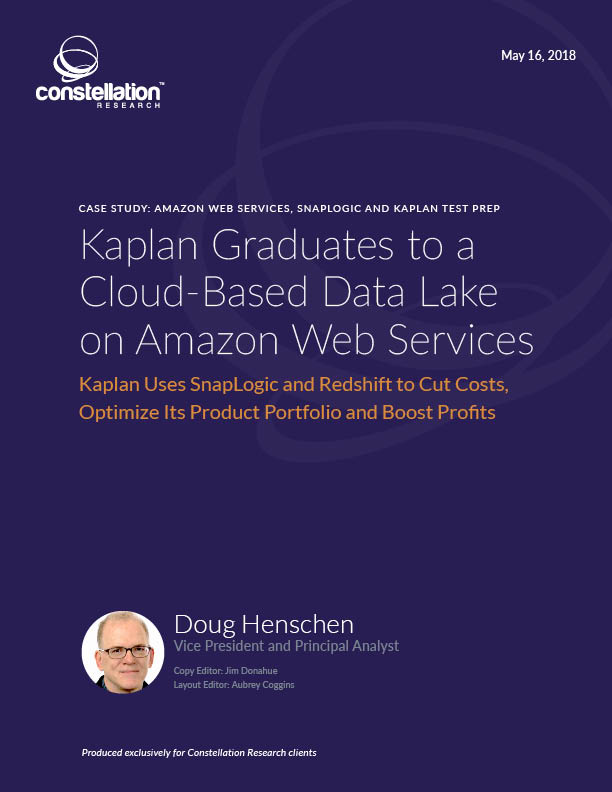 Kaplan Uses SnapLogic and Redshift to Cut Costs, Optimize Its Product Portfolio and Boost Profits
Kaplan Test Prep (Kaplan) is the largest division of Kaplan, Inc., a global higher education company and the largest unit of Graham Holdings (a public company formerly known as The Washington Post). Kaplan is well known for helping students prepare for college-entrance exams, such as the SAT and ACT; post-grad admissions tests, such as the GRE and GMAT; and licensure exams for medical, legal, nursing, financial and other professional careers. An early innovator in online education, Kaplan has moved into new economy skills training (also known as NEST) in areas including web and mobile programming, data science, and machine learning. It's also expanding certification, testing and training partnerships with hospitals, universities and major corporations.
As an 80-year-old company, Kaplan has no shortage of legacy systems and applications. In 2015, the organization recognized that it lacked a centralized way to bring diverse information together for data-driven decision-making. Extending a companywide move into Amazon Web Services (AWS) that began in 2013, Kaplan selected Amazon Redshift as an analytical data platform. It has since consolidated access to data from more than 40 data sources on the platform. Kaplan chose SnapLogic to handle the diverse data-integration, data-migration and data-latency requirements, including streaming scenarios.
Kaplan's total, combined cost for the Redshift-based data platform and related SnapLogic services is in the $100,000 to $150,000 range annually. The platform has enabled it to retire at least seven legacy systems, saving an estimated $1 million on related costs. The platform supports activity-based cost analysis that has helped the company to streamline operations, optimize the product lineup and increase profits. SnapLogic is used to archive aging customer records onto Redshift, saving an estimated $150,000 annually in customer relationship management (CRM) storage costs. The platform supported an extensive website redesign that has improved site navigation and e-commerce results. Real-time data pipelines running on Amazon Kinesis, SnapLogic and Redshift support adaptive learning capabilities that promise a more effective learning experience. Finally, the ability to draw on many dimensions of data has bolstered lead scoring and marketing analyses that improve business results.
Get Access to This Premium Content