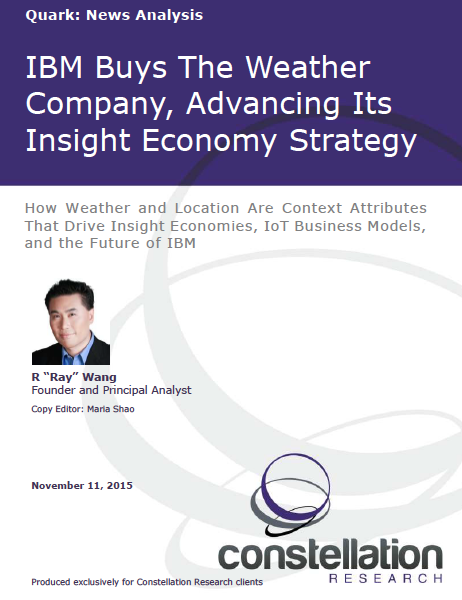 Weather and Location as Context Attributes That Drive Insight Economies, IoT Business Models, and the Future of IBM 
On October 28, 2015, IBM announced its intent to acquire privately held, Atlanta, Georgia- based The Weather Company. The deal, with an estimated value of nearly $2 billion, expands on an initial partnership announced on March 31, 2015. In a conference call by IBM Analytics' General Manager of Insight Cloud Services Joel Cawley, IBM General Manager of Internet of Things Pat Toole and President, WSI, The Weather Company Mark Gildersleeve, the companies confirmed that IBM will buy The Weather Company's B2B, mobile and web properties, including WSI, Weather Underground, weather.com, and The Weather Company brand. The TV property – The Weather Channel - will not be acquired but will enter into a long-term deal to license weather forecast data and analytics from the new entity inside the IBM Watson Internet of Things (IoT) business unit. 
This news analysis Quark analyzes IBM's acquisition of The Weather Company, focusing on implications for big data and Internet of Things (IoT) business models. 
Get Access to This Premium Content