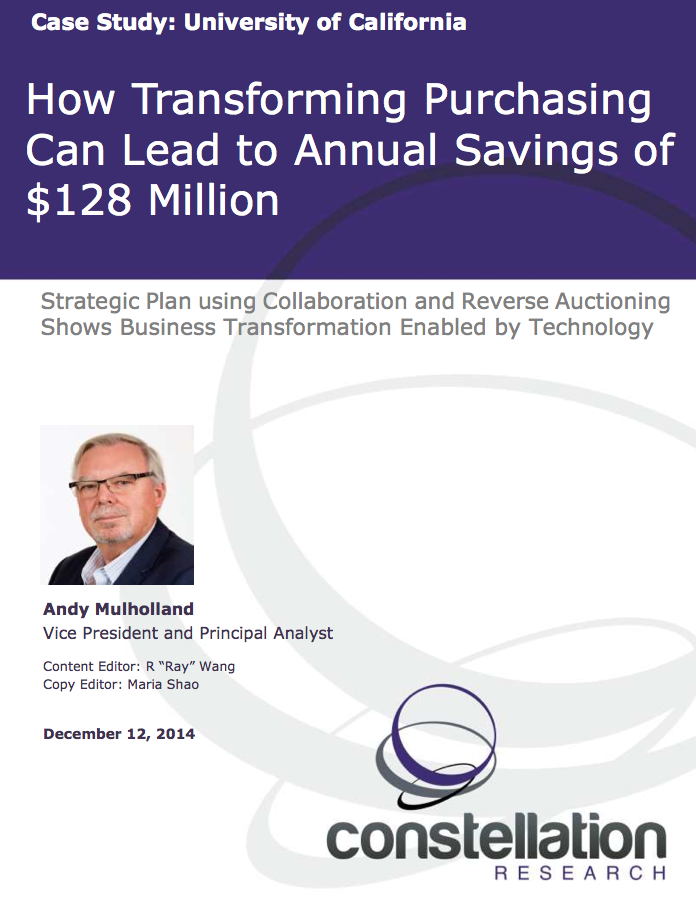 Case Study: University of California Office of the President
  Strategic Plan using Collaboration and Reverse Auctioning Shows Business Transformation Enabled by Technology
In response to financial pressures, the The University of California, a decentralized network of universities, hospitals, and labs, tasked its Procurement Leadership Council with saving the university $200 million annually until 2017. This project, named P200, seeks to save on procurement costs across the University system by reducing waste, improving transparency, and increasing collaboration. With a FY 2013-14 goal of $120 million, UC System Procurement has surpassed its goal with a total savings of $132M at June 30 year-end.
"The achievements of the P200 program to date have been impressive, and all to the benefit of the university's core missions of teaching, research and public service," said Nathan Brostrom, UC executive vice president for business operations and interim chief financial officer. "With continued collaboration among our campuses, labs, medical centers and the Office of the President, we can continue to maximize every university dollar, operate more effectively and improve the quality of our work." 
Procurement can be disruptive. Find out how Bill Cooper, Chief Procurement Officer, UCOP implemented this ground-breaking cost saving strategy, P200, to reduce procurment costs, permitting the University to focus on its mission of education and research.  
Bill Cooper won the 2014 SuperNova Award in Technology Optimization and Innvoation for his leadership of the P200 project. 
Table of Contents
At a Glance
The Company
The Challenges:
Systemwide Sourcing Opportunities Bring Massive Scale

Local Procurement Opportunities Delivered $70 Million Annual Savings 

Centralization and Localization Successfully Delivered Through Collaboration Technology 

Procurement Transformed by Digital Business Purchasing Capabilities

The Solution: 

Approach Applied Five Core Initiatives and Headline Activities 

The Board of University of California Views the Program as Groundbreaking 

The Impact: 

Technology Capabilities Increase Market Competition 

 

Domain Expertise Improves Negotiated Discounts 

Power of Collective Spend Drives Down Costs 

Renegotiating Side Agreements Keeps Contracts Competitive 

The Takeaways
Lessons Learned: ROI, Best Practices, What to Avoid
The Recommendations
Get Access to This Premium Content