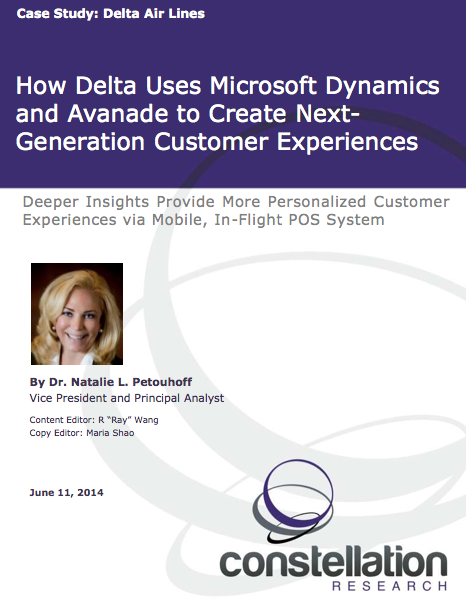 Deeper Insights Provide More Personalized Customer Experiences via Mobile, In-Flight POS System
Delta Air Lines' legacy in-flight point-of-sale system (POS) system could only provide very basic transaction data for items like meals, headphones and duty-free items. Declines in credit card purchases remained undetectable until the flight landed, leading to lost revenue. In addition, the in-flight POS system lacked the ability to communicate in real time with Delta's CRM system, resulting in a disjointed customer experience.
Learn how Delta Air Lines enhanced customer experience and reduced lost revenue by implementing a mobile, in-flight POS system powered by Microsoft Dynamics and Avanade.
"The airline industry is operating in an environment where the competitor is one click away. We are helping Delta to drive a customer- centric culture; that's especially important because consumers have more options at their fingertips than ever before."

Kirill Tatarinov
Executive Vice President Microsoft Business Solutions 
Table of Contents:
The Company
The Challenges

Improving Efficiency and Effectiveness In-Flight for Beverage, Food and Duty-Free Purchase System 

Time Data to Improve Customer Experience and Revenue

The Solution

The Technologies

The Impact

Enhanced, Real-Time Customer and Employee Interaction Data 

 

Increased Enterprise Manageability

Future Improvements

The Takeaways

The Recommendations
Bring disruptive innovation to your organization. Learn more about Constellation Academy. 
Get Access to This Premium Content