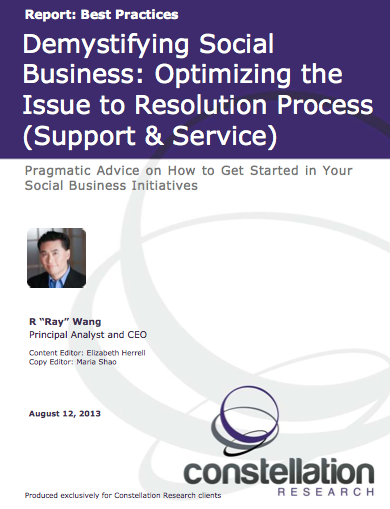 Pragmatic Advice on How to Get Started on Your Social Business Initiatives
Social business initiatives have gained acceptance as a key driver in business innovation. Since 2010, organizations have experimented and successfully deployed social business initiatives across a variety of business processes. In Constellation's recent 2013 survey of 237 social business adopters, more than a majority (57.8 percent) of the market leaders and fast follower respondents had moved from experimentation to scaling social business initiatives to match demand. This trend signifies the successful growth of social business across a number of use cases.
With over 50 use cases identified in the survey, organizations now have defined entry points to begin social business initiatives. Consequently, many businesses can learn from the experience of market leaders and fast followers. Constellation has curated eight mega-use cases for social business that cover key business processes such as:
Campaign to lead

Lead to deal

Issue to resolution

Kickoff to delivery

Concept to production

Sourcing to acceptance

Hire to retire

Invoice to payment
This report focuses on the issue to resolution mega-use case, which addresses internal- and external-facing use cases. Internal use cases include knowledge base creation, support escalation and support resolution. External-facing use cases include agent escalation, peer- based support, reactive support and predictive support. These use cases should provide a starting point for mapping out the service and support journey.
Purpose & Intent:
Constellation pioneered the complete set of front office and back office use cases for social business in 2010. This report provides insight into a key mega-area -- issue to resolution use cases. This best practices research report offers insight into two of Constellation's primary research themes, the Next-Generation Customer Experience and the Consumerization of Information Technology/The New C-Suite.
Get Access to This Premium Content