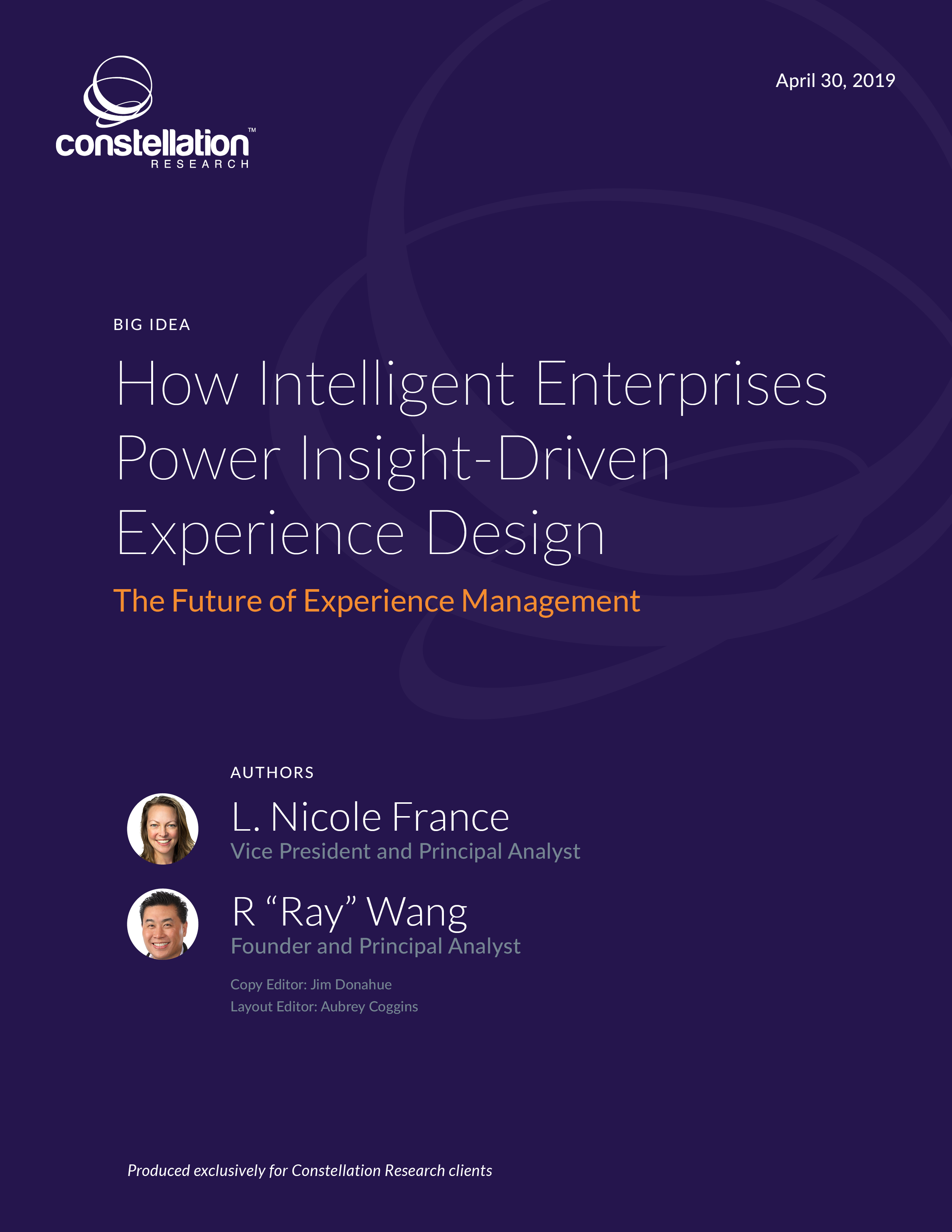 The Future of Experience Management 
Every business, regardless of what it sells, competes in the experience economy. To do so successfully, companies must shift their focus to consciously designing and shaping experiences—for customers, employees, partners, suppliers and other stakeholders. Designing experiences effectively requires the ability to draw insights from all aspects of interaction and engagement, whether digital or otherwise, for each of these groups. Constellation Research defines this as insight-driven experience design (IXD).

The goal of IXD is to create experiences that build durable, mutually beneficial relationships. In other words, loyal customers, engaged employees, and committed partners and investors. Artificial intelligence (AI) tools make it possible to extract insights from large volumes of enterprise and customer behavior data. They also enable mass personalization—that is, the ability to tailor experiences that feel relevant to individuals based on their preferences and priorities.

While there is a great deal of discussion today about experience management (XM), Constellation believes that IXD is an evolution of the term and more accurately reflects the underlying concept. One critical aspect of experiences is that they are inherently personal. For this reason, they cannot be managed by outside forces. The experience itself is in the eye of the beholder. Organizations shaping them can increase the likelihood that customer experiences are the ones they seek to create, but customers ultimately manage them.

Intelligent enterprises use IXD to orchestrate data and workflows to put the right information in the right hands at the right time to make the best decisions for employee, customer and stakeholder relationships. That includes existing enterprise systems as well as engagement systems, experience systems and AI systems. Through a combination of tools, intelligent enterprises can achieve the age-old objective of understanding their customers by working in new and better ways.
Get Access to This Premium Content