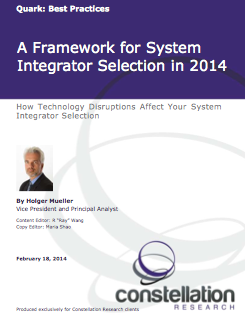 How Technology Disruptions Affect Your System Integrator Selection
The way in which organizations select, implement and use enterprise applications is fundamentally changing. In fact, the only known constant is that the approach will never be the same again.

Disruptive forces like the cloud, mobile and social are part of the equation for enterprises and system integrators and also influence the strategies that organizations will have to seek, close and do business with each other.

This Quark provides enterprises with an eight-step guide to selecting a system integrator. The report also shows system integrators how to change their positioning and services in order to remain successful players in a rapidly shifting market.
 
Get Access to This Premium Content