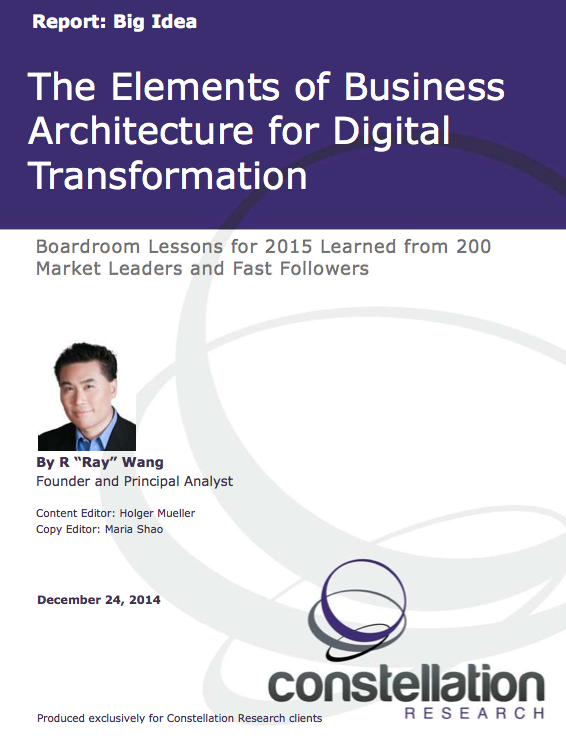 Boardroom Lessons for 2015 Learned from 200 Market Leaders and Fast Followers 
Constellation has surveyed over 200 CxOs and has identified the top 10 boardroom priorities for 2015. As anticipated, digital transformation has emerged as a significant boardroom topic, and market leaders and fast followers seek guidance on what elements are required in the design to support digital business.
Digital transformation is defined as methodology in which organizations transform and create new business models and culture with digital technologies. The driver for digital transformation stems from the fact that since 2000, 52 percent of companies in the Fortune 500 have either gone bankrupt, been acquired or ceased to exist.
While most organizations face massive technical debt from legacy infrastructure and applications, market leaders and fast followers realize that the future requires proactive digital enablement of the business in order to support the future strategy of their organizations. Constellation has identified eight architectural design elements for success and expects to add more as digital transformation matures in its lifecycle as a methodology and strategy.
Constellation has also identified key use patterns digital leaders will apply toward digital transformation. Using the five steps to digital transformation, digital leaders can expect to have a basic blueprint to embark on this key strategic program. 
Purpose & Intent:
This report provides key concepts and frameworks for defining the architectural design elements required for digital business disruption. Clients should use this document as a source for executive and board planning assumptions and work closely with both the business and technical teams to ensure success in digital transformation projects. 
Get Access to This Premium Content