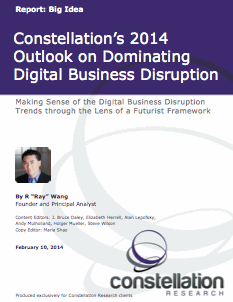 Making Sense of the Digital Business Disruption Trends Through the Lens of a Futurist Framework
The beginning of a new year brings trends and predictions about the future. Given the pace of change, the level of unpredictability and the need to respond more swiftly than ever, what does it al mean as most organizations anticipate another unpredictable year? Since 2000, 52 percent of companies in the Fortune 500 have either gone bankrupt, been acquired or ceased to exist. Business and IT leaders seek greater insight in the future, yet long-term models projected five to 10 years out may be too far out to produce actionable insight. A view of the next three years is already long term.

Constellation approaches 2014 with a comprehensive point of view. This report examines the political, economic, societal, technological, environmental, and legislative (PESTEL) macro trends that will affect digital business disruption and serve as the basis for Constellation's research foundation across seven business themes. These PESTEL trends can be summarized as:
Political (P) pressures point to a lack of digital proficiency in the political class
Economic (E) trends exacerbate digital business disruption
Societal (S) shifts showcase the digital divide ahead
Technological (T) trends boost digital opportunities
Environmental (E) factors frame long-term scenarios
Legislative (L) lethargy drives knee jerk reactions

Success in navigating these trends will require executives to develop a strategy for dominating digital disruption. Constellation recommends that a Chief Digital Officer be appointed to lead this charge.
Purpose & Intent:
This report provides key concepts and frameworks for setting the research agenda for digital business disruption. Clients should use this document as a source for executive and board planning assumptions.
 
Get Access to This Premium Content